Jooy And Brandon Elope In The Middle Of The Nevada Desert
Getting married at the Dry Lake Bed is a unique and stunning choice for couples seeking a non-traditional wedding. With its scenic views, natural backdrop and privacy/intimacy, this was the perfect location for Jooy and Brandon to elope. Take a peek at their experience at Dry Lake Bed in Nevada.
WHAT WORDS WOULD YOU USE TO DESCRIBE YOUR WEDDING?
Boho-chic, simple, dusty-blue
THE PROPOSAL:
My husband completely surprised me for the proposal. We had "window-shopped" for rings in the past but never picked out a specific ring. I was hanging out with my parents in Boise thinking I had the whole week with them. One evening, my parents wanted to take pictures before a nice dinner. This didn't seem unusual because my dad loves taking pictures whenever he's with us. We were walking through a park and the next thing you know, my now-husband pops out of a bush and I black out from the shock. I think he said some nice things? I don't quite remember. But we were both very happy and my parents were over the moon. It was so sweet for him to secretly plan this proposal with my family behind my back!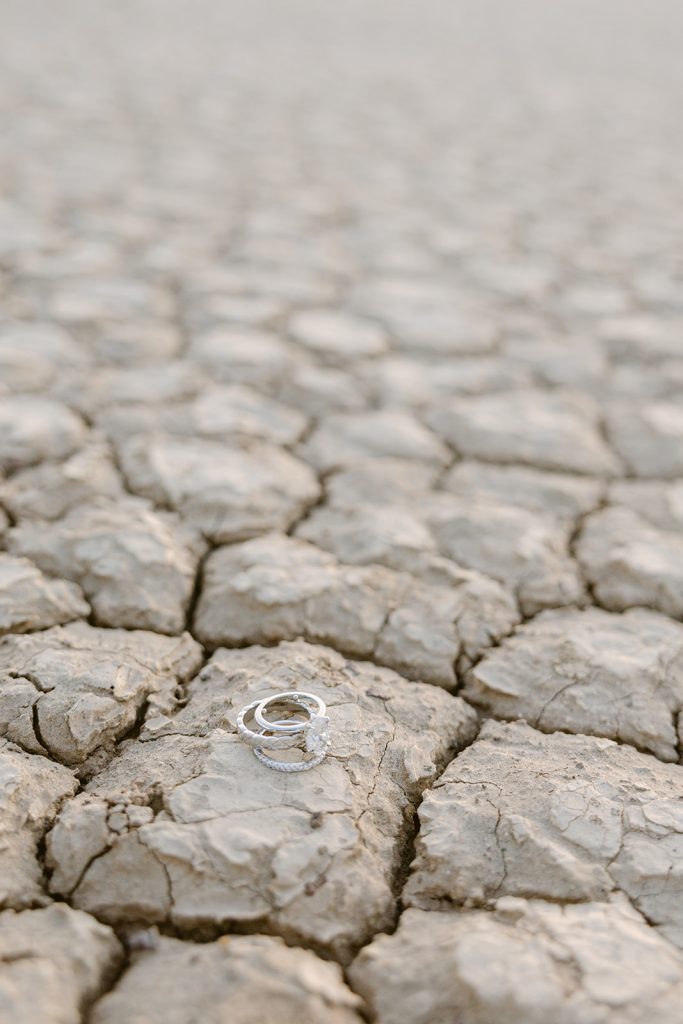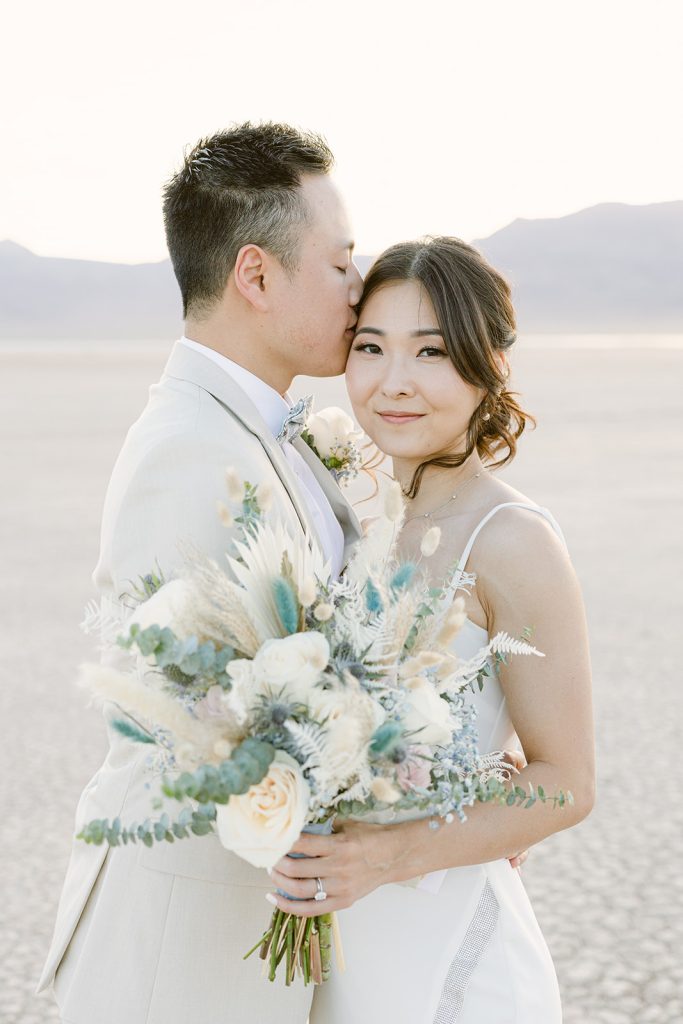 THE VISION:
We wanted to surprise our friends with an elopement, but also wow them with something that would leave a lasting impression. We wanted to avoid the extra hassle of planning a big wedding while also making our parents happy. Hosting a micro-wedding on Dry Lake Bed was the perfect combination of something beautiful and memorable for our family while saving us the money and stress of the bougie wedding that people expected from us.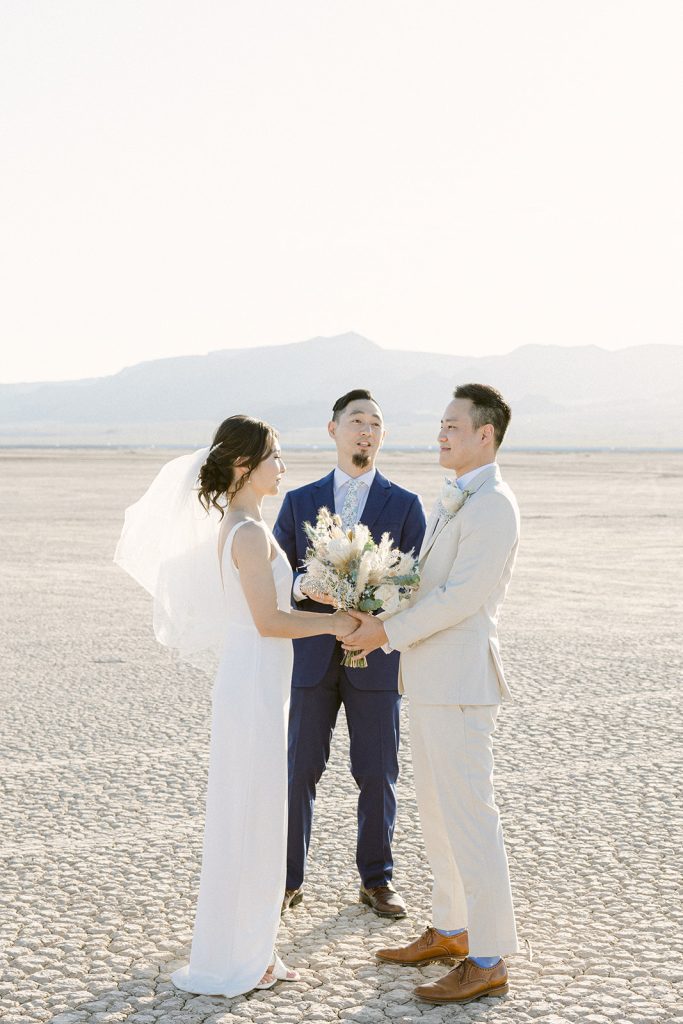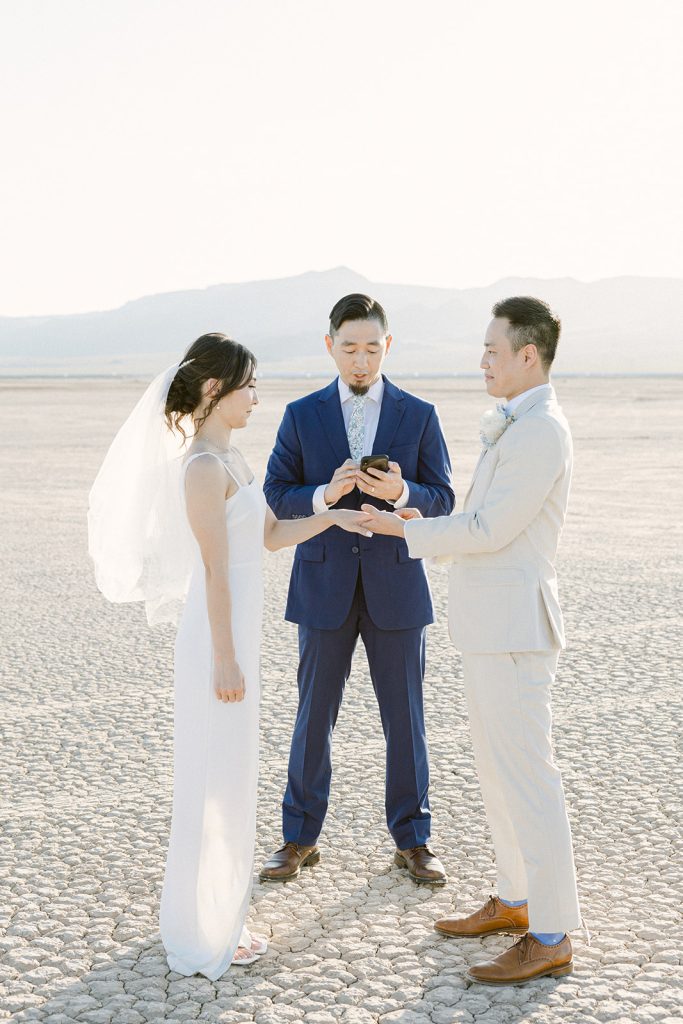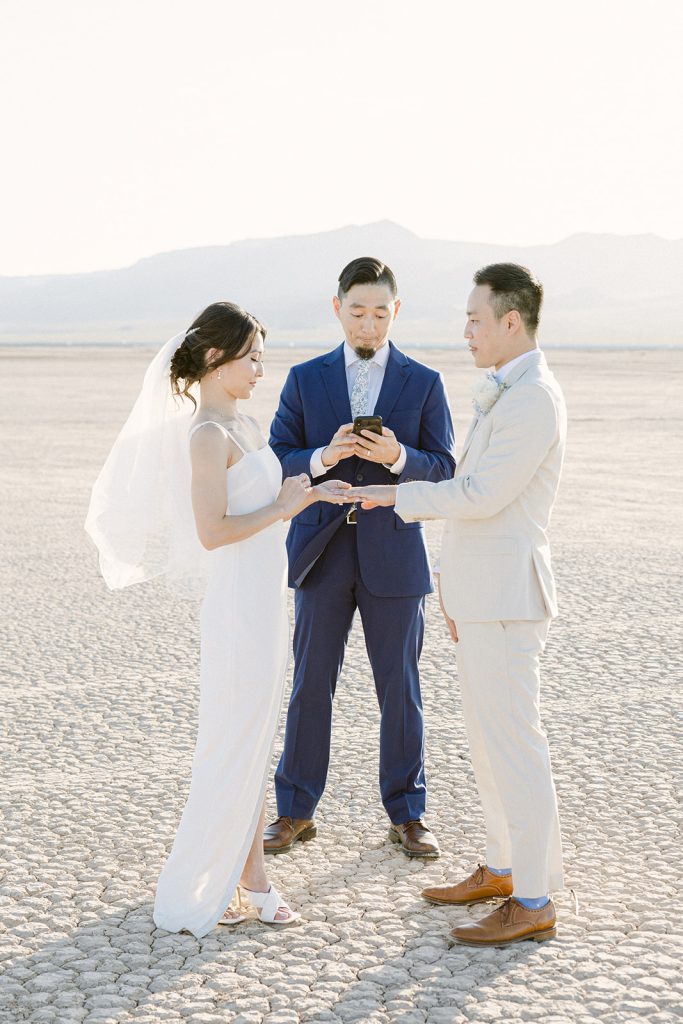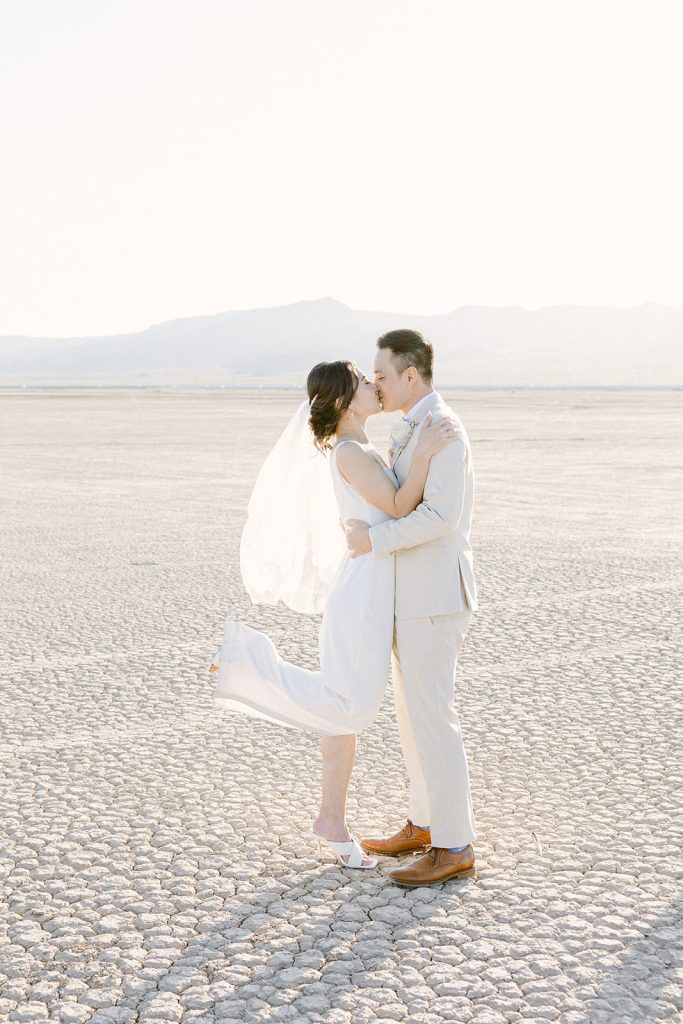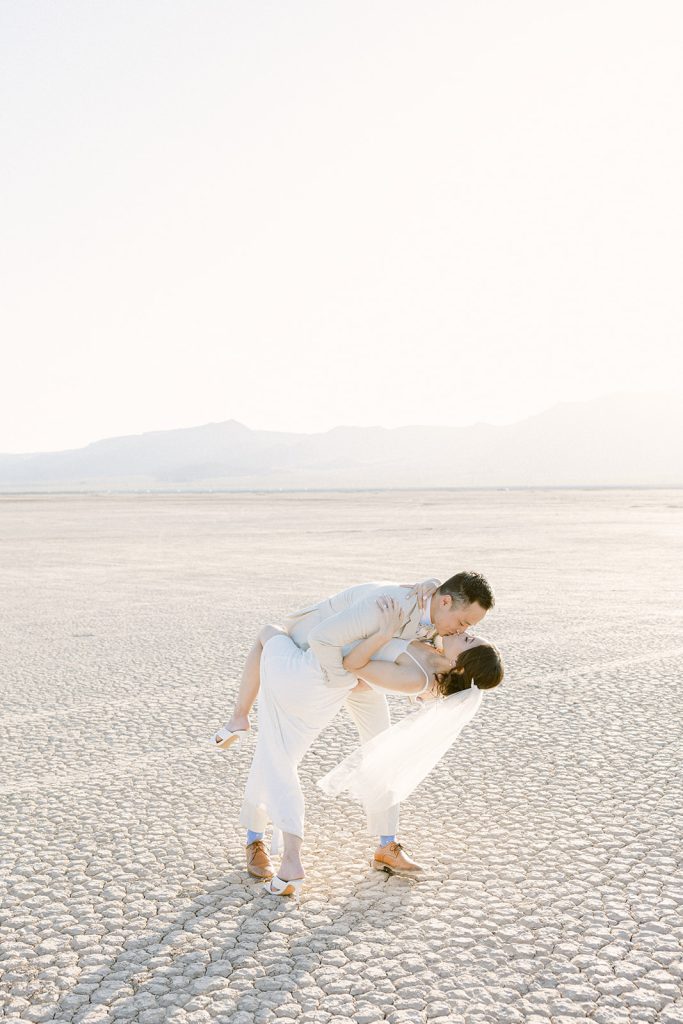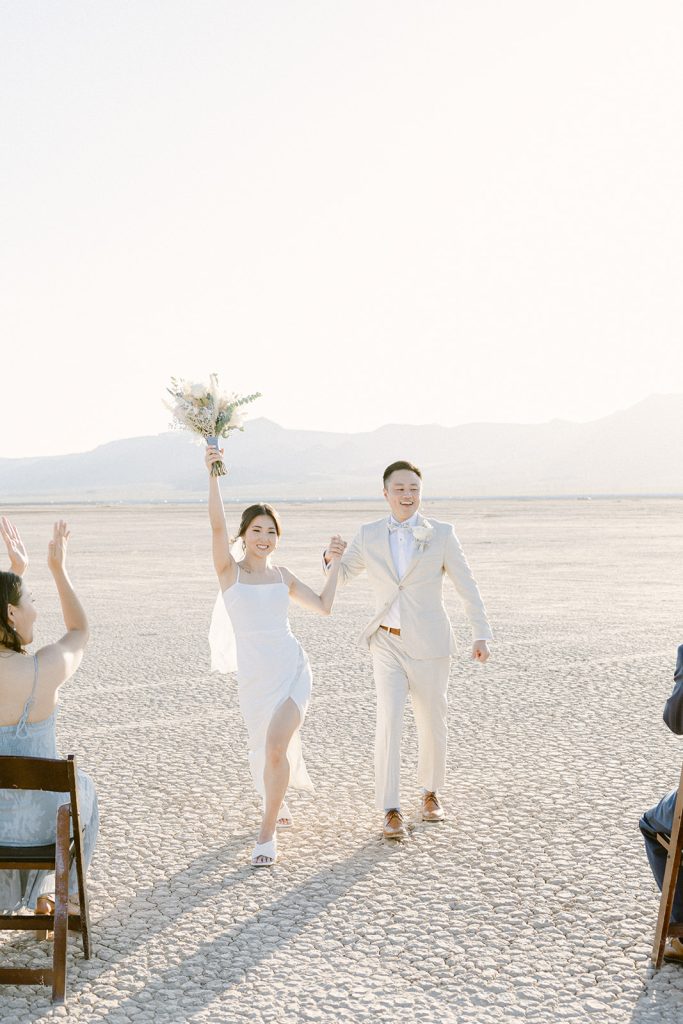 THE PLANNING PROCESS:
Using ELV removed a lot of the stress of planning the ceremony portion. We knew in December that we wanted to elope in Las Vegas and I booked the date in January after consulting with multiple vendors. Once the date was booked, I started planning the other details such as hair/make up, transportation, hotels, meals, and other shows/activities to make it a family vacation. There were other special details that my husband and I wanted to include, such as choreographing our own dances and our mother/father's dances. I can't say that it wasn't stressful, but I can assure you that it was 1 million times less stressful than having to plan a full-blown wedding by myself.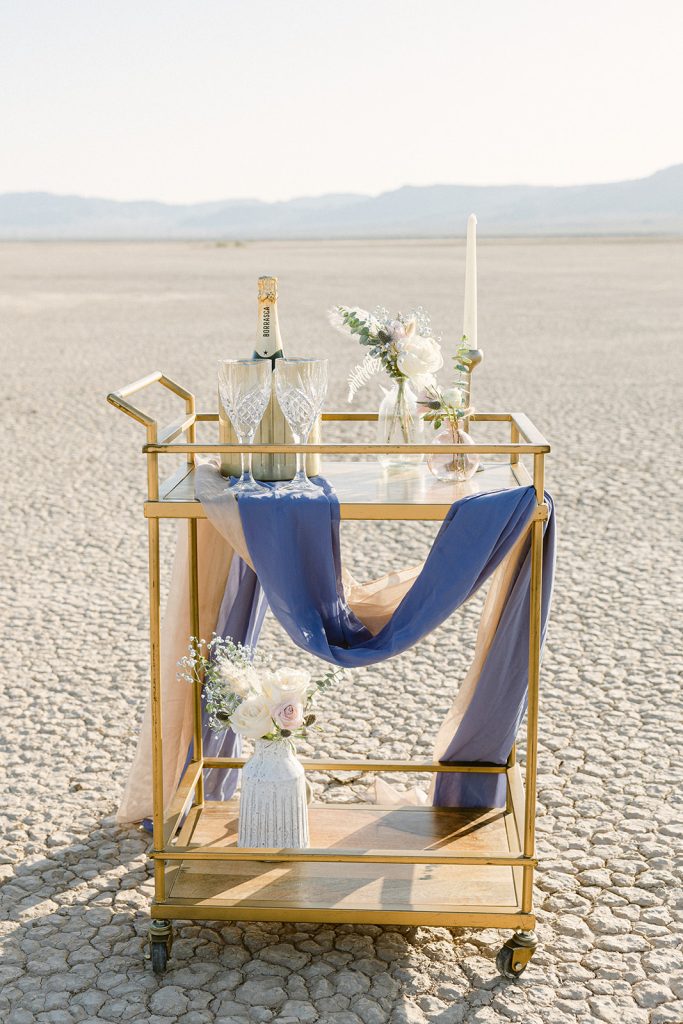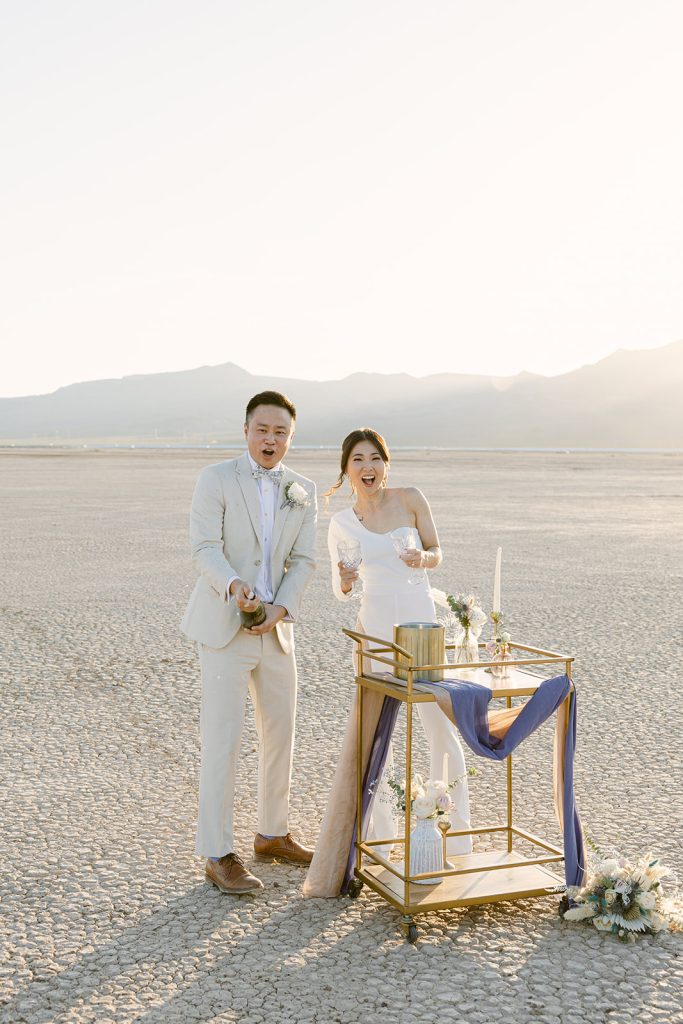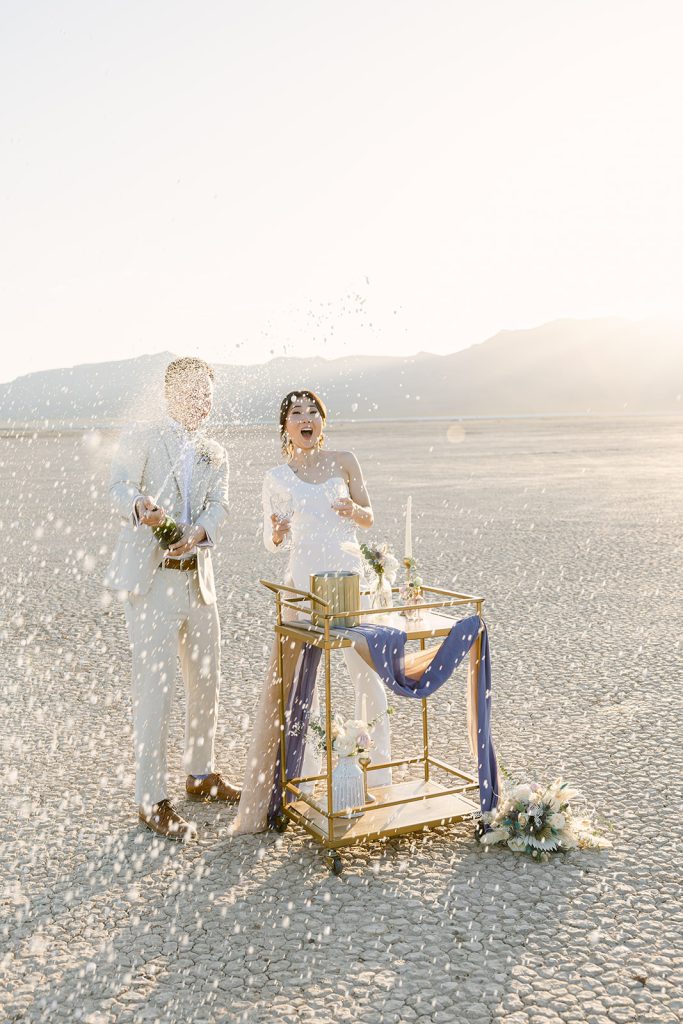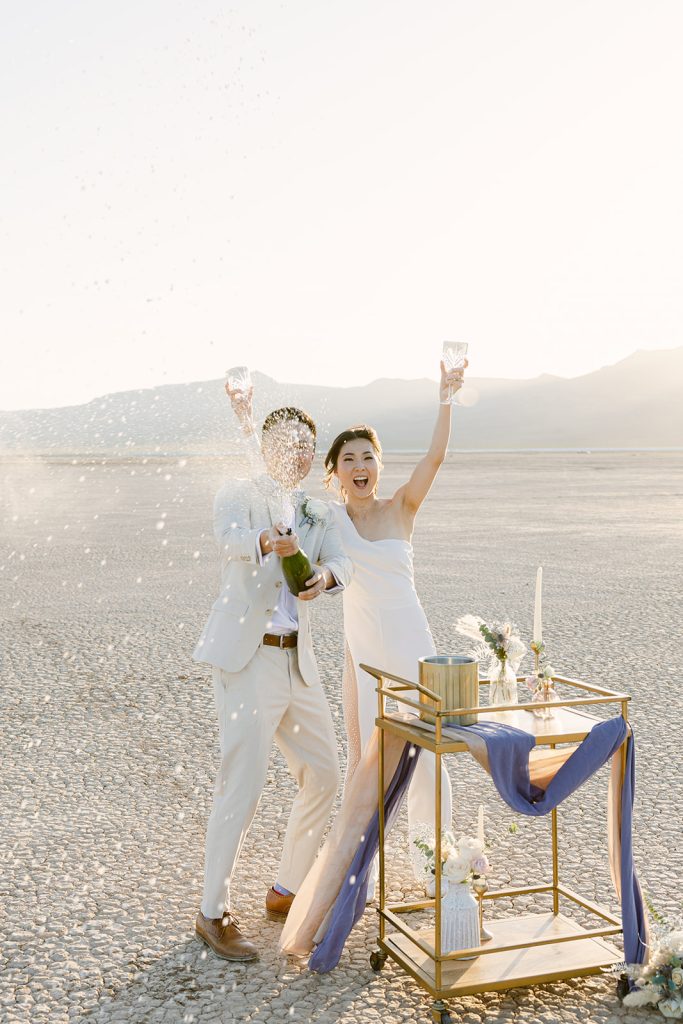 YOUR OUTFITS AND ACCESSORIES
I'm not a big designer dress girl, and eloping was a great excuse to not buy a real wedding dress. I found a simple white dress from Macy's, veil from Amazon, and hair clips from Dollar Tree! I also joined a local brides Facebook group, where brides resell there once-worn white outfits. I was fortunate enough to find a former bride who is the same size as me, and bought a jumpsuit from her that I wore to both my bachelorette party and part of my Elopement ceremony.
Amelia & Co was a highly recommended vendor for hair/make up, and they did an amazing job helping us prepare for the ceremony!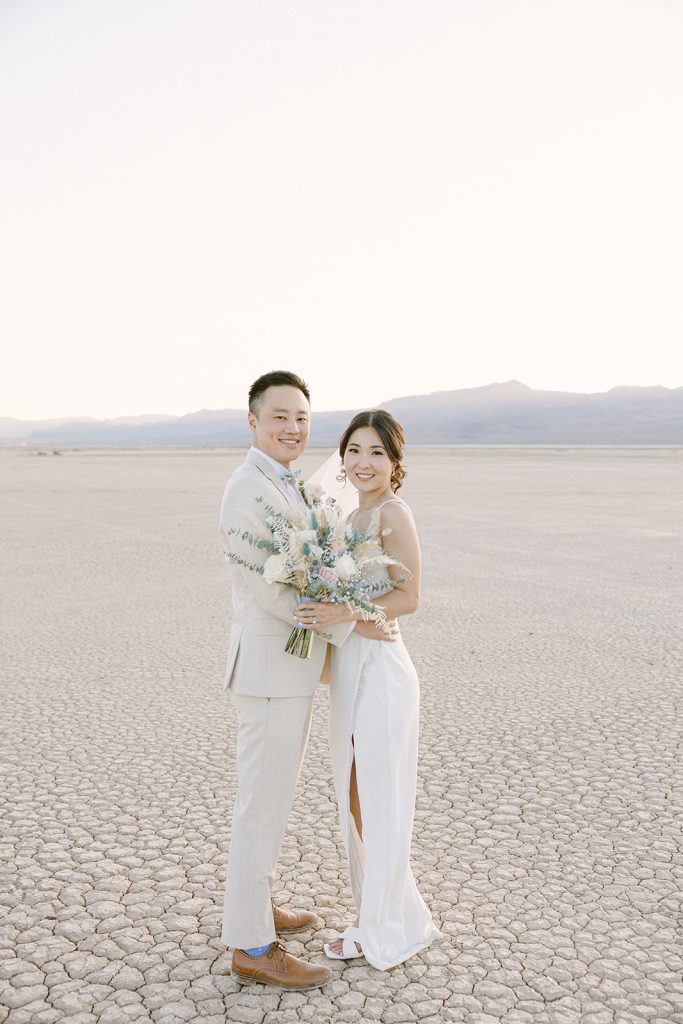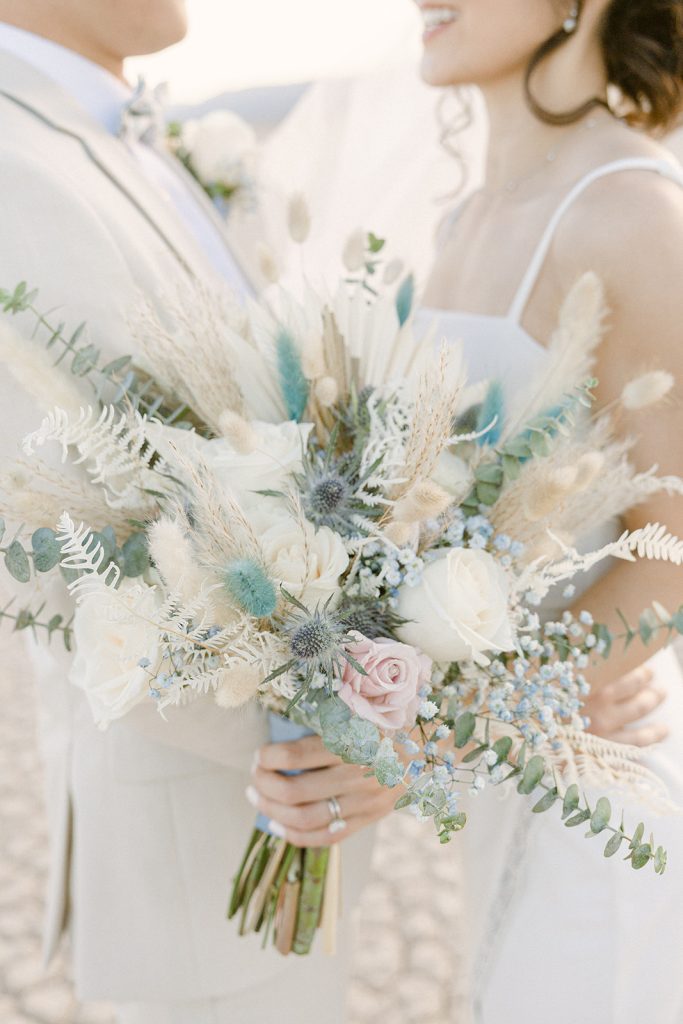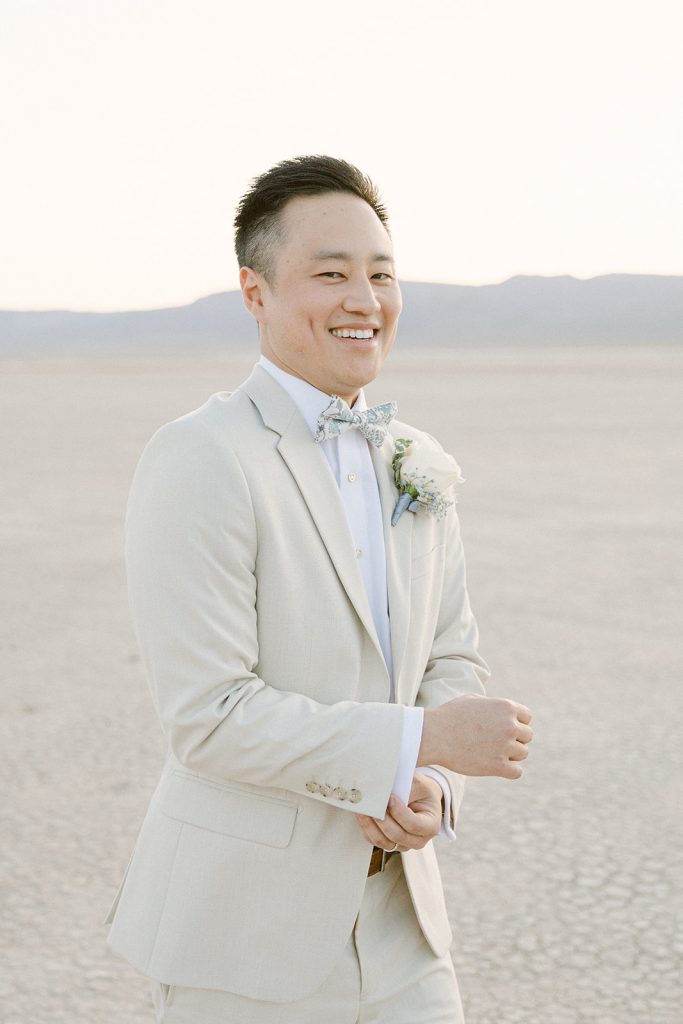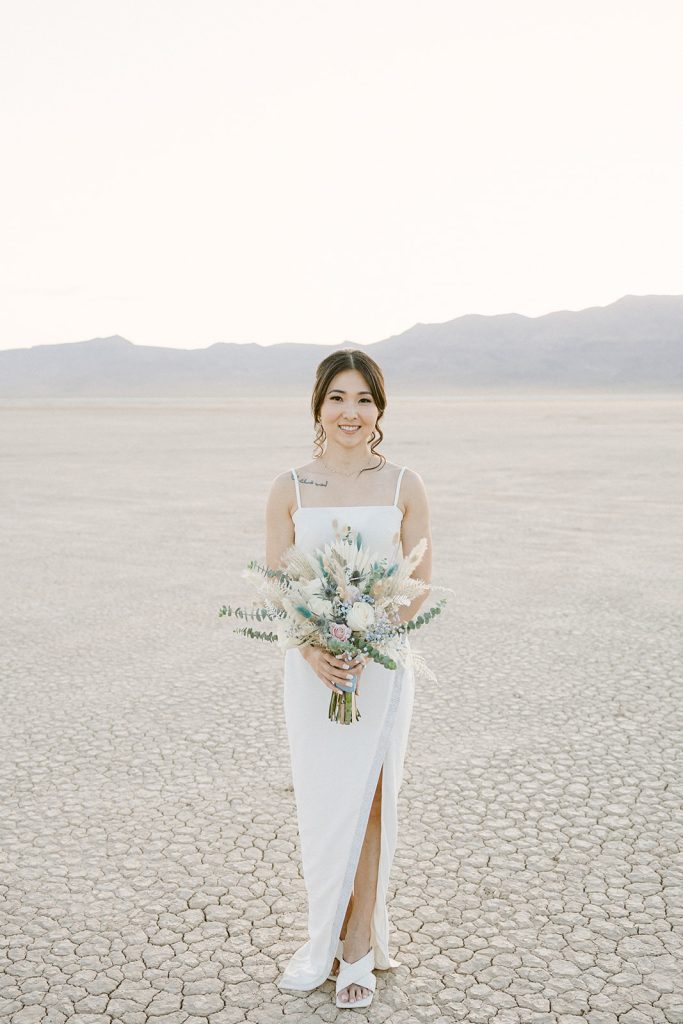 MEMORABLE MOMENTS
I'm not usually emotional and don't like to cry in front of others. I told my coworker about my Elopement plan the day before the ceremony, and he gave me the wise advice to take a moment to look around and soak everything in before I walk down the aisle. I did exactly this, and actually teared up while walking down our mini aisle. For me personally, this is a moment I will remember forever.
ADVICE FOR OTHER COUPLES
It's very easy for the bride to take on everything herself, but remember that marriage is teamwork. I wouldn't trust my husband to pick out my hairstylist, but I can rely on him to help with other aspects of planning such as booking hotels and transportation. Also, it's a million times easier to choose ONE hotel for your entire family versus trying to meet up from different areas of the strip – we learned this the hard way! And lastly, as everyone always says, don't forget to have fun and seize this special day 🙂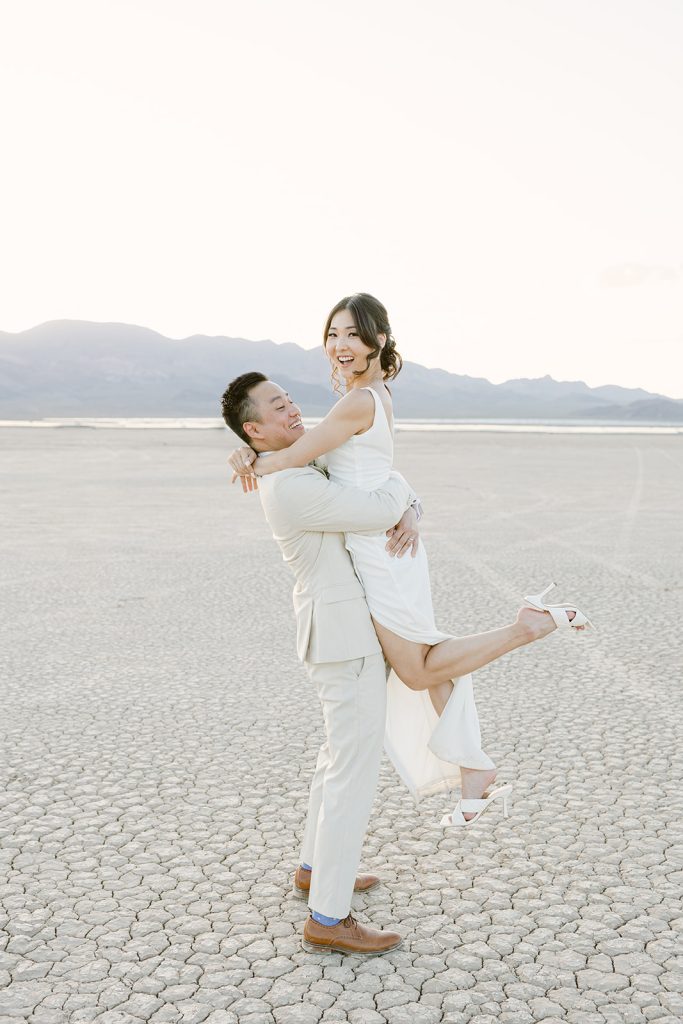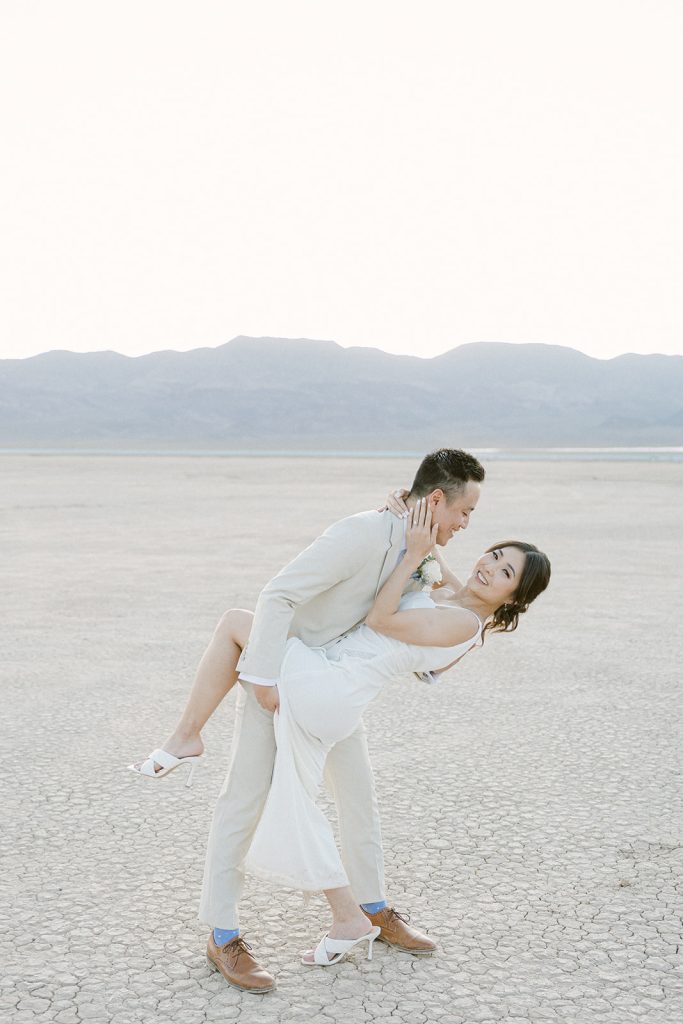 VENDORS

Officiant: Own (Adam Berchin for legal only) .
Photographer : Kristen Joy Photography
Florist: Amy Wong
Coordination: Epic Elopement and Elopement Las Vegas