Elopement Packages in California
In California, we currently book elopements in Lake Tahoe, Laguna Beach, and San Diego.
San Diego, which is known as "America's finest city," and really does live up to its hype. With its beautiful year round weather and miles of white sand beaches, San Diego has life in every direction you turn. This place has an abundance of beach related amusement for you to enjoy before and after your lasting nuptials. Some hot spots include the gaslight district, where you can enjoy just about any drink, and Ocean beach where you can shop and surf! Let us help you plan the perfect elopement in sunny San Diego!
Lake Tahoe is the largest alpine lake in North America. Nestled between California and Nevada, It is considered one of the most majestic bodies of water you can lay your eyes on. Elope on the divine shore amongst a beautiful natural wonder. Tahoe is gorgeous in the winter covered in a blanket of white snow. It also has so much to offer in the summer that includes hiking trails and of course swimming in the lake! If Lake Tahoe is your dream destination for your elopement let us know!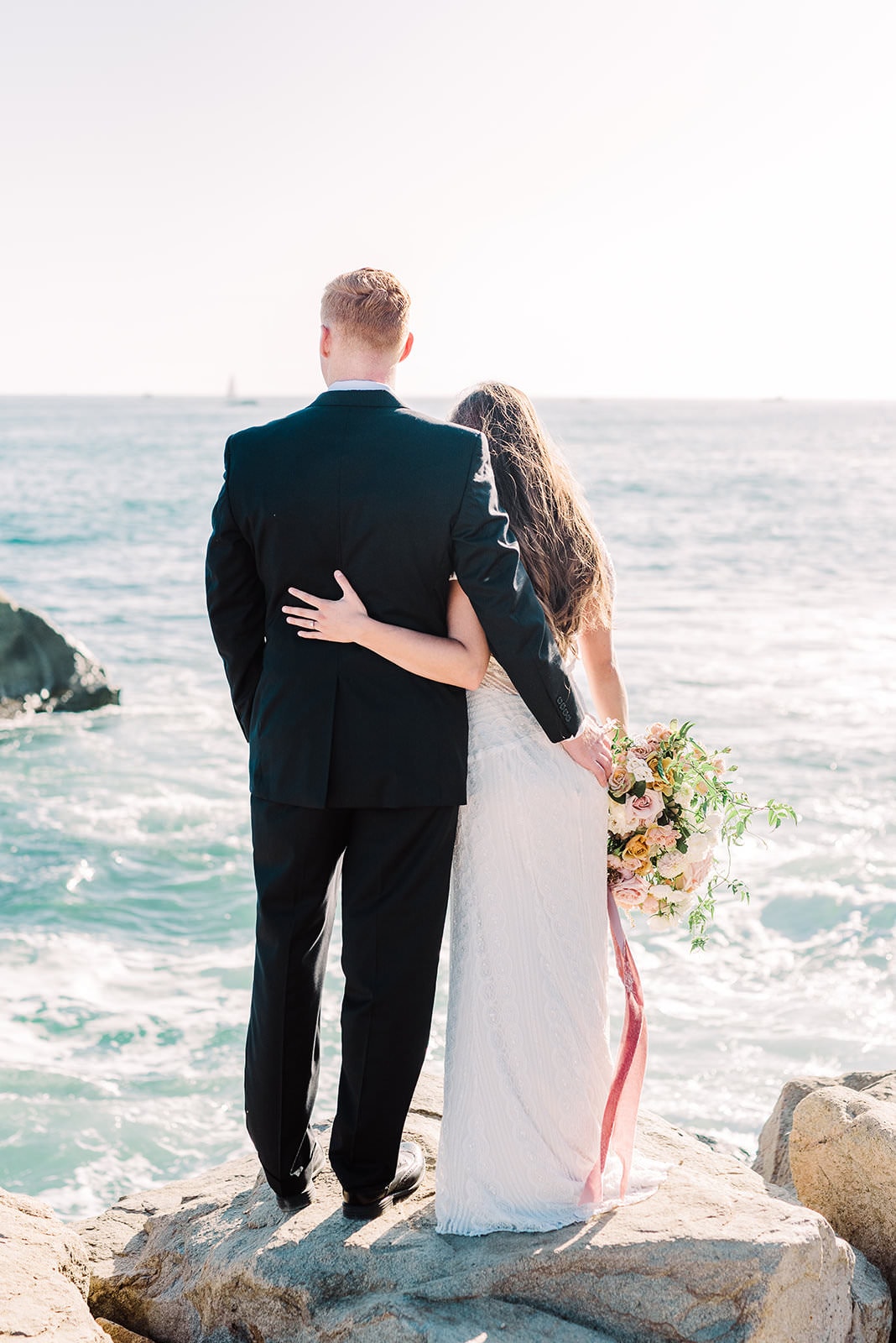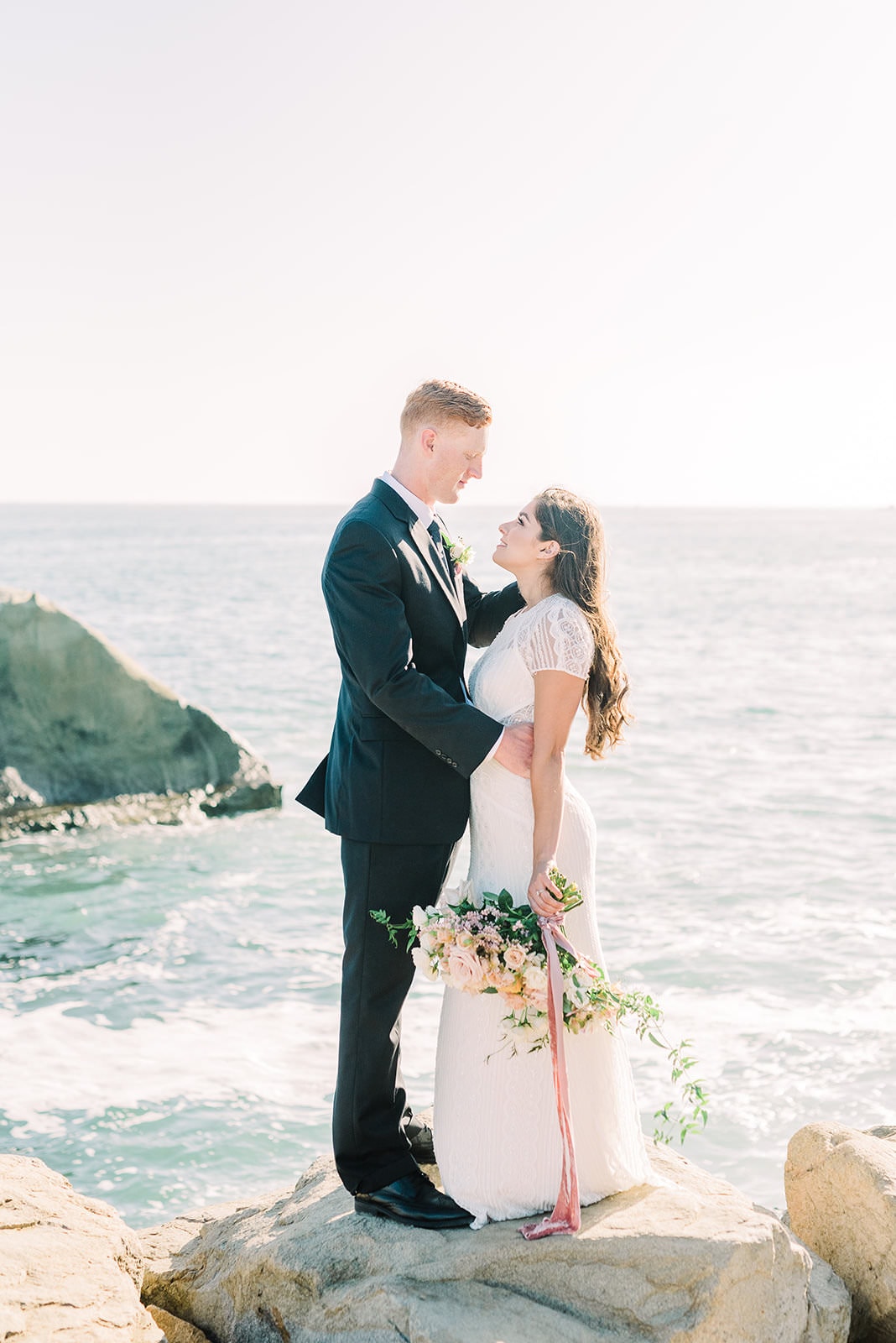 Where Can You Elope in California?
Big Bear, California, is a picturesque mountain resort town nestled in…
Popular Elopement Venues in California?
Don't see a venue you had in mind? Just ask us and we'll see what we can do!
California Elopement Packages
Standard Plan

Includes personal elopement planner, 60 minutes of photography, permits & fees, modern officiant, and more!
Deluxe Plan

Includes everything in the epic plan plus cake cutting, champagne, mini picnic reception, and more!
Tips for Eloping in California
1. HOW CAN YOU ELOPE IN CALIFORNIA?
To elope in California, you'll need to bring $100, one form of government-issued identification per person, and proof of any prior legal separations (more on this below) to any county clerk's office in the state (weekdays only!) for your marriage license. Some counties in California will also require copies of your birth certificates for this process, so be sure to do your research online before your elopement to confirm if it's a requirement for the county you'll be in. If you're able to start your marriage license application online in advance, it may shorten your trip to the clerk's office to finalize the application and be able to take care of any issues ahead of time. 
If either party wishing to elope has been divorced within the past six months, you'll need to present a copy of the divorce decree along with your other required documents. California marriage licenses are immediately valid and remain valid for up to 90 days. It must be used within the state of California.
A marriage license does not mean you are married, and it is not proof of marriage. Rather, it's documentation that shows you are allowed to get married. You still have to do the marriage ceremony/say your vows! But don't forget to return the actual license to the clerk's office where it was issued as the final step. They will give you certified copies of your marriage license for records.
2. HOW MUCH DOES IT COST TO ELOPE IN CALIFORNIA?
We have options to fit every single budget! Our elopement packages can be tailored for any budget-conscious couple or those looking to splurge on additional decor and details. While your marriage license will cost you $100, there are potential permitting fees if you're planning to elope at a national park or outdoor venues. We will be able to provide more info and take care of any required permitting fees in advance of your elopement date. For package information, click here.
3. WHERE CAN YOU ELOPE IN CALIFORNIA?
One of the many reasons we love California is because it offers so many different landscapes for all of our couples. Whether you're looking to elope in a national park or cliffside beach, there are quite a few options to choose from. In fact, you can find some of our favorite elopement locations listed here. If you're not sure where to start, that's what we're here for! We can help you narrow down which parts of the state are best suited for the elopement you've always dreamed of and your preferred budget.
4. WHERE CAN YOU ELOPE IN NORTHERN CALIFORNIA?
The northern part of California offers forest areas and pine trees along with a full seasonal spectrum. If you're planning to elope during the winter months, you can expect the temperatures to be low, even in California! Some of our favorite destinations in northern California for destination elopements are the Big Sur, Muir Woods National Monument, Half Moon Bay, Emerald Bay State Park, Lake Tahoe, Yosemite National Park and San Francisco.
5. WHERE CAN YOU ELOPE IN SOUTHERN CALIFORNIA?
If you're looking for more of a true California beach vibe, then you'll want to consider southern California. This area has fewer national parks but is where you'll find the palm trees and more of a tropical climate. Some of our favorite destinations in southern California are San Diego, Los Angeles, Palm Springs, Joshua Tree National Park, Santa Barbara, Santa Monica and the Mojave National Preserve.
6. DO YOU NEED AN OFFICIANT TO ELOPE IN CALIFORNIA?
In California, self-uniting marriages are legally binding in certain counties. Be sure to check what your county requires! For those that do require an officiant, you can be married by a judge, priest, minister or rabbi of any religious denomination who is 18 years old or over. Active and retired judges can also perform your elopement ceremony.
7. DO YOU NEED A WITNESS TO GET MARRIED IN CALIFORNIA?
In California, you are required to have one witness present during your elopement ceremony. On the bright side, there is no age requirement for witnesses in California. So for those couples eloping with children, your kids can act as your witnesses! Just keep in mind that your witness will need to be old enough to be able to sign their names on the official marriage license. 
8. HOW MUCH DOES A COURTHOUSE WEDDING COST IN CALIFORNIA?
The cost for civil ceremonies can vary based on the country you're planning to get married in. But on average, civil ceremonies in California range between $35-$65 depending on whether you will have a witness present or need one to be provided.