How to Select the Right Elopement Photographer for You
So you've found the perfect venue, set a date, are searching for your wedding day attire and scouring Pinterest for photos of that dream bridal bouquet — but who's going to capture all of these gorgeous details? You'll be looking at your wedding photos for years to come, so selecting the right photographer is probably one of the most important decisions that you can make during the planning process. 
Oftentimes couples will ask us which areas of their wedding are smart to save and the vendors they should splurge on. Without a doubt, your elopement photographer is one vendor that we recommend investing in! When you begin your search, you may be overwhelmed at the number of photographers to choose from, so we're here to tell you everything you need to know to confidently choose the right photographer for your elopement. From questions you should ask during the vetting process to some of our favorite elopement photographers across the globe, keep scrolling to find out more!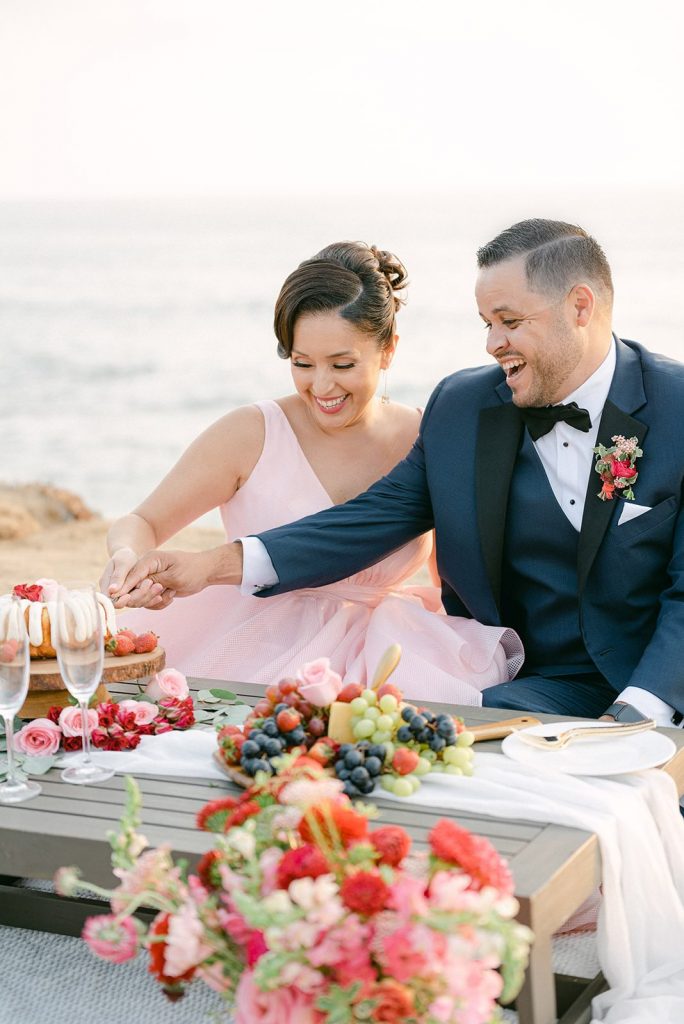 Photo by Kristen Joy Photography
How do I choose an elopement photographer?
The first step in your elopement photographer search is to comb through different portfolios, online galleries, Instagram profiles and more to determine your ideal photography style. Do you like light and airy photos, or rich and moody tones? Are you looking for more candid shots or traditional poses? We recommend that you avoid trendy edits and pick a photograph style that you'll enjoy seeing for a lifetime. Plan a phone call or meeting with any photographer that you're considering hiring before you sign a contract to get a feel for their personality, especially since you'll be spending a decent amount of time with them on your wedding day. One of the most important things is that your personalities mesh well so that you can all have fun on the day — and usually leads to the best wedding photos! There are a few questions you should definitely be asking your photographer ahead of time so that there's no surprises later and to determine if they're the right fit for you.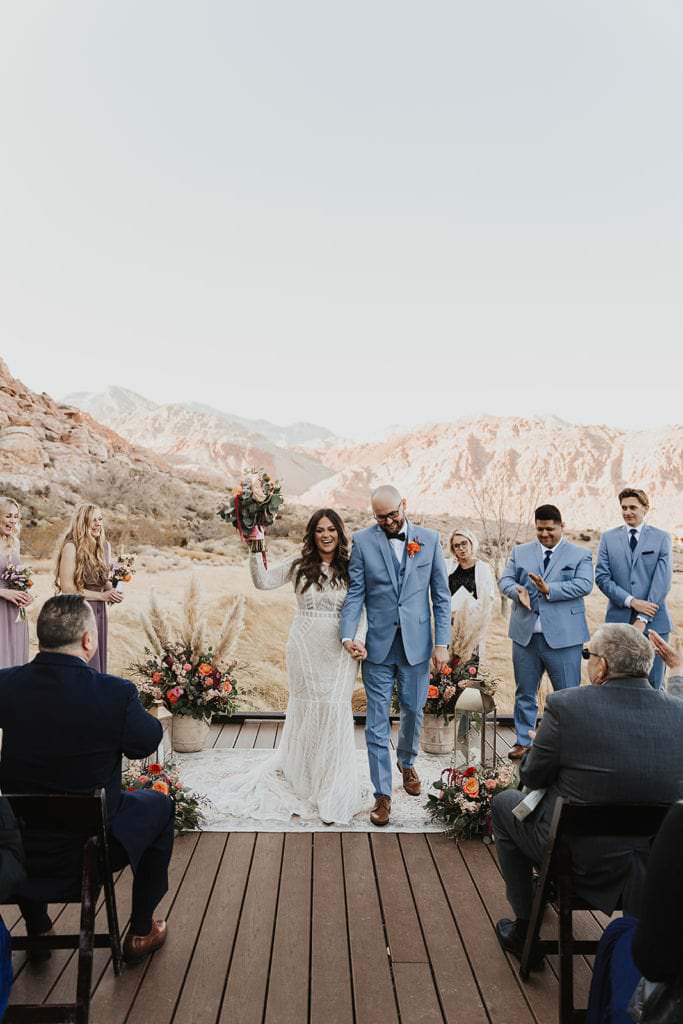 Photo by Onyx and Arrow Photography
5 Questions to ask your potential elopement photographer:
1. How many elopements have you photographed before?
It can sometimes be difficult to tell if a certain wedding photographer is experienced with shooting elopements. Unlike a traditional wedding, elopements are extremely intimate and in turn require someone that's great at capturing small details and scenic backdrops. We'd recommend working with someone that has shot at least 10 to 15 elopements before booking (and be sure to preview as much of their work as possible!).
2. Are you familiar with our elopement location?
Booking an elopement photographer that's familiar with your location and has shot there previously will certainly make things easier, but it's not a dealbreaker. If they've never been before, will they visit in advance to survey ideal photo spots and test lighting?
3. What are your package options, and is there any room to customize?
Most photographers will offer wedding and elopement photography packages that you can consider when booking. But, sometimes these packages include things like an engagement session, a set number of hours for the day and keepsakes like albums or galleries. Be sure to read through all of the terms carefully, and if there are aspects you'd like to remove from the package price, make sure that's possible beforehand.
4. Is there a deposit required to book and when is the full payment due?
Some photographers will require half of the package price as a deposit, and in some cases they may require you to pay in full. If you need to break up the payments, be sure to ask ahead of time for due dates and any payment options available that you can leverage. Above anything else, be sure to confirm what happens in the event of cancellation, or if they are sick and unable to shoot the wedding day for any reason!
5. Will you require any additional travel fees for our elopement?
Depending on where your elopement photographer lives, they may add on additional travel fees for any necessary flights, rental cars and hotels in order to shoot your elopement. Beware of any photographers willing to shoot your elopement for free in exchange for just covering travel costs — these are usually photographers looking to build their portfolio and they may not be as focused on getting the exact shots that you want on the day.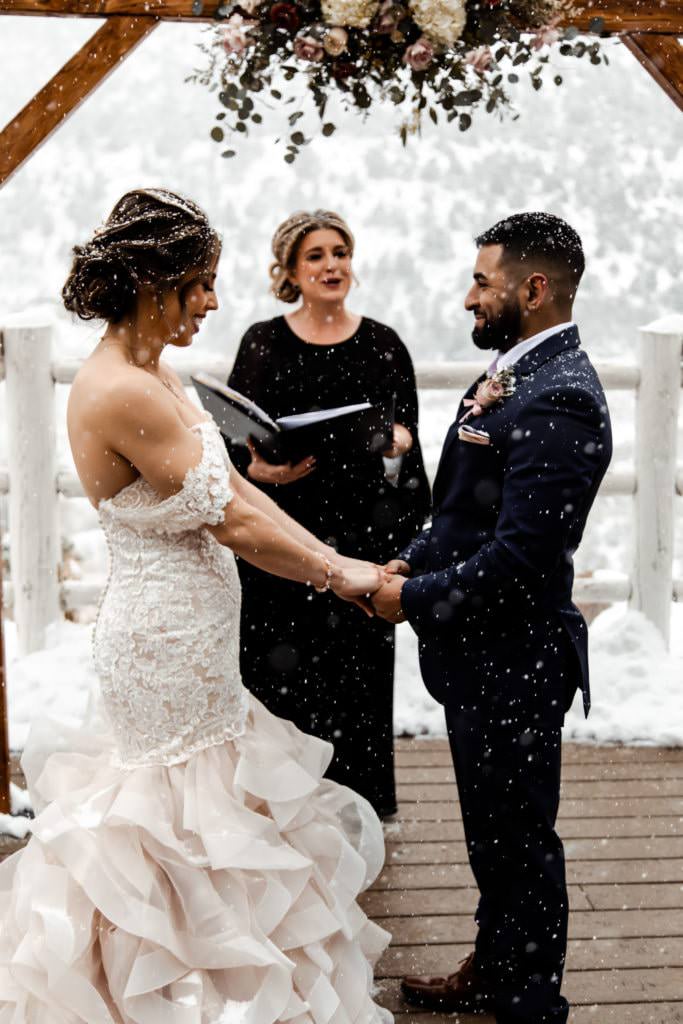 Photo by Ashlyn Savannah Creative
How much does an elopement photographer cost?
Elopement photographer costs can vary based on experience, location, necessary travel and their style of photography (film or digital). While most photographers will offer package options, so may charge an hourly rate instead for an elopement. For a traditional wedding, photographers are typically reserved for 6-10 hours on the day to capture every moment. But usually elopements aren't this long, so you may be able to pay less than average if you just need a few hours of photography. The average cost of a wedding photographer in the U.S. is around $2,500-$4,000, while hourly elopement photographers are usually around $300-$500 per hour. Some photographers will also charge slightly more for adventure elopements — these are elopements that will require hiking with equipment or long travel in order to get to the final wedding destination. When booking an elopement package with a venue or planner, an elopement photographer may be also included in the package price. Be sure to review their preferred photographer list as you may be able to save a bit more overall.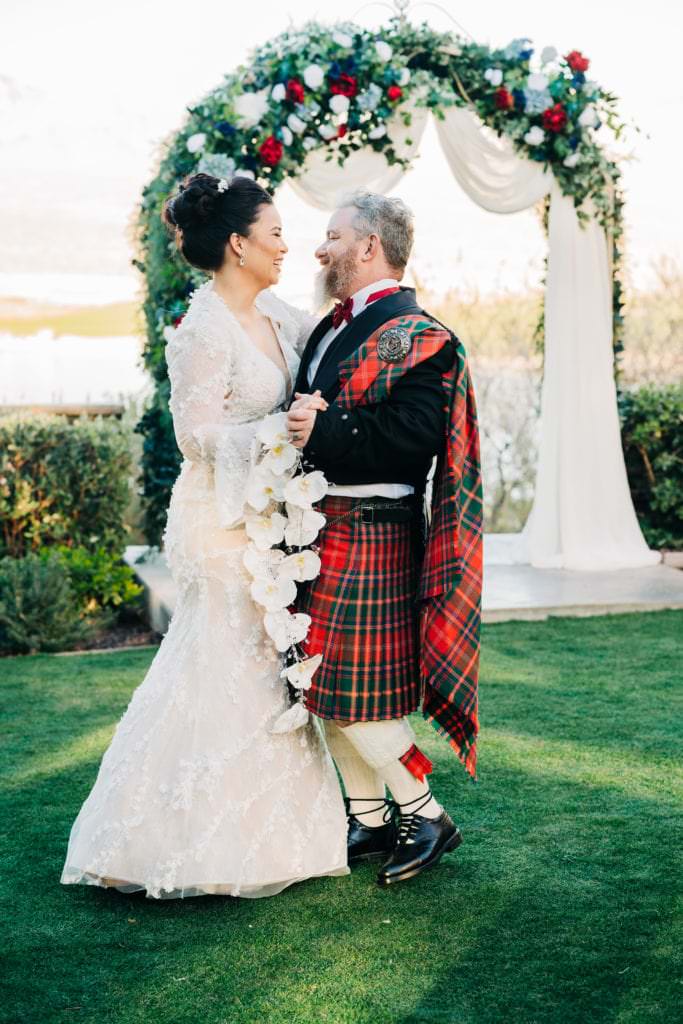 Photo by Amber & Co. Photography
Elopement Photographer FAQs
How far in advance do we need to book our elopement photographer?
Some photographers will start to book weddings up to a year in advance! Once you know the date and location for your elopement, we recommend reaching out to those photographers that you're interested in working with to secure them for your date. Especially if you plan to get married during peak wedding seasons (summer and fall), their calendars could book up quickly.
What is an adventure elopement session versus a normal elopement session?
To put it simply, an adventure elopement is one that will focus on the experience of your wedding day! Typically photographers will classify an adventure elopement as one where the couple and vendors will be hiking through the forest, mountains or traveling to other epic destinations as part of their big day. As you can imagine, hiking while toting camera equipment can be tiring, but most of these adventure elopement photographers will be capturing images of your elopement from the second you start the trail until you say "I Do."
We don't really know how to pose correctly. Will we still be able to get good photos?
This is a common worry for our couples, but don't stress! When you hire your elopement photographer, they know that you aren't a professional model. They will be there to walk you through everything and give tips for slight adjustments to get the best photographs possible. This is also another reason why your photographer's personality is important when booking! When you're shooting photographs with someone that feels like a friend everything will feel more natural, and in most cases our couples forget that photographers are even there while they exchange their vows. 
How many photos will we get?
The total number of photos delivered will vary based on how many are taken in the amount of time you are together, and your photographer's opinion on which ones are best. They will shoot thousands of photos just to get the very best frame of a single moment. On average, photographers will typically deliver anywhere from 40-75 photos per hour they are booked. We also recommend taking a look at their online galleries to get a sense for how many photos they typically take and deliver for their elopement couples!
How long will we have to wait to get our elopement photos?
Some photographers will actually deliver some sneak peek photos to you within 48-72 hours of your elopement! For full galleries, you can expect somewhere between 2-6 weeks depending on your photographer's upcoming travel and wedding schedule. Keep in mind that they are editing and delivering galleries around all of their planned weddings and elopements, so be patient if it takes them a few weeks to deliver their best work!