18 Small & Intimate Wedding Tips and Tricks
You don't have to have 150 or more of your extended family members and friends to make your wedding day special. There's something magical about smaller weddings, and it's no shock that they're growing in popularity as the wedding industry continues to grow. If eloping or a micro wedding has crossed your mind, you're probably wondering just how to go about things the right way. We get it! Weddings are believed to always be large events, so where do you start if you still want to plan an amazing wedding but keep things small?
Couples are currently gravitating toward smaller weddings as they are more cost-effective and customizable than traditional weddings. Cutting down the guest list to an intimate size helps guarantee you'll love every aspect of the day and where your budget goes. Plus, it will allow you to more easily spend those areas of your wedding budget on the items that you feel passionately about, and not just on entertainment factors for all of the guests. 
How to Plan a Smaller Wedding
Planning a small wedding may seem straightforward, but it can be difficult to pull off in some cases. To help make the process easier, we rounded up some tips and ideas for how to have an amazing small wedding.
1. Keep Your Guest List Small
A small wedding is only so if the guest list is as small as possible. While it may seem like a no-brainer, a lot of couples struggle on this first step. The first thing to keep in mind is that you don't have to invite anyone to your wedding. Especially not that distant relative that you haven't seen since you were five years old. A good rule of thumb is if you haven't spoken with a person in the last year, then they could easily be cut from the list. Those that you speak with frequently and that you enjoy spending time with regularly are the ones that matter most. You should also consider your venue! Is there a maximum guest capacity? Make sure that you're thinking about all of the moving parts as you plan your guest list.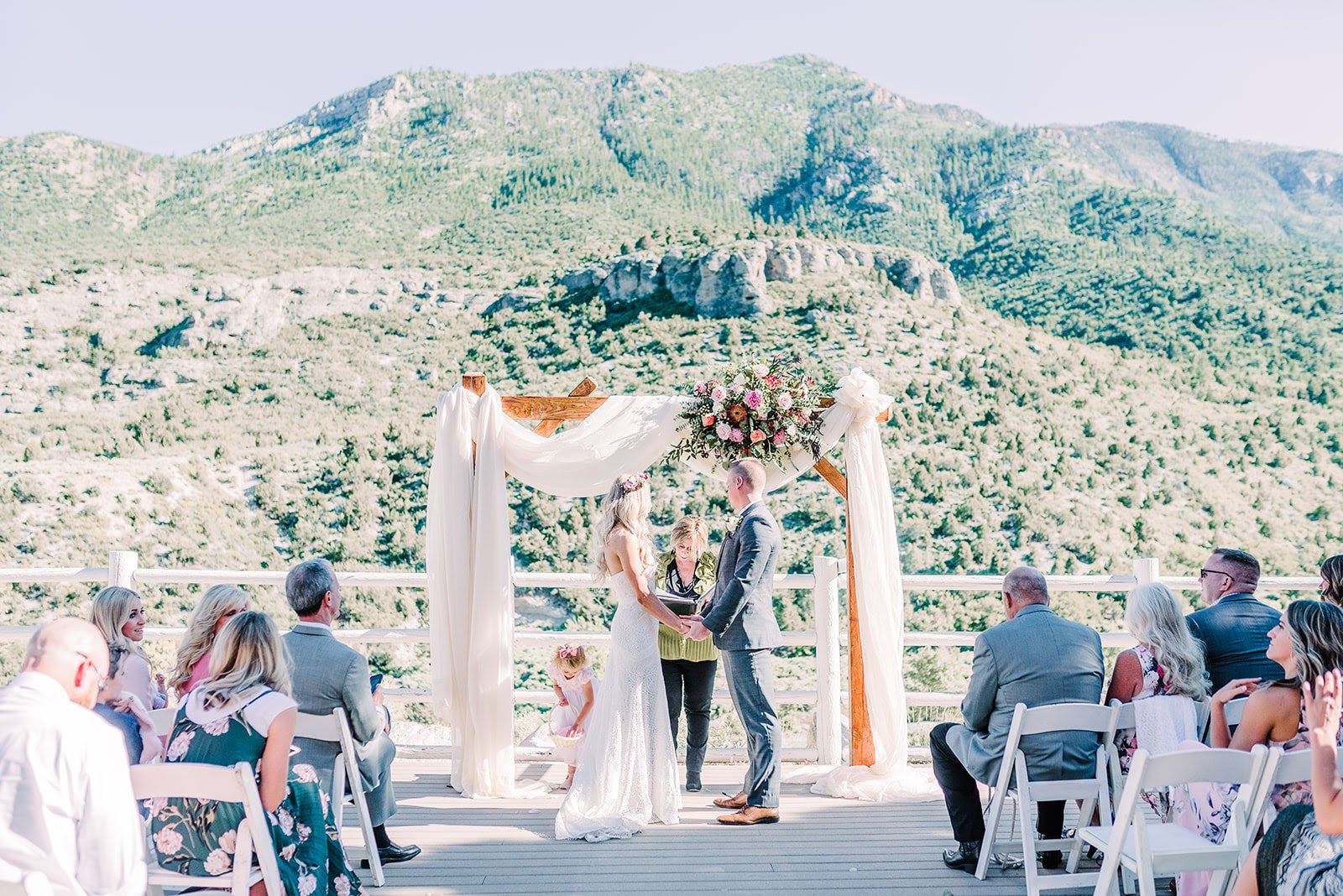 Photo by Kristen Joy Photography
2. Skip the Wedding Party
While having a wedding party stand by your side is common with traditional weddings, you don't have to have one! This is one of the easiest ways to help keep your guest list small, as there is usually a more clear divide between those friends and family members that would be in the wedding party and those that wouldn't. Rather than planning for a wedding party, you can focus on crafting that perfect guest list that includes the most important people.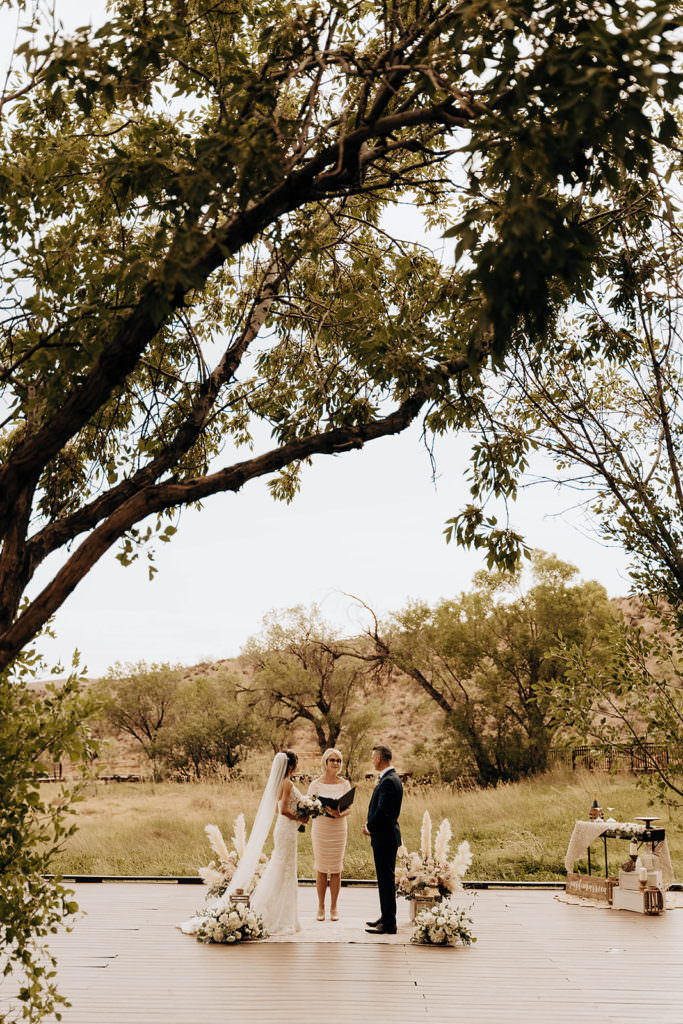 Photo by Onyx and Arrow Photography
3. Be Intentional When Inviting Plus Ones
Your guest list can grow quickly if you allow every guest to bring a plus one. Before you send out invitations, review the guest list together to see how you feel about additional plus ones. In most cases, a plus one is only for those couples that are engaged, married or have been in a long-standing relationship. Decide what cutoff makes the most sense for your wedding venue and guest list size to make sure there's no issues later on.
4. Make a Timeline for Your Wedding Day
Whether you're planning a traditional wedding or intimate gathering, it's always helpful to have a day-of plan. There can be a lot of moving parts on the wedding day from catering and photography to entertainment and floral. We recommend making a detailed timeline for arrivals, departures, changes throughout the day and all of the other details that you will need to keep top of mind on the big day.
5. Hire a Day-Of Coordinator
Need a little bit of help? Hire a day-of coordinator! These pros aren't reserved just for large weddings. You can absolutely bring one in for your elopement or micro wedding to assist with things on the day and ensure everything runs smoothly. The last thing that you want to worry about are all the small details while you're trying to relax and get hair or makeup done before the ceremony.
6. Ditch the Details That Don't Matter to You
If you're not a fan of all the traditional elements you'll find at larger weddings, then skip them! You and your partner should decide which aspects to keep that are the most important to you, and omit the ones that you aren't in love with. A lot of couples will skip dances, tossing the bouquet/garter or even cutting the cake in lieu of things that are more their style.
7. You Can Still Plan for a Large Reception
If an intimate ceremony matters most, you can still plan for a larger reception with family and friends! Some of our couples prefer to have the moment they say "I Do" to themselves, so that they can truly focus on what matters without any distractions. But then they will plan for a larger dinner or party with their extended family and friends to celebrate. There's really no right or wrong way to do things, so plan for whatever makes you both happy! If you are planning to keep some things intimate, be sure to communicate it clearly to your guests so you don't have any unexpected visitors.
Ideas for Your Small, Intimate Wedding
When it comes to all of the details surrounding your small wedding, there's an opportunity to get creative! From noteworthy floral installations to personalized touches, here's a few ideas for how to make your small wedding truly stand out from the rest. Plus, here's a look at some of the top wedding trends for 2022!
1. Pick a Venue That Matches Your Style
When it comes to choosing the right venue, there are so many options! A few ideas to consider are using a family home, renting a unique AirBnB, utilizing a smaller space within a traditional wedding venue, a local museum, brewery or even an at-home celebration. There are so many ways that you can get creative when it comes to selecting your wedding location. You can also explore some different ways of arranging seats within your venue! Want to literally be the center of attention?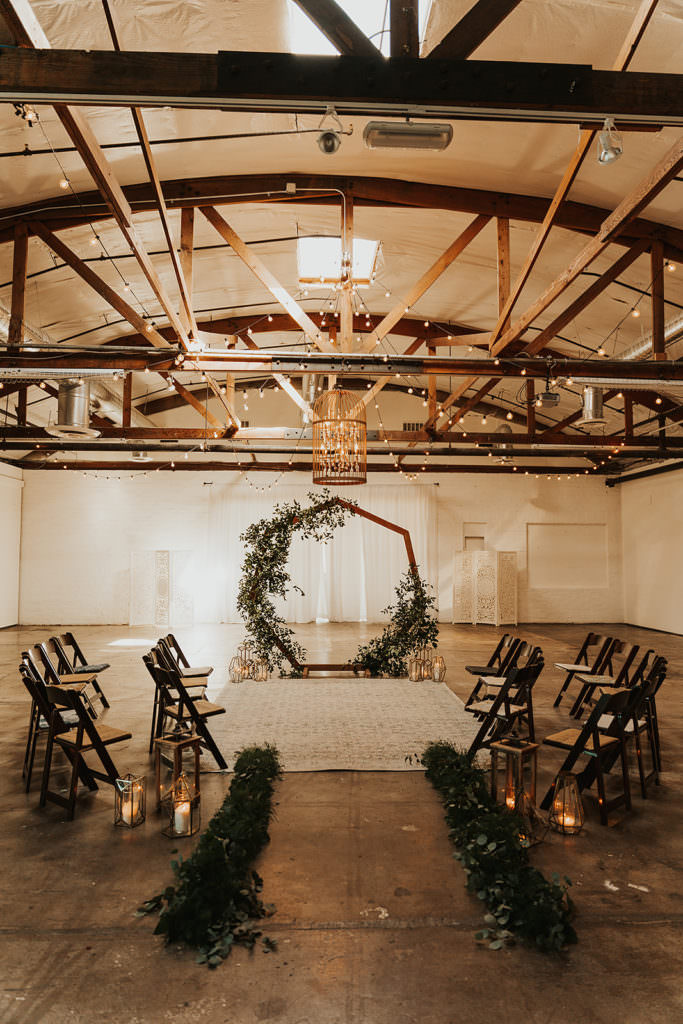 Photo by Onyx and Arrow Photography
Arrange your guest's chairs in a circle around your ceremony spot. A few other things to consider are creative seating and lounge situations to make guests feel right at home. Don't be afraid to add a few poufs, picnic blankets, pews and more.
2. Ditch the Basic Attire
Who says you have to wear a white dress on your wedding day? Nowadays brides and grooms all over are switching things up with bold colors, different silhouettes and patterned details. You can opt for a colored dress or spice things up with a two-piece ensemble. Maybe you and your partner want to wear matching suits or have all of your guests wear white, too. This is your opportunity to make it your own and get creative.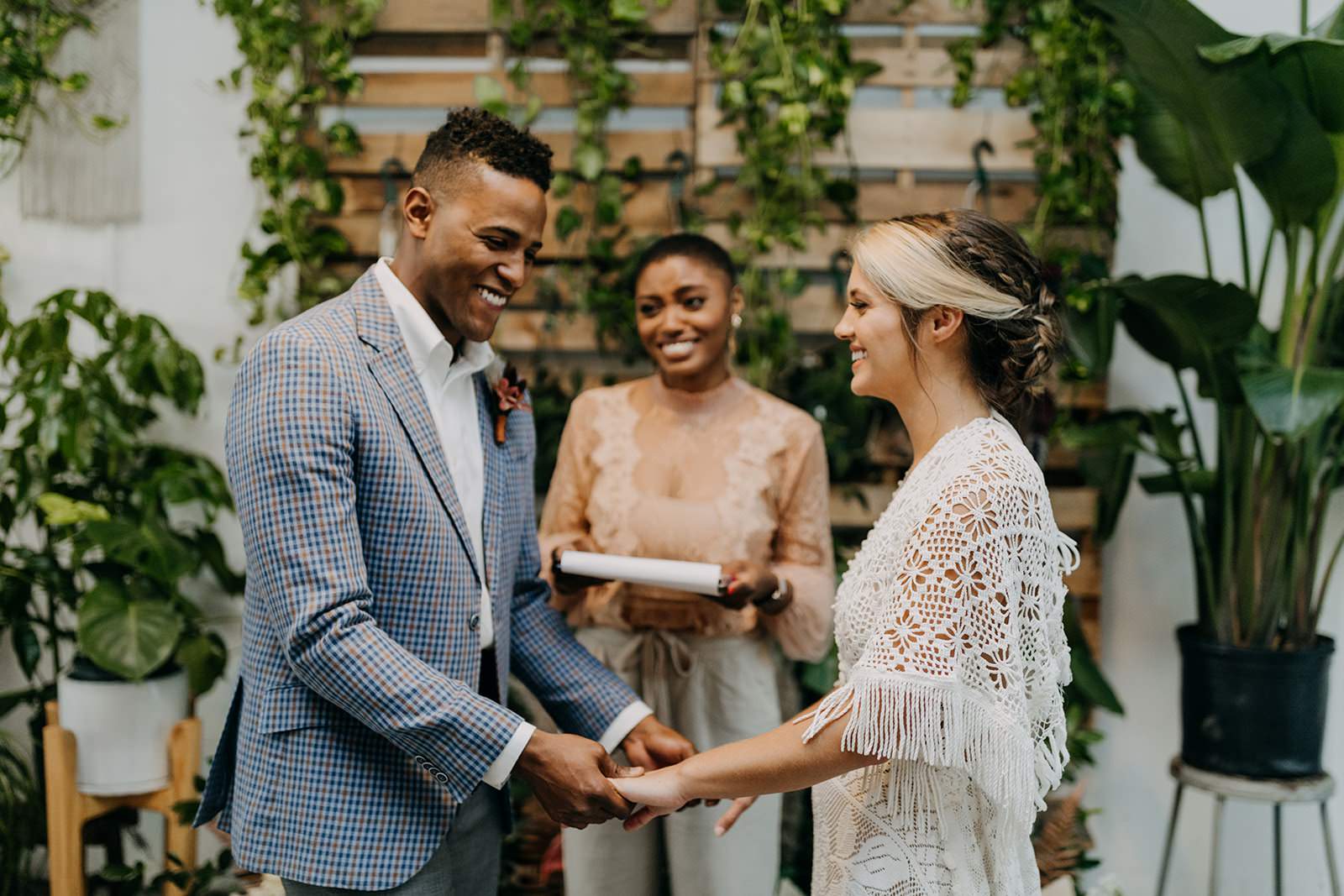 Photo by Amber McWhorter Photography
3. Send Heartfelt or Handwritten Invitations
With fewer guests on your list, it's much easier to send handwritten invitations with beautiful hand-lettering, rather than printing hundreds of pieces of stationery. You can use this opportunity to craft a completely personalized invitation suite, send a digital invite or even call your guests with the info! Make sure that your invitations, like every other part of your wedding, feel unique to the two of you.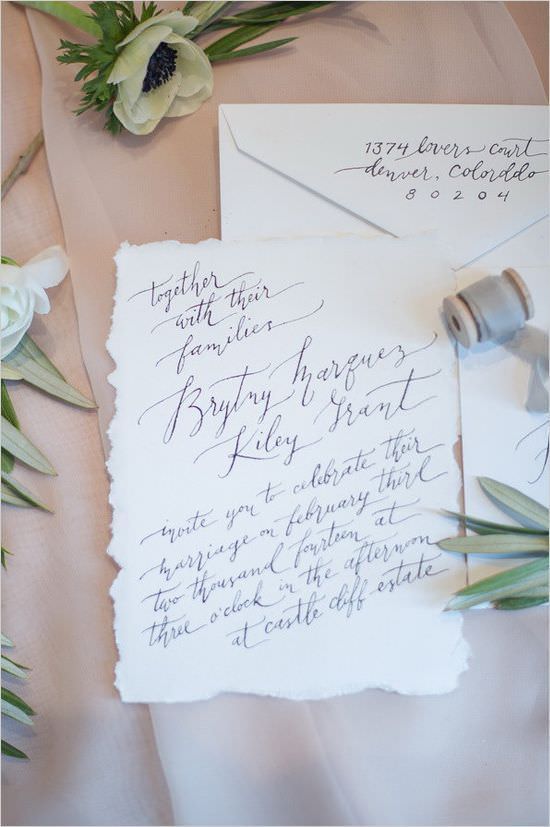 Photo via Pinterest
4. Invest in Your Photographer
Regardless of how many guests are in attendance, you should absolutely invest in a good photographer to capture all of the memorable moments. With less people around, your photographer will have the chance to capture all of the personalized details of your day and interactions with guests. From laughs to tears, hire a trusted photographer to take photos of all of those moments you want to cherish for years to come.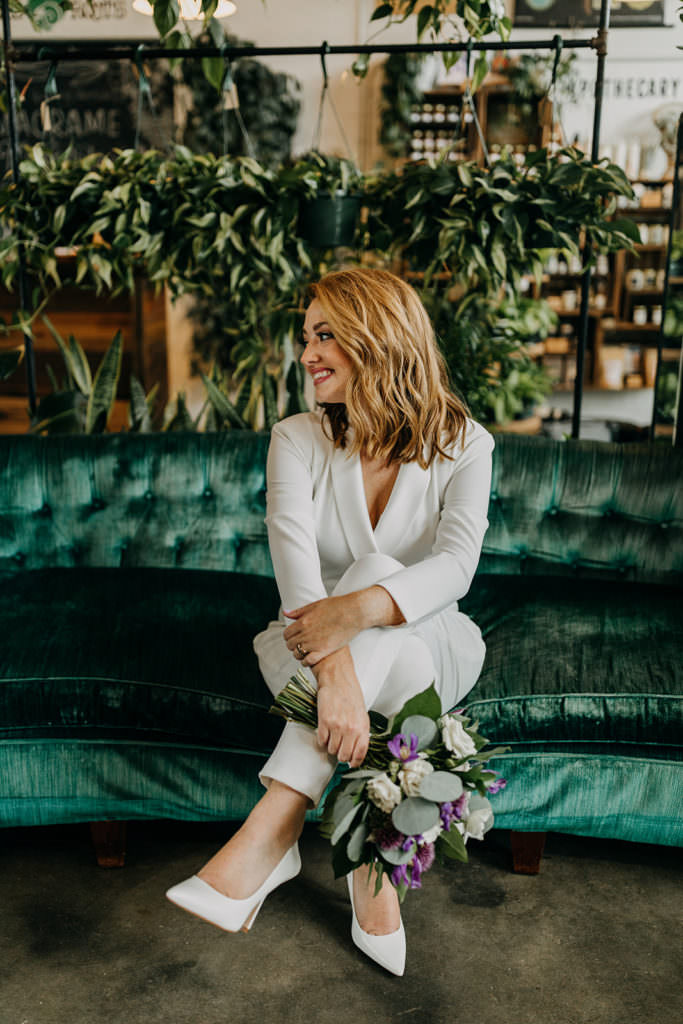 Photo by Amber McWhorter Photography
5. An Elevated Escort Display
An escort display is a great way to make things a little extra fun for your guests! We've seen countless escort displays over the years from champagne walls and tequila shots to hand carved trinkets and other favors. If you're planning to give each of your guests a favor at your wedding, this could be a great way to incorporate them rather than just setting them on tables.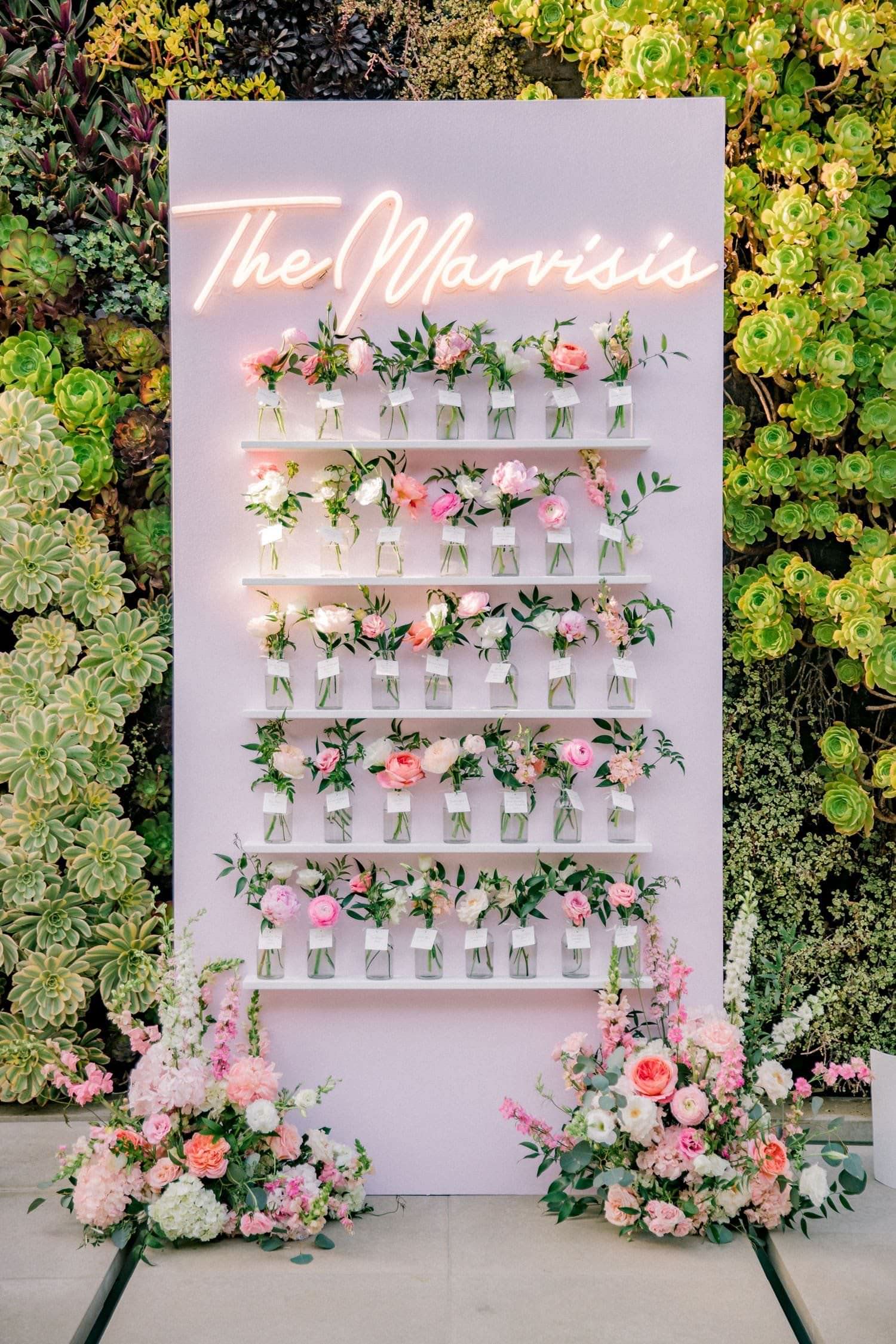 Photo via Inside Weddings
6. Create a Welcome Package
It's nice to make your guests feel special too! Whether you're hosting a destination celebration, weekend wedding or an evening reception, there's something about a welcome box or package that really sets you apart from the rest. We love it when our couples truly customize everything inside to be their guest's favorite items, local finds or things that they will appreciate having on hand during or after the wedding. If you're planning on reserving room blocks or accommodations for guests, you can even coordinate for these to be placed in their rooms or at check-in as a sweet surprise and thank you for coming to celebrate your love.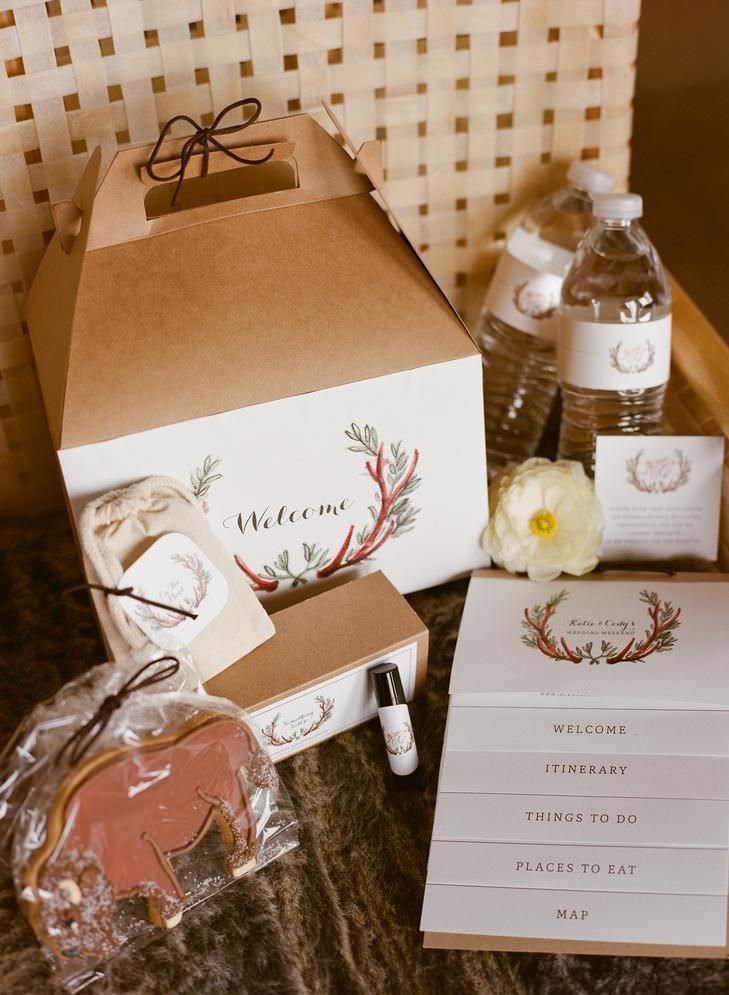 Photo via The Knot
7. Don't Forget a Lounge Area
There's nothing worse than a wedding where guests don't really interact with each other. Make it easy for all of them to chat or spend time together while you take portraits by setting up cozy lounge areas around your venue. Whether it's a few high top tables or small sofas, all of your guests will appreciate room to relax and mingle. Place a few Polaroid cameras around your lounge areas for guests to snap some images while they're there!
8. Craft a Tailored Menu
With fewer plates there's usually more room to customize food options! Rather than going the buffet route, this is a chance for all of you foodie couples to really curate a menu that you and your guests will love. You can include foods inspired by your travels, date nights, family background or everyday favorites that you whip up in the kitchen. Don't forget about dessert, too! You can ditch the traditional cake and serve mini cupcakes, pie, tarts or even a fruit fondue.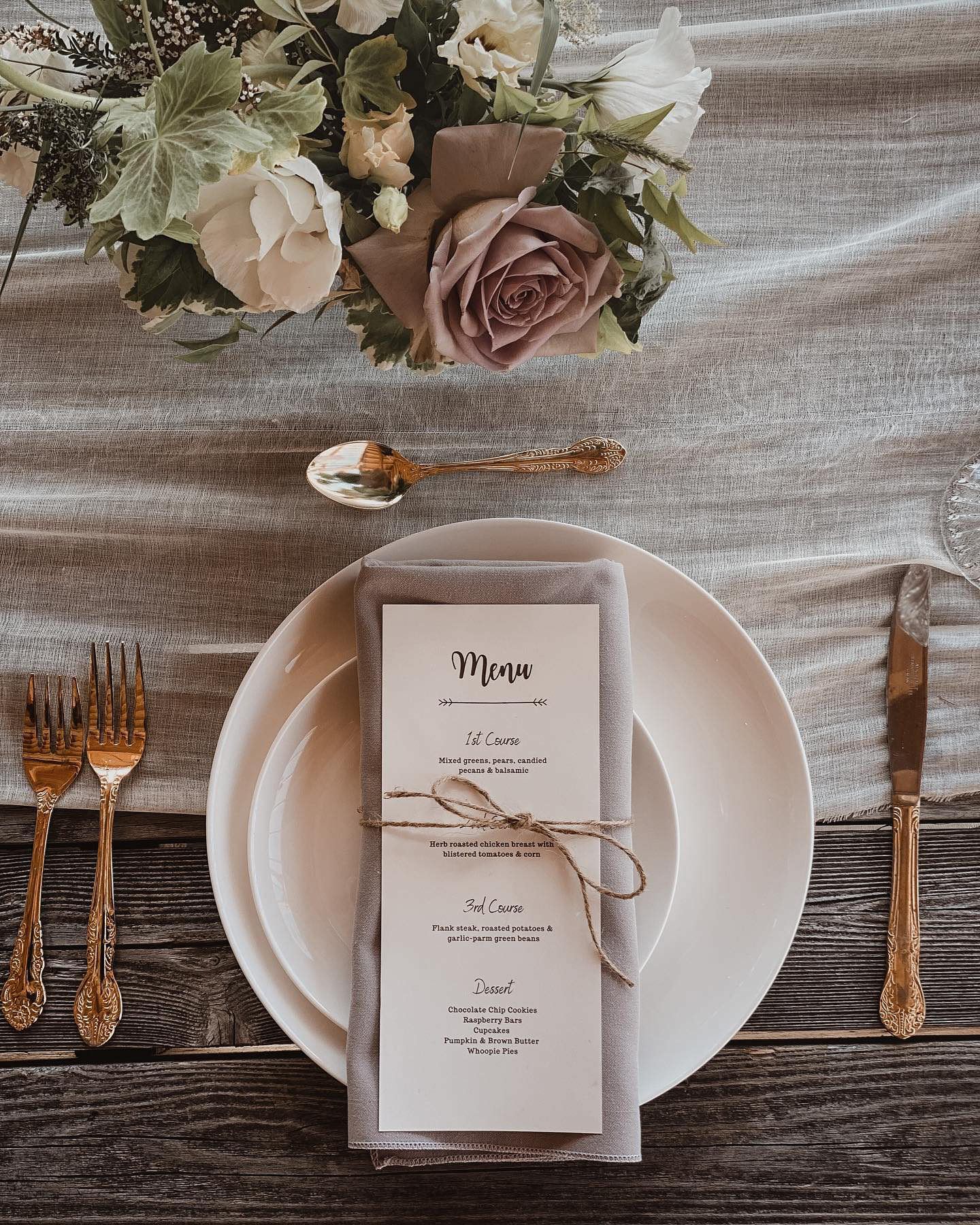 Photo via Rustic Wedding Chic
9. Play Around With Your Place Settings
Place settings don't have to be basic. Design a place setting that your guests will remember with hand-written place cards, thank you notes or favors. You can even incorporate family heirlooms by using china or silver that's been passed down over the years. When it comes to details, we love place settings with dried florals and metallic touches. Just be sure that your place setting allows for guests to comfortably access all of their cups and flatware — as well as some elbow room to move around easily.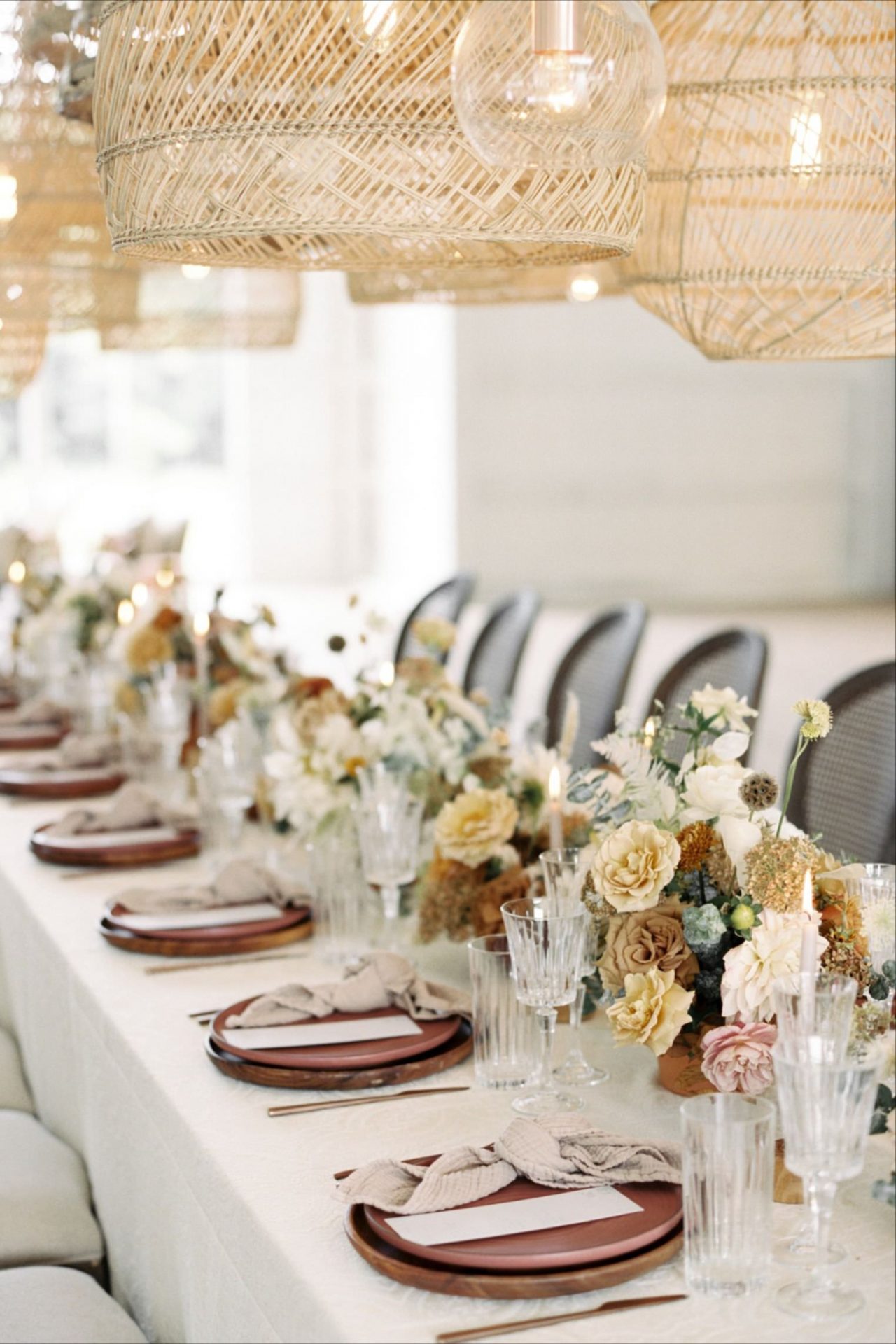 Photo via Brilliant Event Planning
10. Go Bold With Plenty of Florals
Oh, how we love floral arrangements! When planning a smaller wedding, it can allow you to spend in more areas that you feel passionately about. If you're a flower lover, then go big! Add some stunning floral pieces on your tables, hang stems from the chandeliers or even line the walkways with vibrant displays. If you're planning pieces for your tables, make sure that your guests will be able to see one another easily. We recommend going for lower centerpieces or high arrangements with a minimal vase or stand that's easy to see around.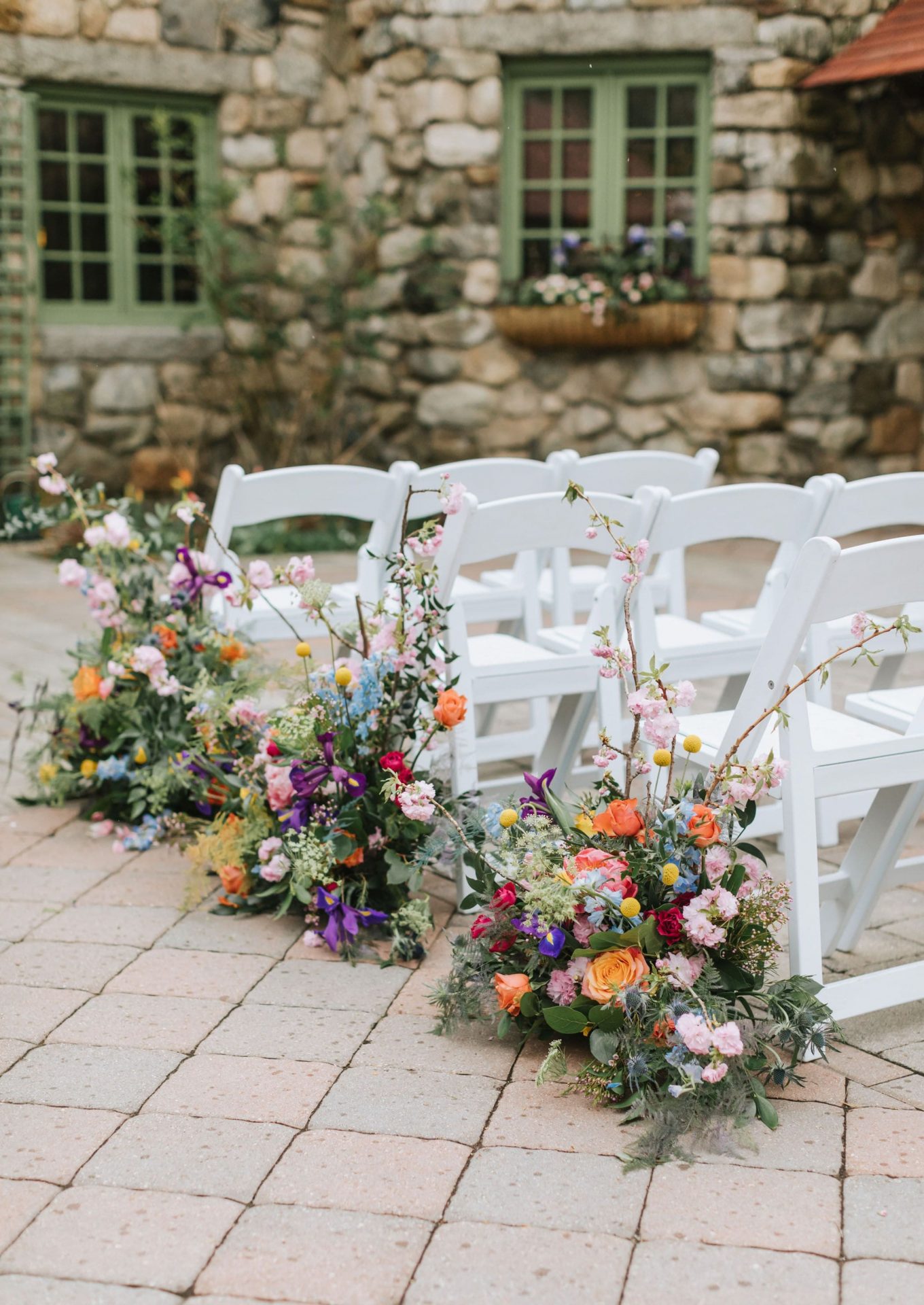 Photo via Green Wedding Shoes
11. Go for a Smaller Cake or Alternative Desserts
You certainly won't need a 5-tier wedding cake when planning for a more intimate wedding, so design a smaller cake that speaks to you! You can adorn your cake with flowers, edible pearls, personalized toppers or chocolate covered strawberries. Not a cake person? No problem! We're seeing so many couples opt for alternative dessert displays with items that are easy for guests to grab and go.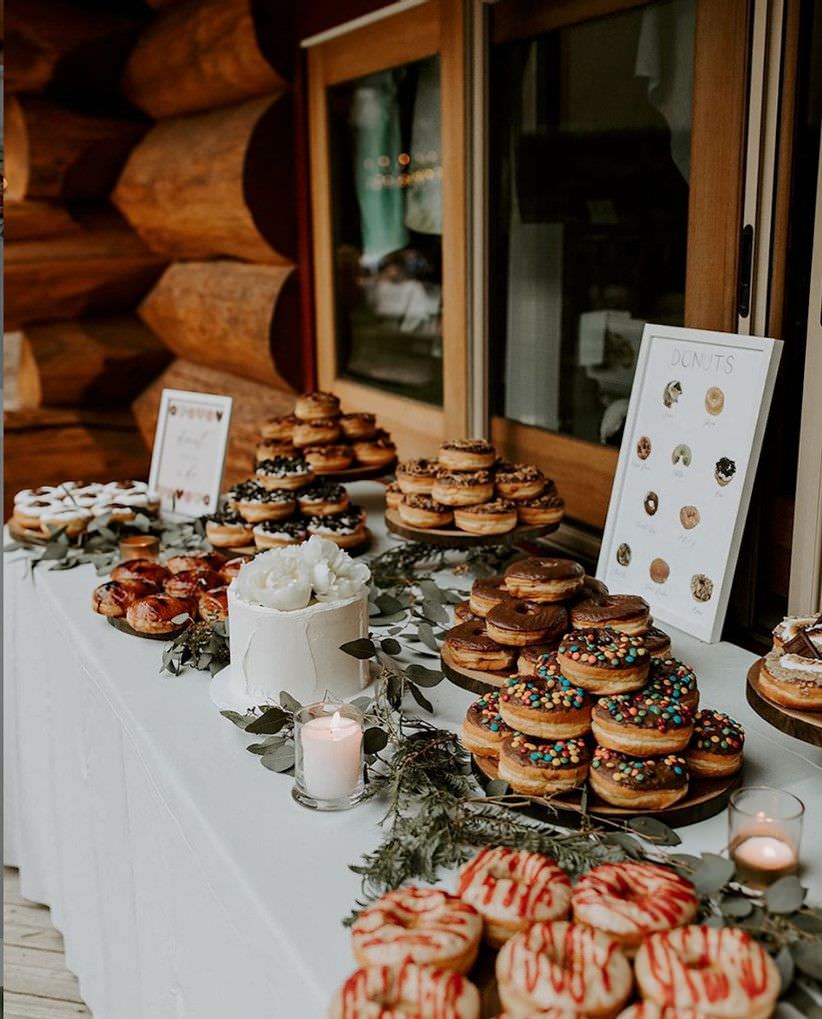 Photo via Hitched
Frequently Asked Questions
What's considered a small wedding?
A small wedding is usually defined as a group of 50 guests or less, but it's up to you! For couples with large immediate families, it can be difficult to keep numbers as low as some others. We recommend checking with any of the locations that you're considering to confirm how many guests they can accommodate before making your final guest list.
Where can I host a small wedding?
An intimate wedding is all about the location! There are plenty of smaller venues to consider when planning a small wedding versus spacious venues that typically house large, traditional weddings. Here's a few ideas that we've seen over the years:
Rent out a restaurant or private room

Local brewery

Rooftop bar

Local garden or park

AirBnB

Family home or your home

Museum

Beach

Adventure destinations (i.e. canyons, mountains, cliffside beaches)
Are small weddings still fun?
Absolutely! For some reason there's a stigma that small weddings aren't as fun since they don't typically include all the bells and whistles large, traditional weddings feature. But this couldn't be more wrong! In fact, small weddings can actually be more fun than large weddings as you'll have the ability to interact with your guests more, personalize all of the details of the day and maybe spend an entire weekend together in a neat place.