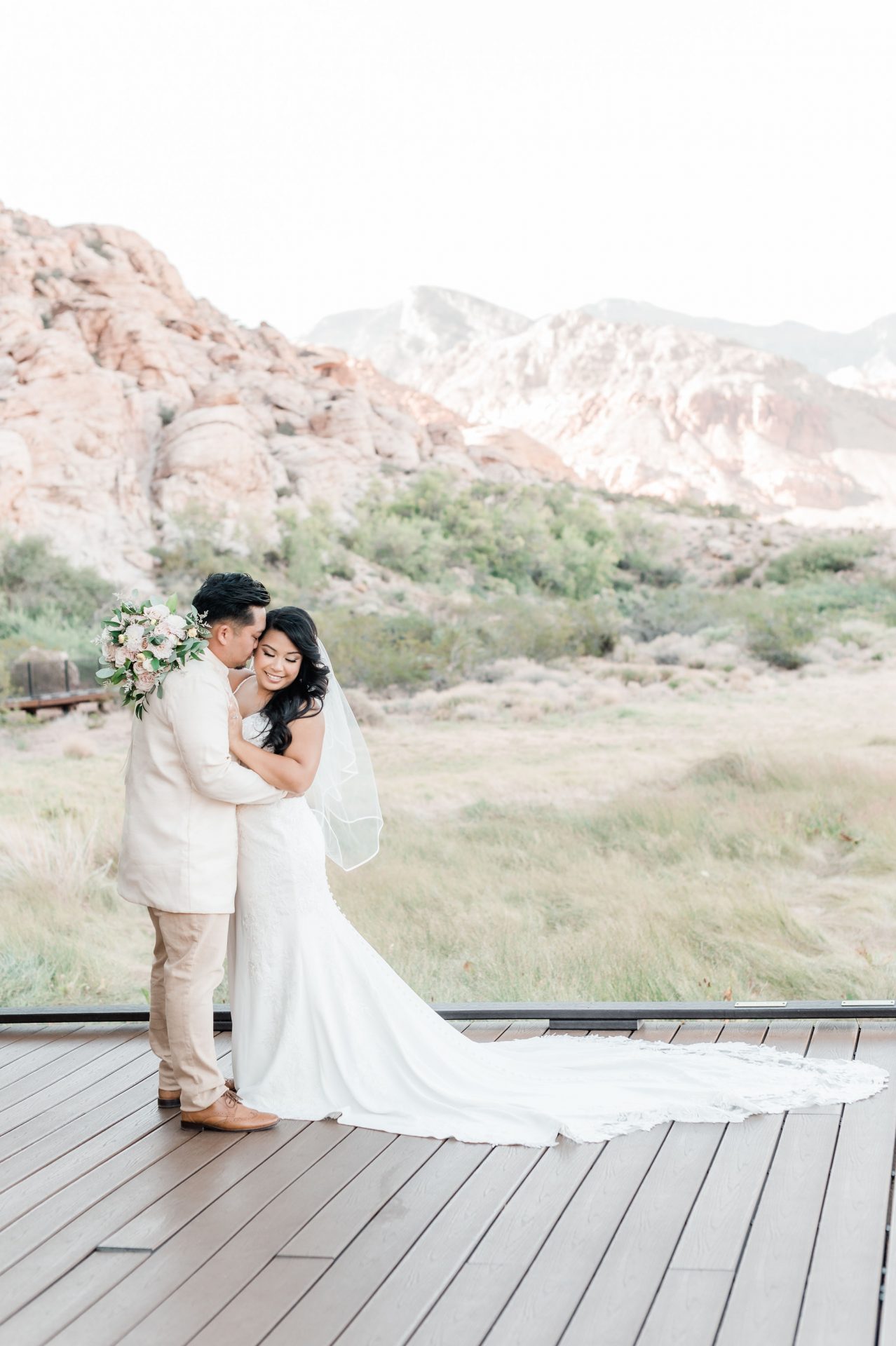 Modern Boardwalk Elopement With Blush Pink Details
WHAT WORDS WOULD YOU USE TO DESCRIBE YOUR WEDDING?
Flawless, stress free, perfect timing with weather!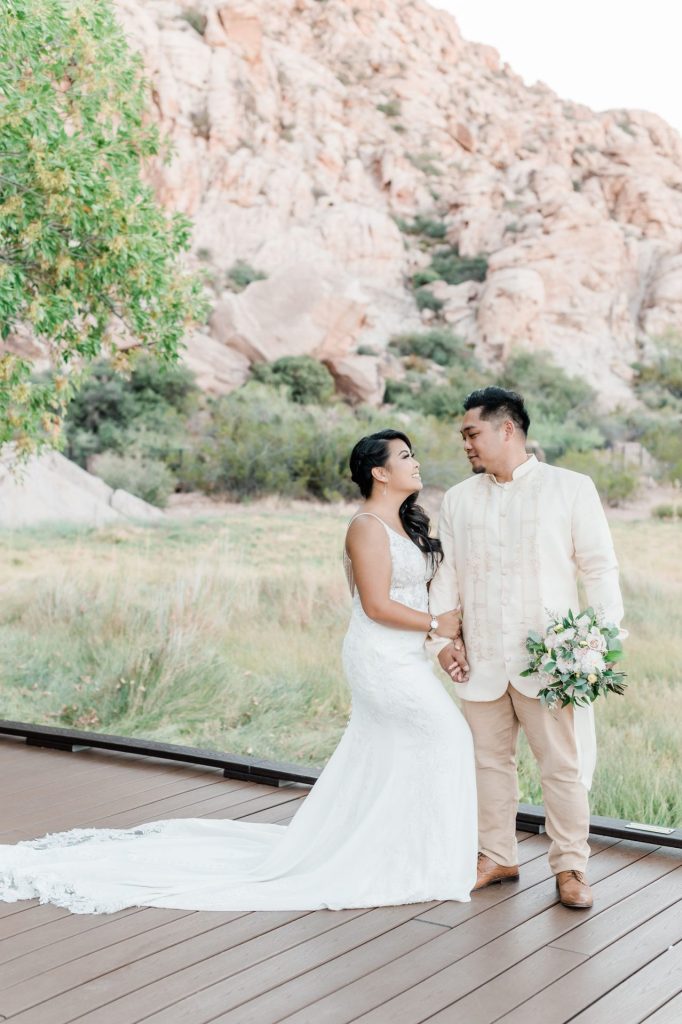 THE PROPOSAL:
He proposed to me while we were sitting on the couch and it was just the two of us. We were very vulnerable at the time because we were talking about our future and it was perfect timing to bring out the ring.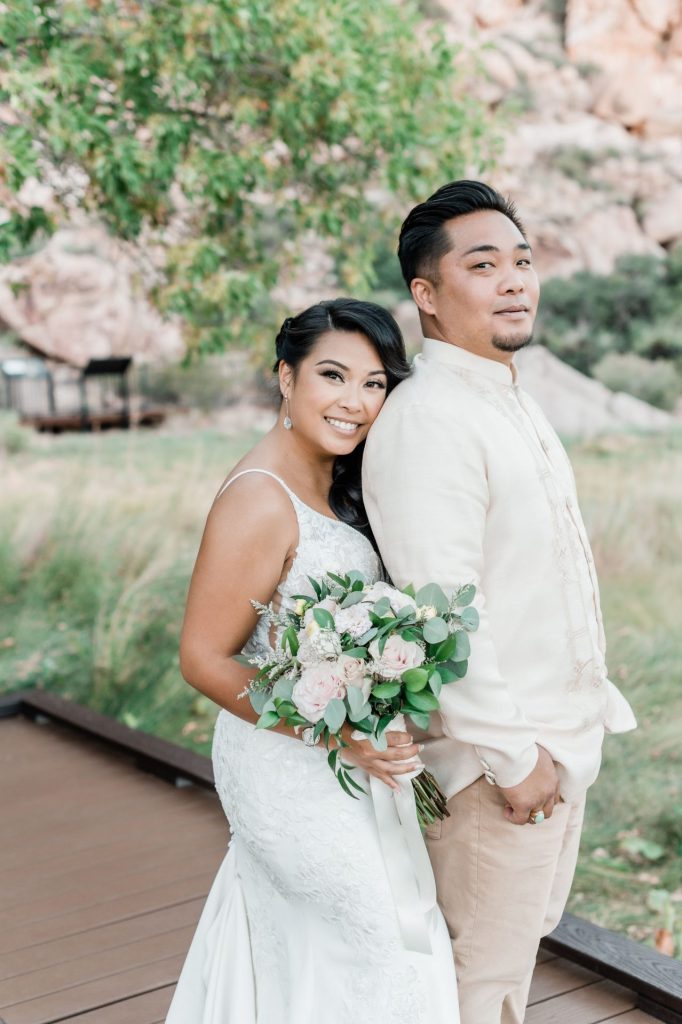 THE VISION:
Because of finances and COVID, we knew we wanted something small and intimate for our micro-wedding. We wanted the view of the ocean such as Big Sur or Monterey Bay. We originally met in Vegas which led us searching for spots. That's when we came across Elopement Las Vegas. When we saw how Elopement Las Vegas was able to set up gorgeous, small elopements in the desert, we fell in love with that view instead. Las Vegas is also home to tons of entertainment so we didn't have to stress about what to do with our family while they came from out of town.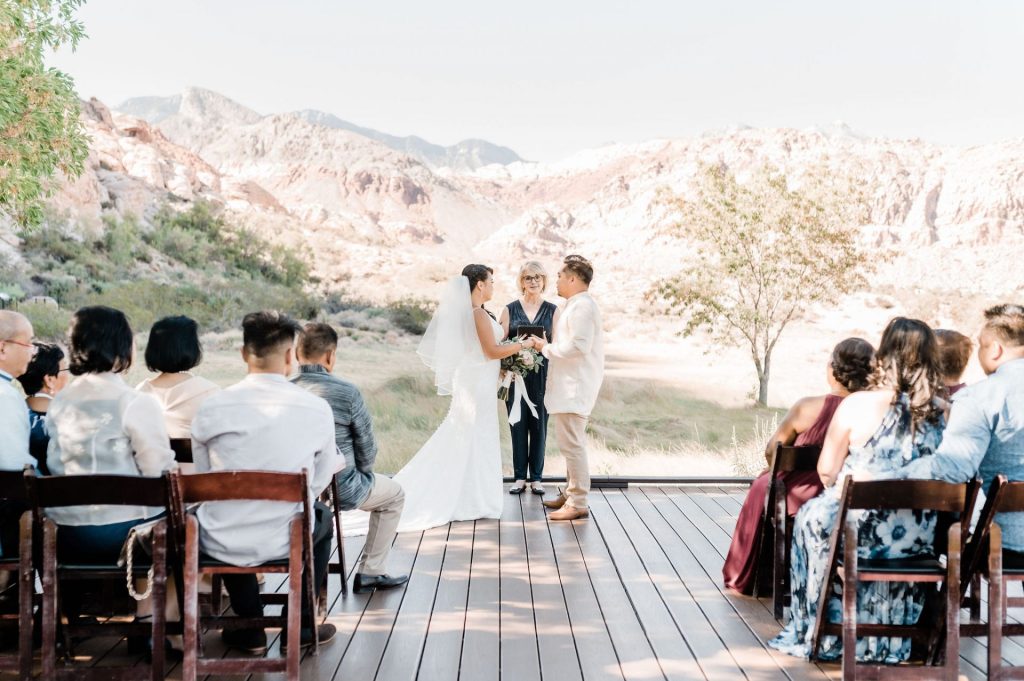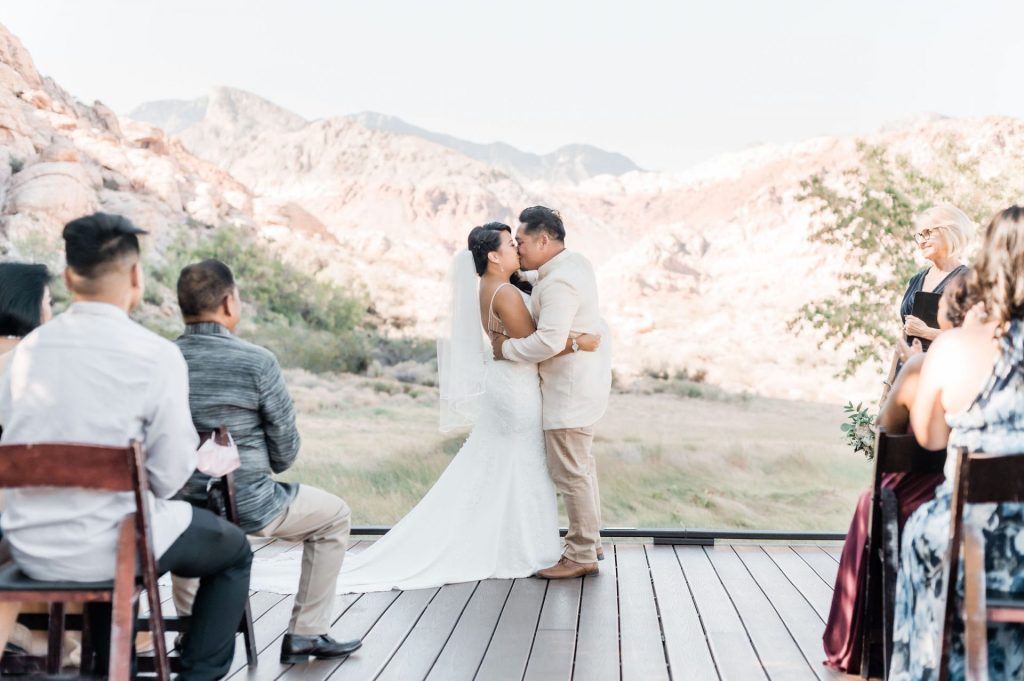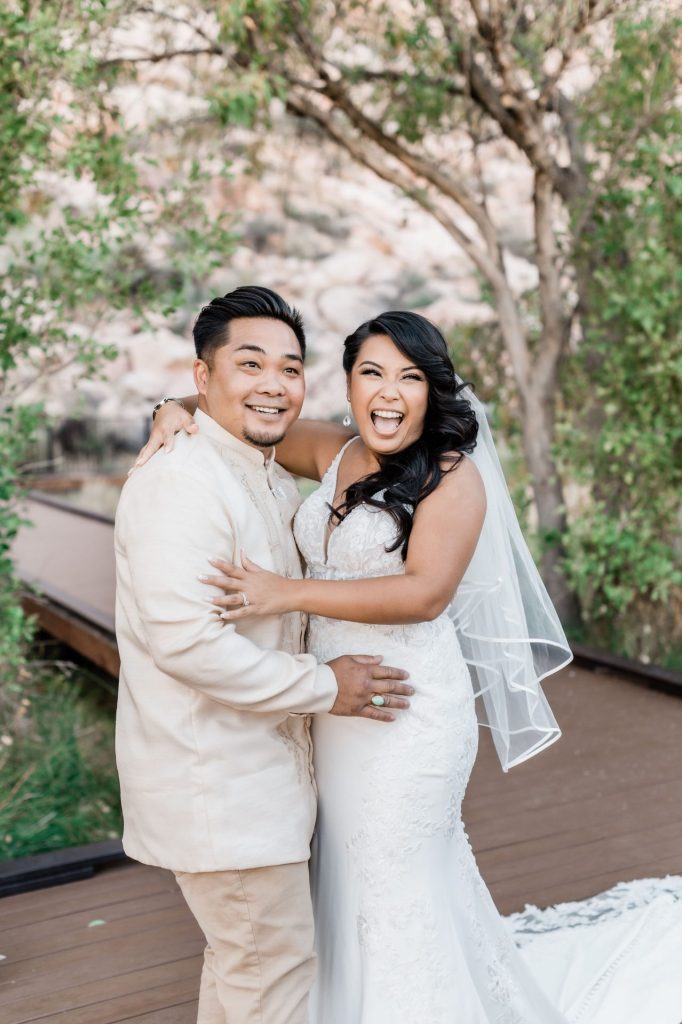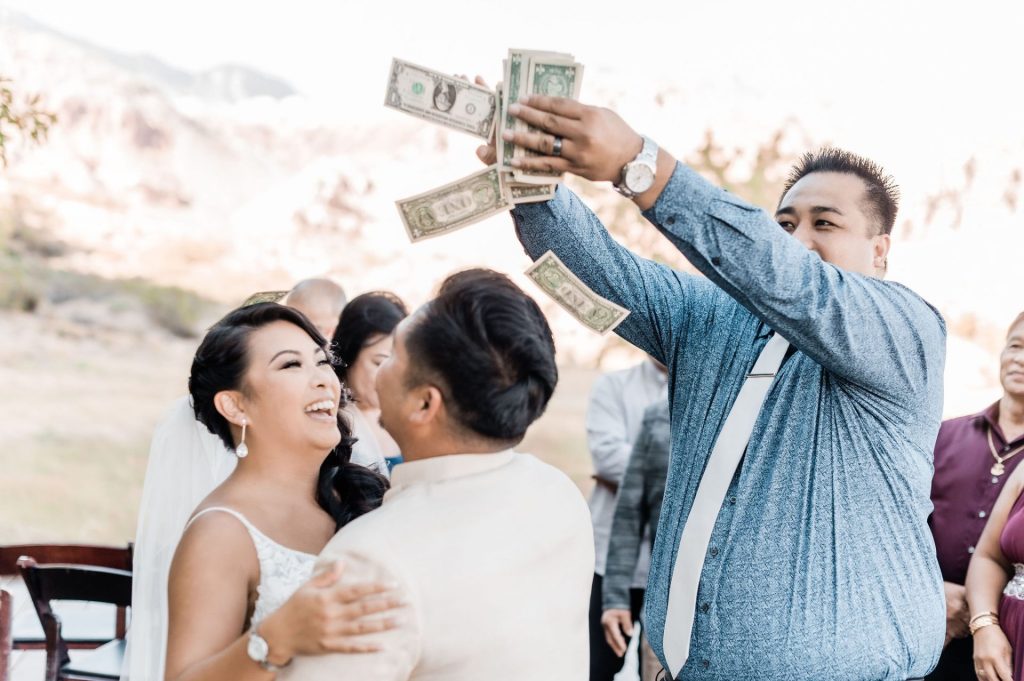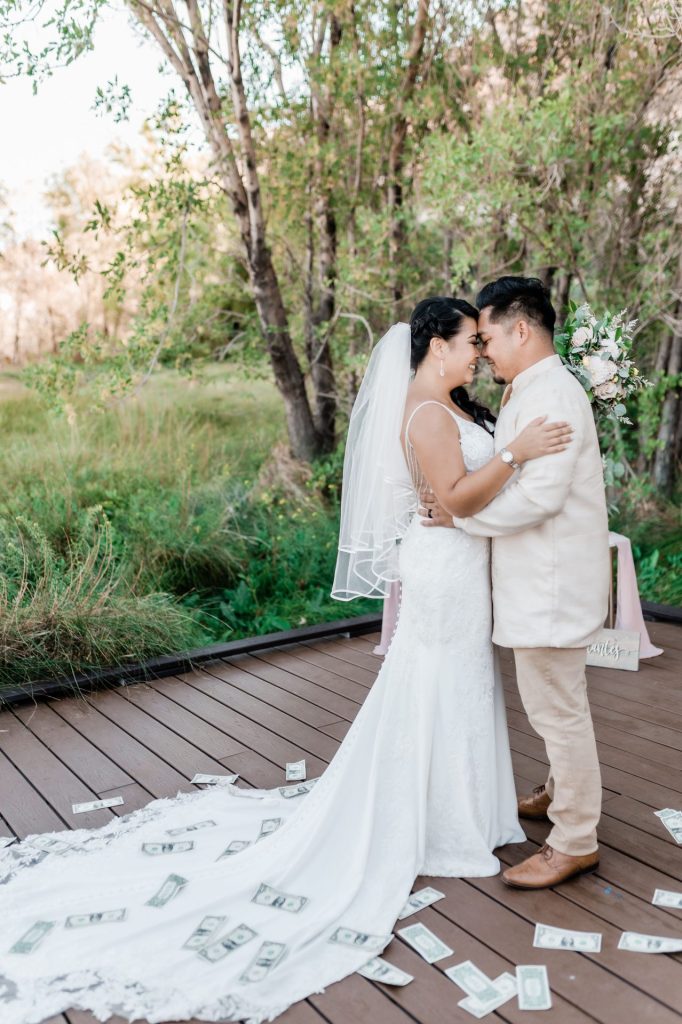 YOUR OUTFITS AND ACCESSORIES
I found my wedding dress the first day we went searching! I had one of my best friends and mom come with me. It was everything I was looking for in a dress.The groom, initially, wanted to wear a dark blue tux but ended up falling in love with a custom made, traditional barong (formal attire of the Philippines) which also felt more comfortable for him since the material is more breathable in comparison to a suit; perfect for the desert heat! The groom wore his Grandfather's jade ring who passed away 1 year ago before the wedding. Prior to the wedding, we were gifted a bunch of things from our friends and family to use for the ceremony. We had a custom made wooden sign that said "The Brillantes", wine glasses for our champagne toast with our names and wedding date etched onto it, Mickey Mouse cake cutting utensils, and we had pictures of our passed loved ones sitting on the chairs.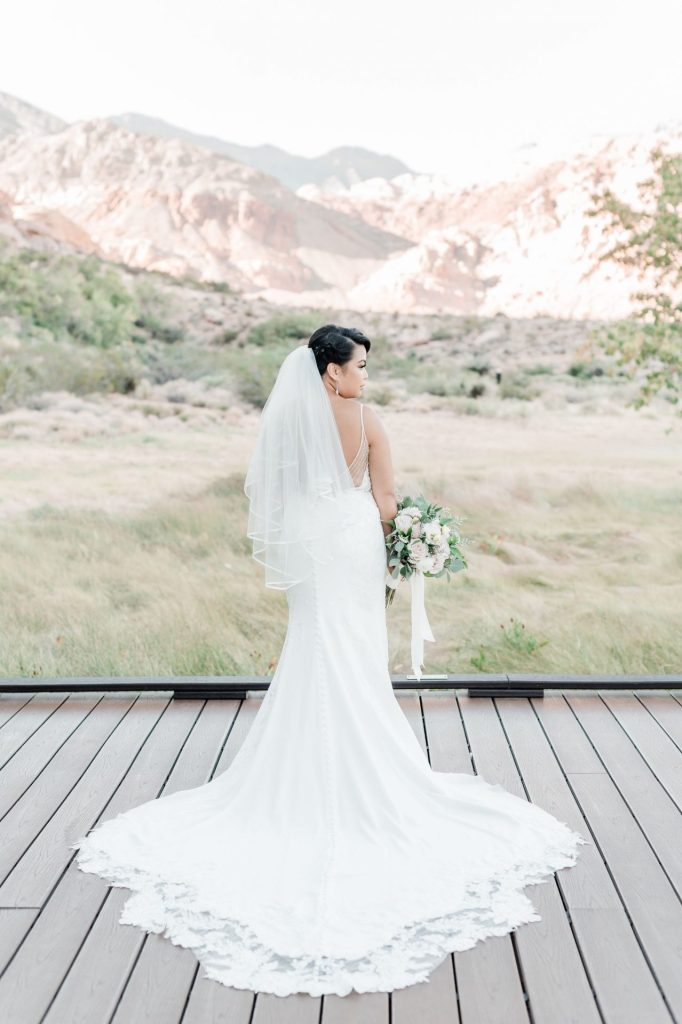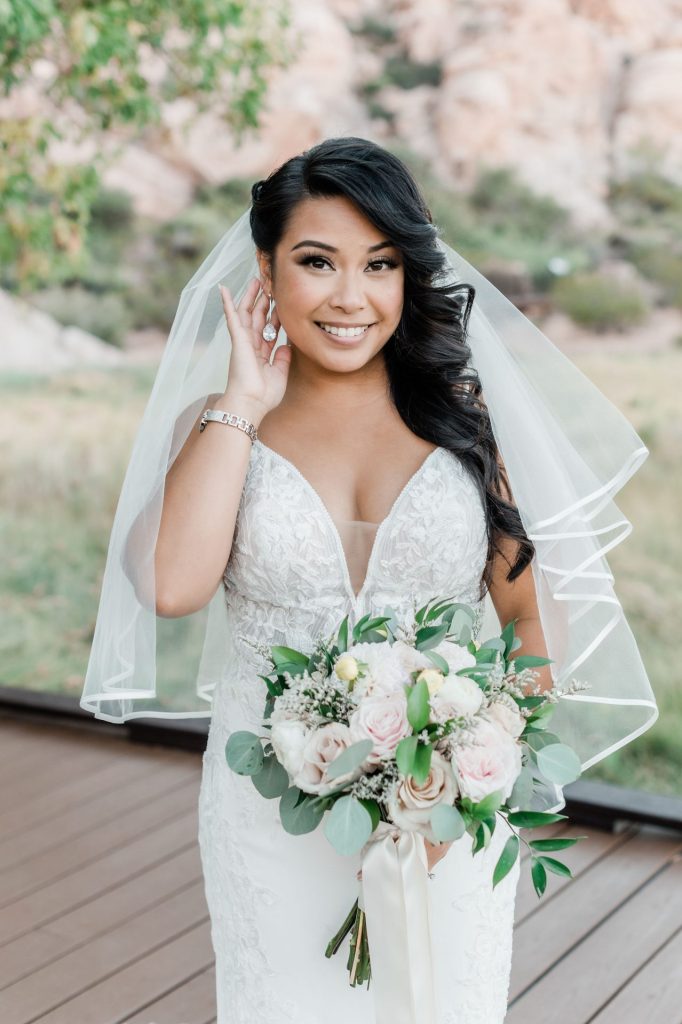 MEMORABLE MOMENTS
We avoided making any contact with each other while getting ready, took separate vehicles going to the venue, and saved the reveal until I walked down the aisle. We loved the build up throughout the day. I particularly loved the walk going to the deck before the ceremony because I was able to "take it all in" (words from Martha which was soooo perfect to calm my nerves). At the end of the ceremony, after we took pictures, we took our time heading back to our family near the picnic area just to absorb the moment and the amazing view. On this walk, we were able to talk to each other about the entire day without the social pressure to take pictures or entertain guests.
THE PLANNING PROCESS
We considered Hawaii (home of the groom) but we've already been to so many weddings all over the island. We didn't want something that's been done before. We also considered Big Sur, but after weighing out pros and cons, it wasn't feasible for us or our family. We started planning for everything in June 2021 and once we booked with Elopement Las Vegas, everything was so smooth! From the photography, videography, even down to the recommendations for makeup and hair, drive time from our airbnb, and calling us the day before to confirm what to expect, they made the entire planning process extremely easy to follow.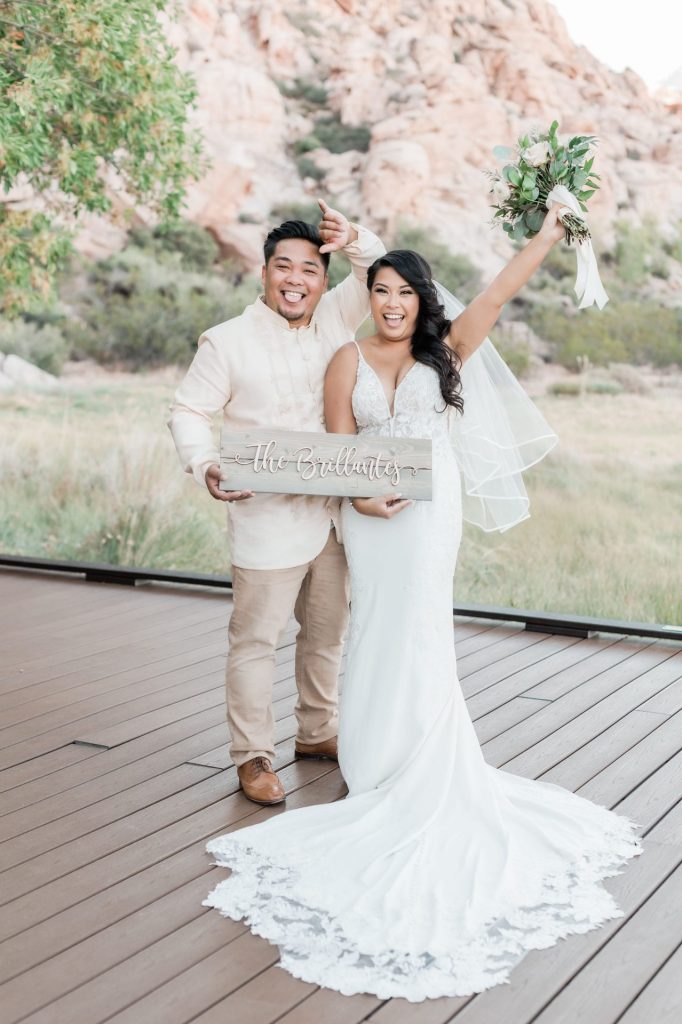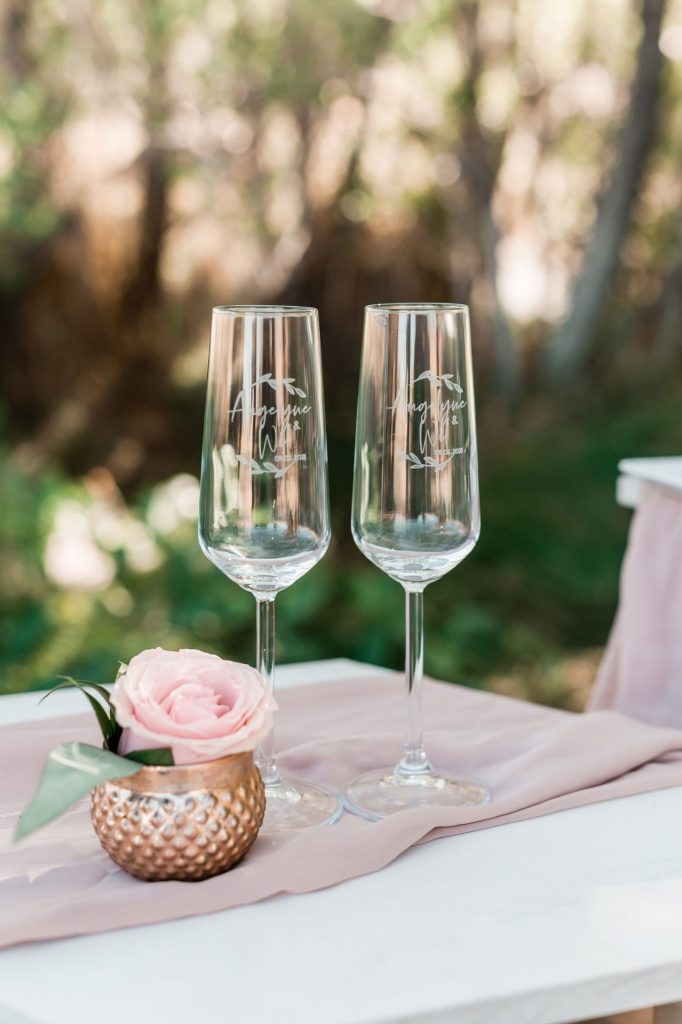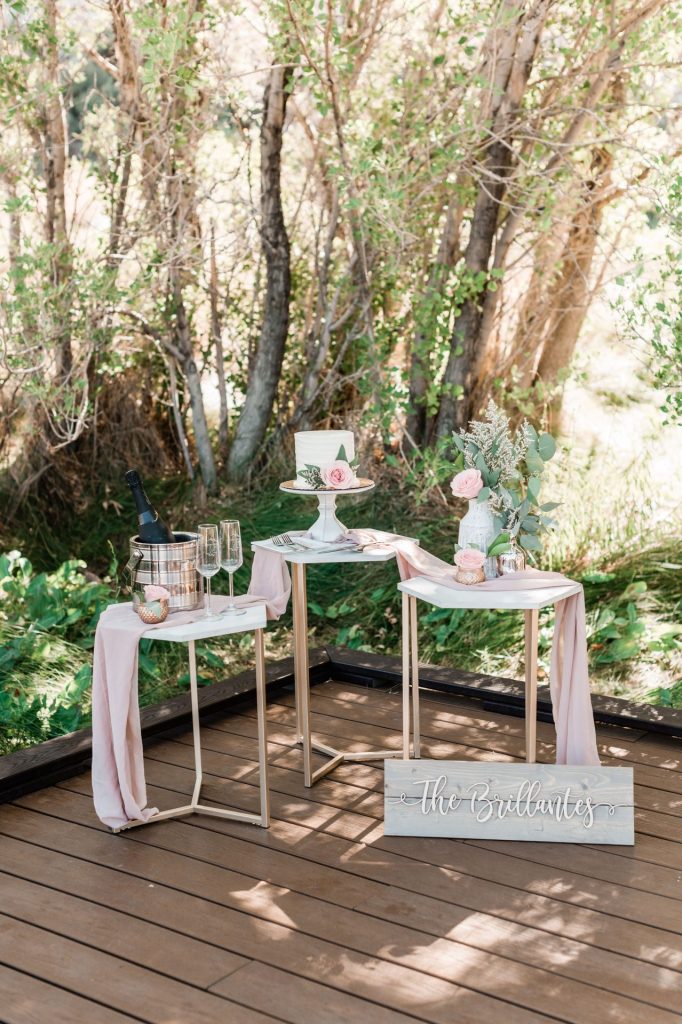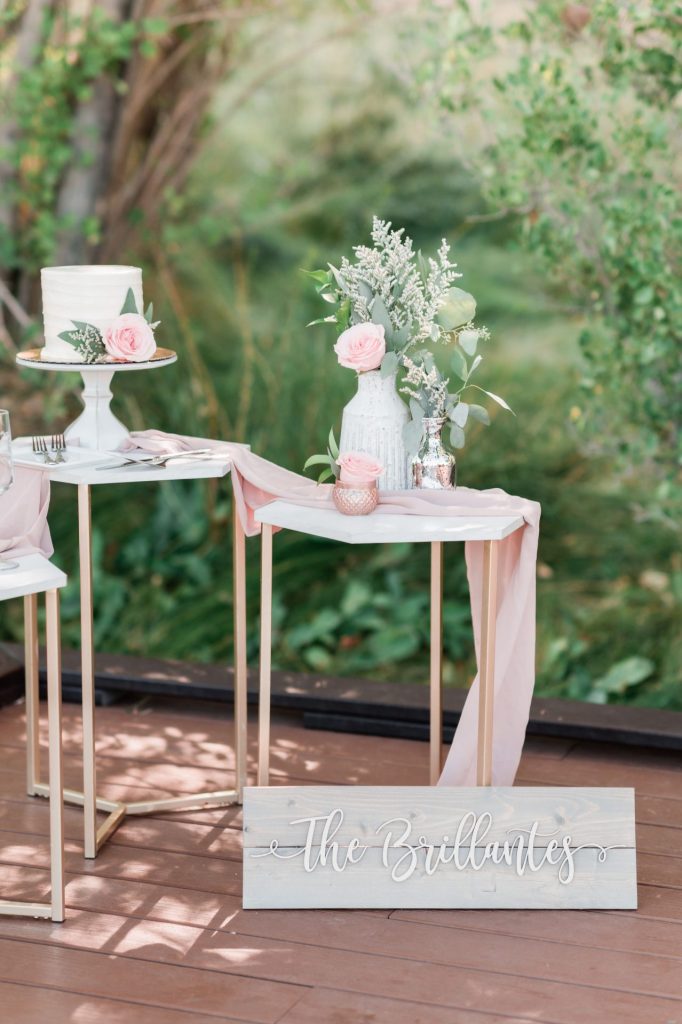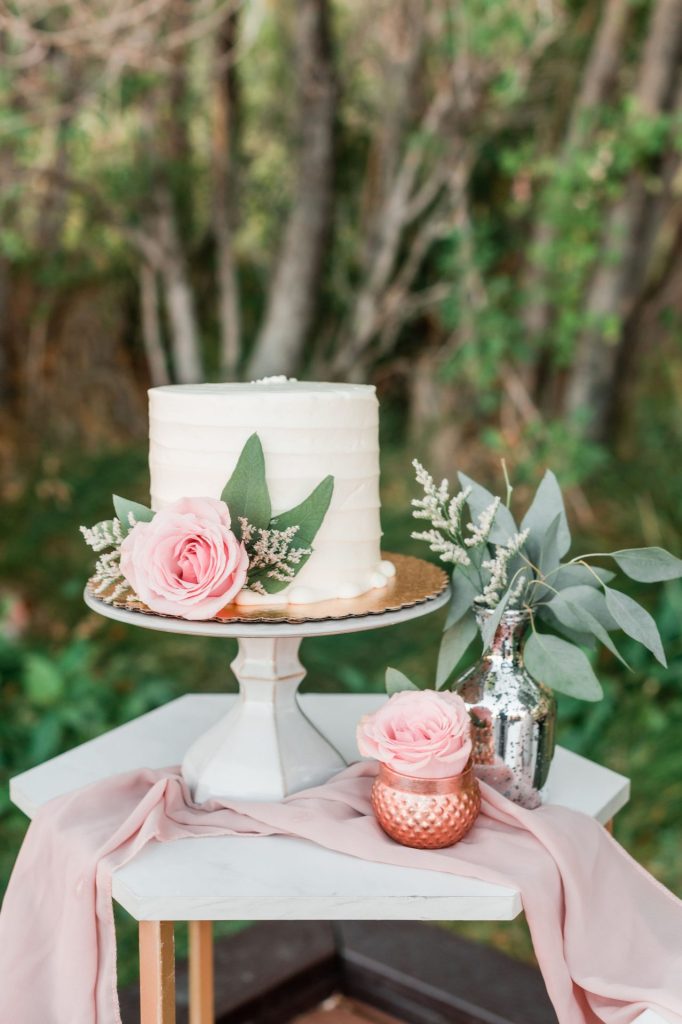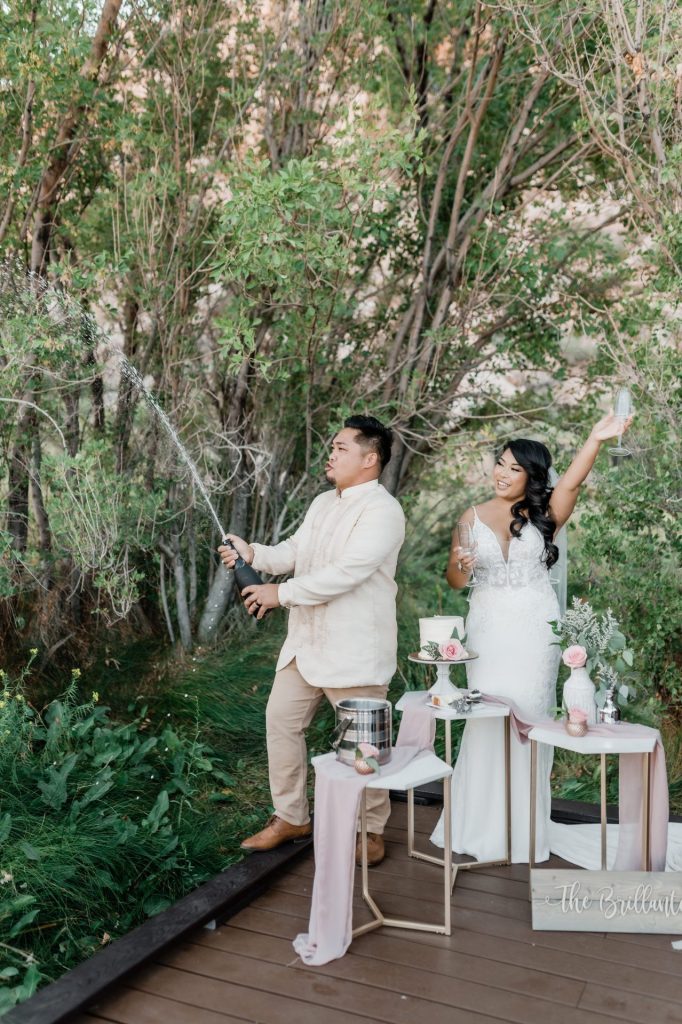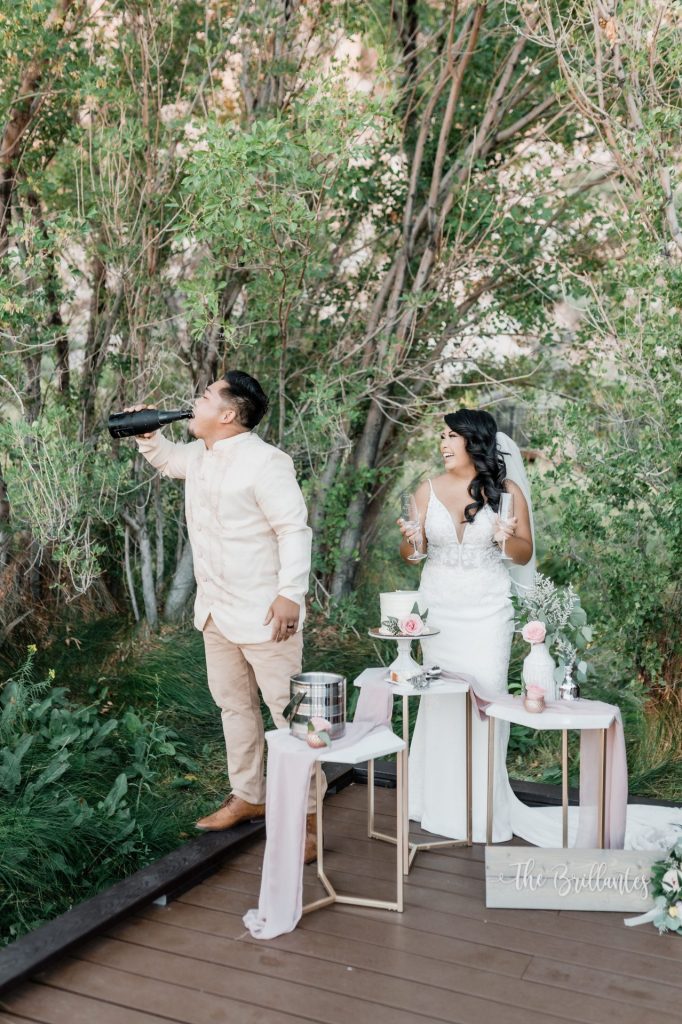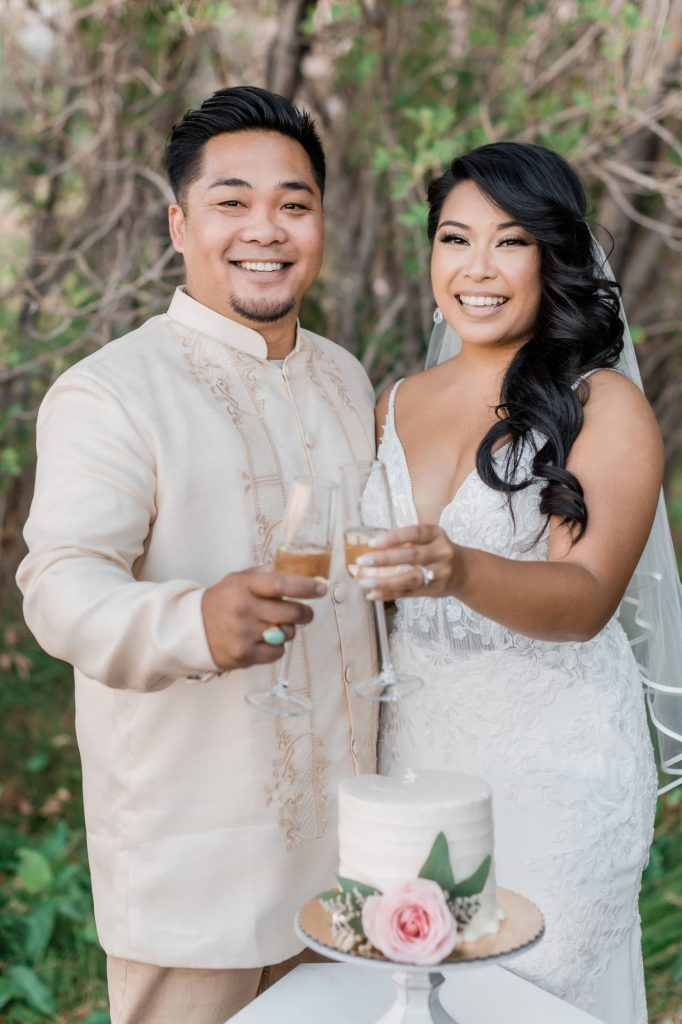 ADVICE FOR OTHER COUPLES
Always have someone record the grooms reaction as the bride comes down the aisle! It usually turns out priceless. Martha suggested to bring comfortable shoes to change into before and after the ceremony-such a game changer!I thought I would be missing something by having a smaller wedding in comparison to a large scale one, but I have no regrets with how it turned out!!
VENDORS
Officiant : Judy Irving
Photographer : Elizabeth Le Photography
Floral: Amy Wong Events
Video: This Magic Moment Films
If you are interested in eloping at Red Rock Canyon Boardwalk in Las Vegas, Nevada, contact our team!