Post Elopement Restaurant Ideas in Las Vegas
Las Vegas is one of the top destinations for couples to elope. Many are guaranteed to find fun and fantastic places to explore post-elopement at any time of the day. Beyond the city's bright lights, glitz, and glamor lies countless diverse cuisine options awaiting post-elopement. Providing countless cuisine and restaurants to choose from, picking a place to eat post elopement in Las Vegas is no simple task. There are hundreds of restaurants in the city offering various cuisine and dining options for visitors to enjoy. So, to help you narrow down your options, we've put together a few of our favorite restaurants for you and your beloved to enjoy post-elopement. Whether you elope downtown on The Strip, or are eloping slightly outside the city, there's plenty of options for after your vows.
1- Top Of The World Restaurant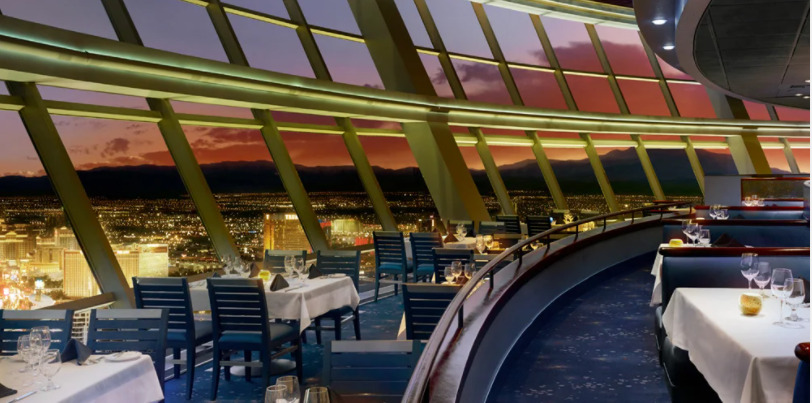 If you are looking for an upscale dining experience and world-class views of Vegas will find a perfect fit with the Top of the World Restaurant. Located at the top of the iconic Strat Hotel and Casino, this restaurant sits within the Strat SkyPod and provides a panoramic view of the Las Vegas strip and valley. The restaurant also features a revolving dining room with a full 360-degree view of the skyline within its 80-minute regular rotation.
In addition to breathtaking views, this restaurant features a more sophisticated and upscale dress code and dining experience for its patrons. As a 20+ year recipient of the Wine Spectator Award of Excellence, the Top of the World Restaurant is also well-known for its steaks, seafood, French-inspired, and fresh seasonal menu. This glamorous and elegant splurge choice will make your dining experience post elopement truly one-of-a-kind.
2- Eiffel Tower Restaurant
As a vibrant and diverse city, Vegas affords you a full array of post elopement cuisine from all over the world to choose from. After saying "I do" in Vegas, you can venture off to romantic Paris to dine without ever crossing the ocean. Couples looking for authentic French cuisine can find that within the Eiffel Tower Restaurant at the Paris Hotel and Casino. This restaurant also sits with spectacular views of the Fountains at the Bellagio and Las Vegas Boulevard. You will also find a menu here that will please any palate for your post elopement party.
With an extensive wine list and some of the best French wines available, you can enjoy classic French dishes like Croque monsieur, hanger steak frites, and a wide selection of fresh seafood dishes. And don't forget to finish your meal with a delicious creme brulee and cafe latte while taking in the gorgeous panoramic view of the city from the floor-to-ceiling windows.
Explore more elopement options the Las Vegas Strip has to offer. Discover more about our Las Vegas elopement packages today.
3- Picasso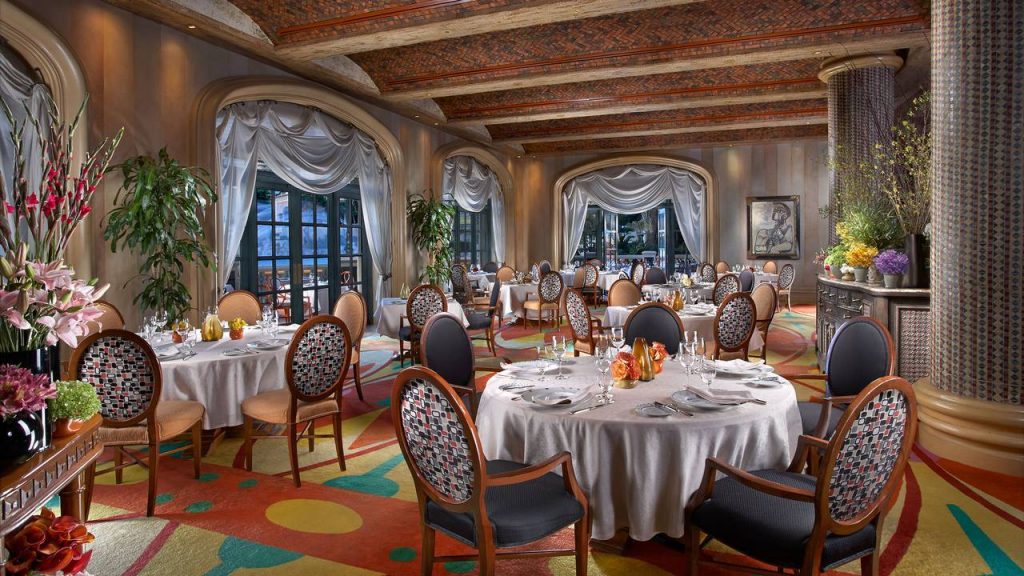 Newly eloped couples looking for a romantic and fancy meal for two can find this within the Picasso restaurant at the Bellagio. There is no need for your passports here, as you can experience a regional Spanish and French-inspired menu along with beautiful artworks gracing the restaurant's walls. You will find big tables where families can dine together in large booths and cozy nooks where couples can share romantic dinners for two. An outdoor patio also provides seating for up to 56 guests and overlooks the romantic and iconic Bellagio foundations. The Roman-inspired interior is almost like stepping into a painting by Picasso himself – it's vivid, vibrant, and even sexy.
Find more of our tips for having the small and intimate elopement of your dreams here.
4- Park On Freemont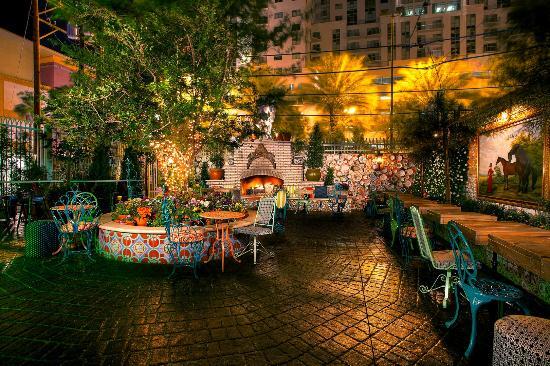 Perfectly located on Freemont street for a post-elopement meal, along with countless other fun things to do as newlyweds, you will find Park On Freemont. Playing off the existing traffic on Freemont Street, the owners created a restaurant that offers customers a chance to have dinner with loved ones after they tie the knot. Park on Freemont provides a casual dining option, catering to the newly married couples who want to enjoy a fantastic dinner with their love and family set within old downtown Freemont Street. This restaurant is not only scenic but also budget-friendly. Their menu includes a casual flair, such as burgers, small plates, and signature cocktails. They also offer group packages for those who want to party with their friends and family after their marriage ceremony.
Want to explore more that historic downtown Las Vegas has to offer? Visit our Downtown Las Vegas guide to learn more. 
5- Barry's Downtown Prime
Vintage lovers will enjoy the atmosphere of Barry's Downtown Prime in the heart of downtown Las Vegas. Nestled in the Circa Hotel and Casino on Freemont Street, couples can enjoy a steakhouse dining experience with a flair of vintage old Vegas glamour. Barry's offers a mid-range priced steakhouse and cocktail dinner menu that can provide couples with elegance on more of a budget.
Barry's is one place that will provide a sophisticated environment with fantastic food, a nice ambiance, and live music. You can choose to order off the menu and enjoy prime beef selections, the freshest seafood dishes, and delectable desserts following your private elopement ceremony. This spot is perfect for newlyweds to get all gussied up for a romantic evening for two after saying "I do."
6- La Cave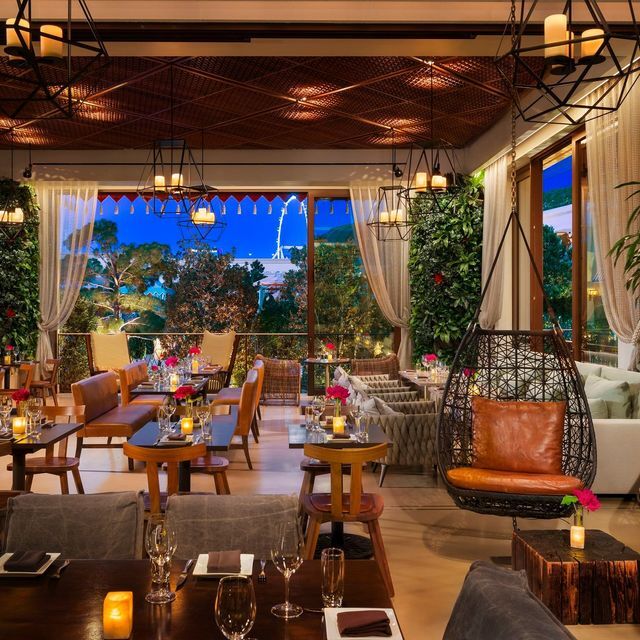 La Cave Food and Wine Hideaway can be located within downtown Las Vegas, on the corner of Fremont and 6th streets. The restaurant is attached to the Wynn Las Vegas hotel. It provides 4 unique dining environments – a cellar, bar area, a rustic and refined dining room, and an elegantly designed patio overlooking the hotel pool and gardens. Their menu consists of small-plate courses paired with artisanal beers and an impressive wine list. La Cave is the ideal dining option for couples looking to enjoy their post-elopement meal on a budget. The food is moderately priced, serving lunch specials, dinner, and even brunch on Sundays. This is a perfect dining option for couples to eat post-elopement in vegas on a budget and dine nearly anytime throughout the day.
Ready to book your dream Las Vegas Elopement? Explore our Las Vegas elopement packages now.