Have the Intimate Beach or Waterfront Elopement of Your Dreams
Many couples often dream of having a beautiful waterfront or beach getaway for their elopement ceremony. When they begin the destination and planning process, one topic that comes up often is how to have an intimate ceremony without regular interruption from public access beaches and waterfronts. This can be a concern, given that many ideal beach and waterfront locations may be located at or next to your perfect elopement locations.
And, of course, you want to have an intimate, romantic, and private ceremony with little to no public interruption, so all the attention is focused on you and your beloved. So, we put together these tips to help you determine which option may be right for you, how you can have a private ceremony in a public area, and our favorite beach and waterfront elopement destinations.
Find The Right Spot That Will Work For You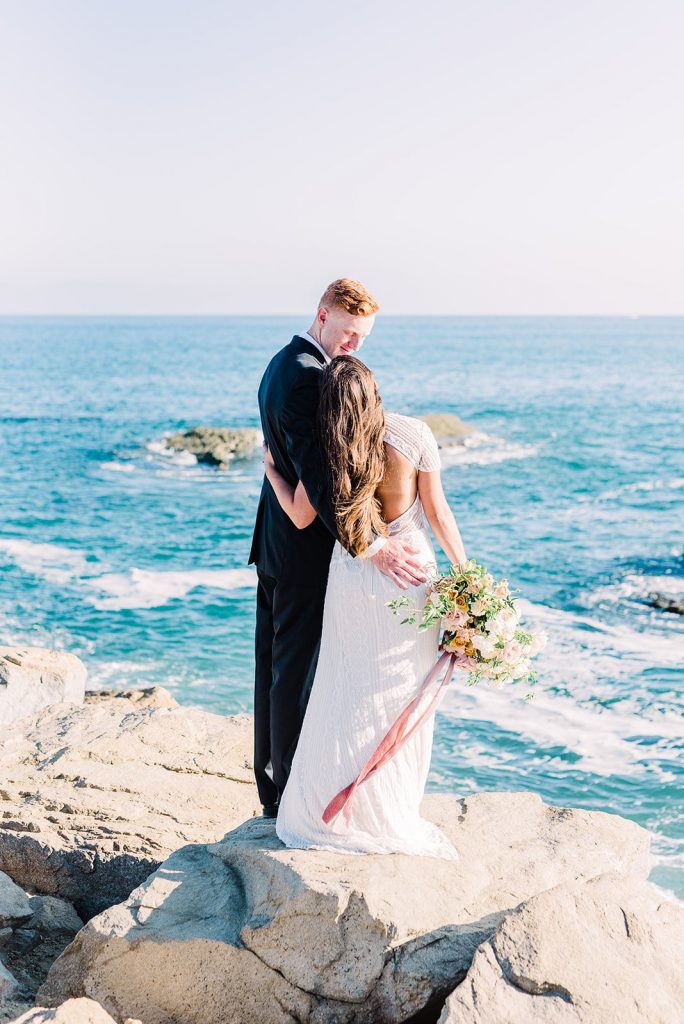 Beaches and waterfronts make excellent elopement locations. When eloping on a beach or another waterfront spot, it's important to find one that is private and not overpopulated. If you visit the right spot, you won't have to worry about a big crowd of wedding guests or any interference from the public. When searching for the perfect waterfront wedding location, aim for a quiet and secluded setting.
Look for a beach or waterfront that is not overpopulated and, ideally, one that doesn't require permits, although these typically aren't too expensive. Waterfront spots such as beaches at resorts can often be crowded even if the beach is private to that resort, so you'll need to make sure there's a way for your guests to have some privacy. If complete privacy is key, you can even consider renting a house or private property on the waterfront with direct access to a beach for your wedding day.
Focus On The Ideal Elopement Setting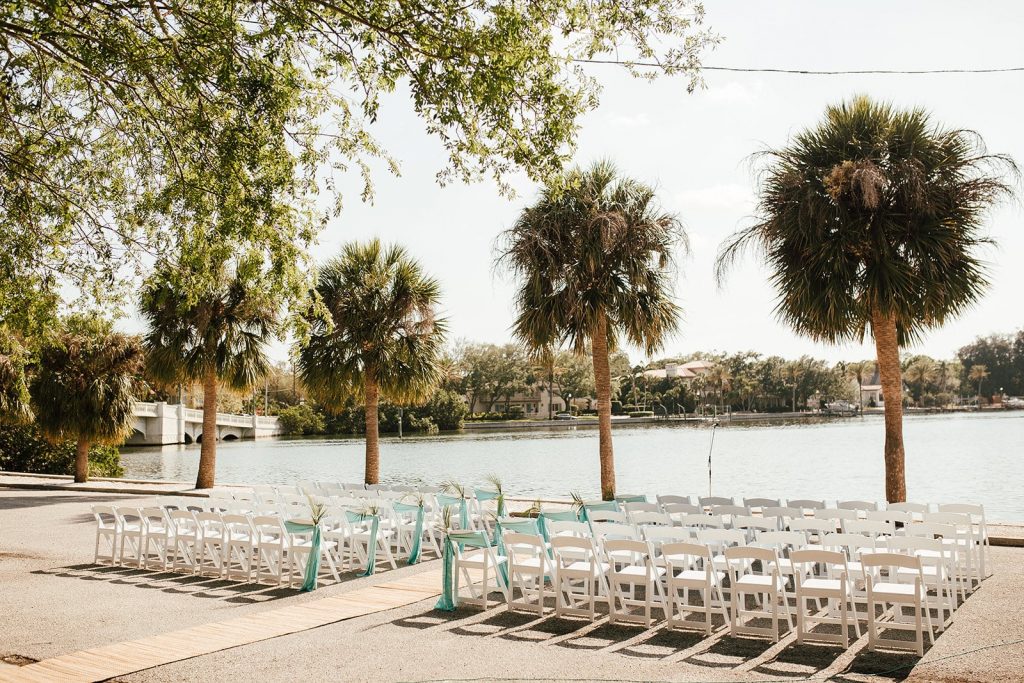 When you're choosing the perfect beach or waterfront elopement spot, it's all about the details. You'll want to consider the time of day you want to hold your ceremony. Eloping at the beach at sunrise and sunset can provide an intimate and romantic setting. However, the time of day has its own advantages to add to your ceremony. For instance, the sunrise is more intimate and quiet for your "I do" spot. There are far fewer people on the beach at this time of day, and you and your guests will be able to enjoy a peaceful and relaxing atmosphere that's ideal for an elopement.
The sunset is often the more popular time couples want to elope as it is a more romantic and picturesque end to the day. If you choose to get married at sunset, make sure to consider how many people will be on the beach at that time. Sunset on the beach or waterfront can still present crowds wanting to enjoy that last little bit of sunlight left in the day.
Check out our beach elopement planning guide for more helpful planning tips.
Make Everything Official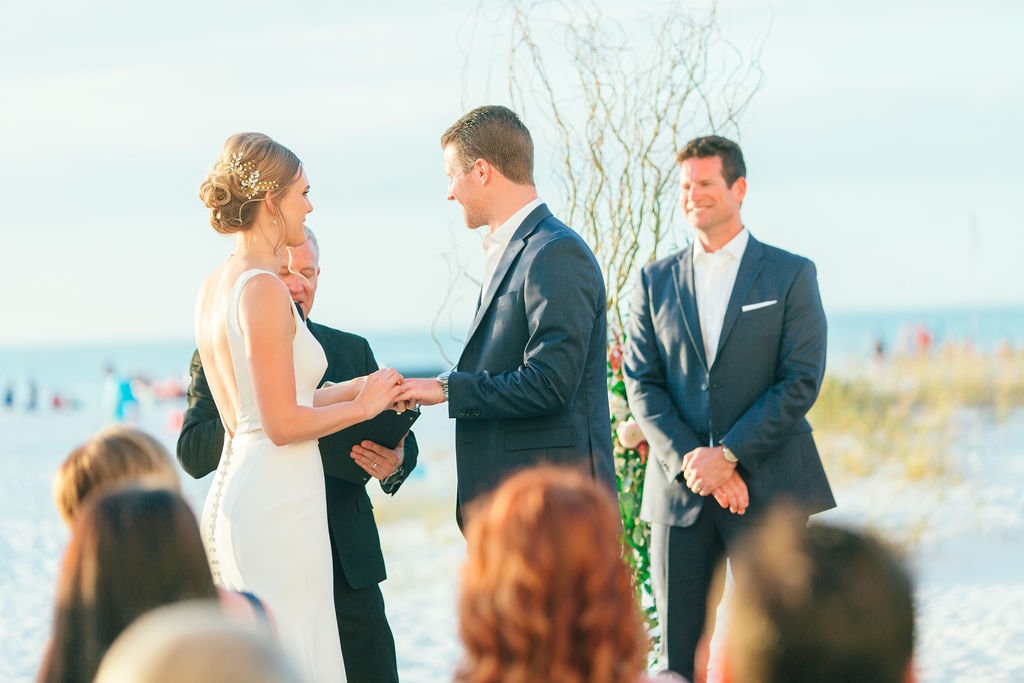 In many states, you don't have to have an officiant present for you to get married. However, it makes for a more personalized ceremony if you do. It's also perfectly fine not to have witnesses present, as both parties are consenting adults. Once you have selected your ideal location, ensure you check with the local area in the event you do need to provide notice and permits of your upcoming ceremony. Also, depending on your state and country of residence, marriage will either be recognized immediately or won't be recognized until some time after you've gotten married.
Another thing to consider that will make your day more official, even if it's just the two of you, is by hiring an elopement photographer or videographer. Eloping is all about you and your partner, so capturing those intimate moments to remember for years to come is paramount. Hiring a professional photographer or videographer means capturing those moments perfectly and effortlessly for both you and your guests. While many couples may ask a friend and family member present to help with this task, they will be busy celebrating your special day with you and your beloved.
Create A Personalized Ceremony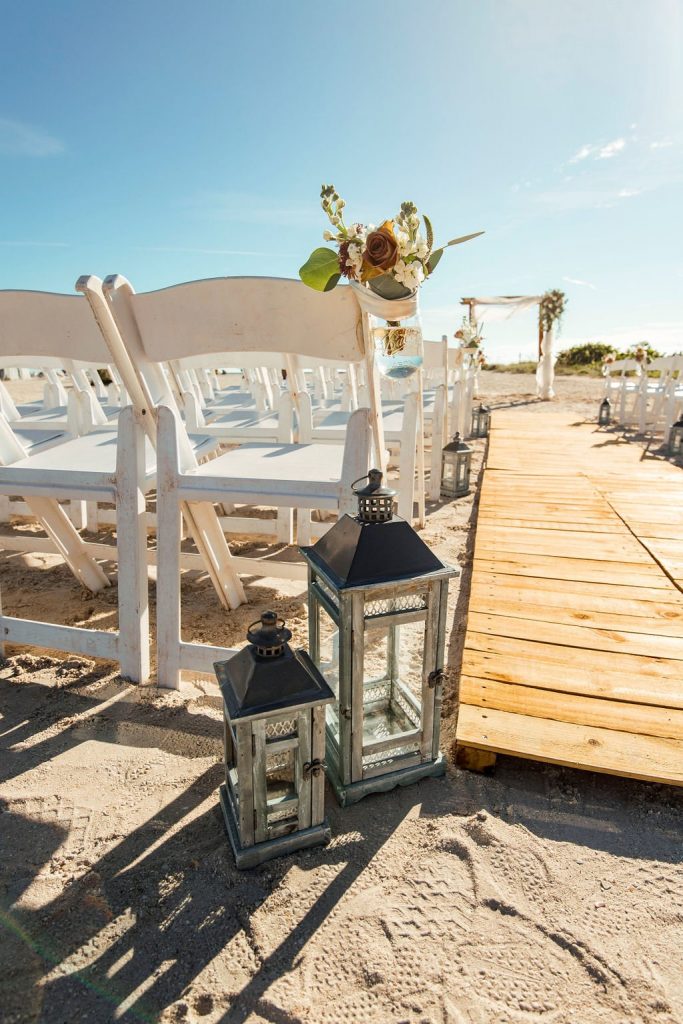 A beach or waterfront destination can be beautiful and serene all on its own, but you can still make it personalized and unique to you. You can use props such as flowers, chairs, and other decor ideas to help your elopement stand out. Props can also help create a unique photo-op and can add ambiance to the area. Also, you can bring an aisle runner, or decorate the aisle with rose petals or flower garlands to set the space.
If you want that classic ceremony look, get some chairs to place them in neat rows so that everyone can see the wedding couple and have their own space. Many couples also prefer to have the chairs face towards the beach or body of water where the wedding will be held. Ask your photographer to take pictures of each guest with a rose in hand so you can remember them at this special moment in time. No matter what kind of props are used, this strategy is always a win because it helps make your elopement more unique and personalized to your ceremony.
Read more about how this couple traded a big wedding for the small and intimate ceremony of their dreams.
5 of Our Favorite Beach and Waterfront Destinations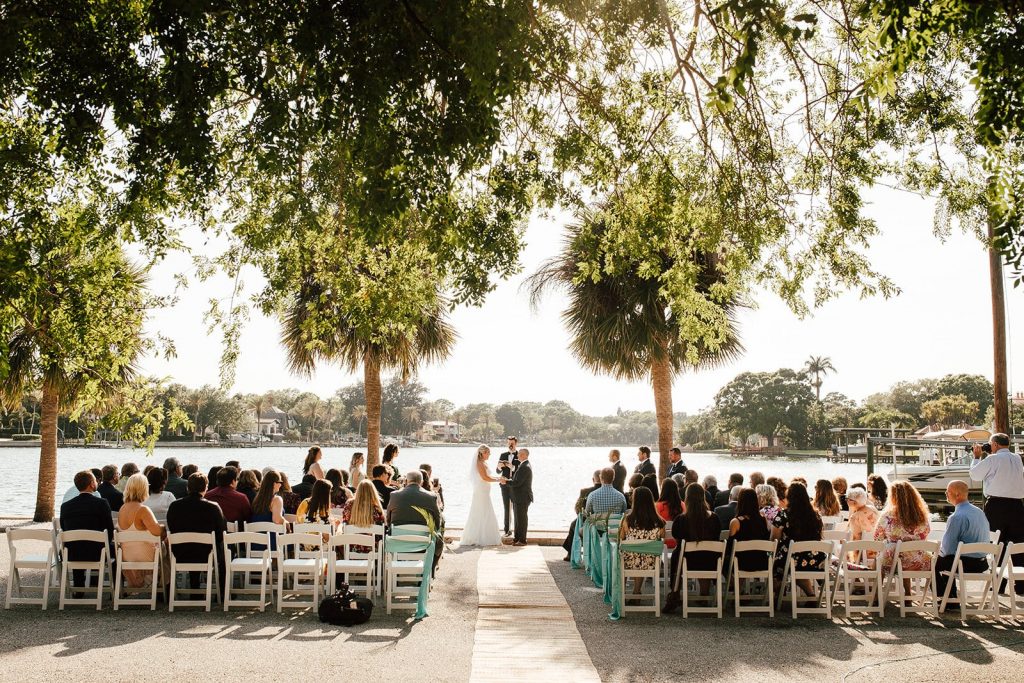 Eloping at the beach provides you with a variety of exciting options. If you want to plan your wedding on the sand, there are plenty of beautiful beaches and waterfront spots in Florida and California (to name a few) that will make you feel like royalty. But don't be afraid to get creative. Do some research and check out some of these stunning waterfront elopement spots we love.
1- Clearwater, Florida – this gorgeous beach town has the perfect elopement setting for both land and sea. We work with venues that are both waterfront or right on the beach. Not to mention this destination is great for those more budget-friendly.
2- Sunset Cliffs in San Diego, California – this area is a seaside venue that is on the edge of the San Diego cliffs. It is perfect for that ultimate and romantic sunset elopement.
3- Maui, Hawaii – this state affords couples countless gorgeous elopement area options. Whether you choose to hold your ceremony on the beach or at a waterfront cliffside spot found in areas such as Kahakuloa in North West Maui.
4- Portland, Oregon – a seaside staple of the northwest coast of the US, this city offers a lot of unique waterfront elopement spots. Couples looking for unique and intimate can find locations like spring point ledge lighthouse in South Portland.
5- Hilton Head, SC – for southern charm and a beach destination this seaside town blends both beautifully. Couples can find countless sand dunes and beach destinations to elope here.