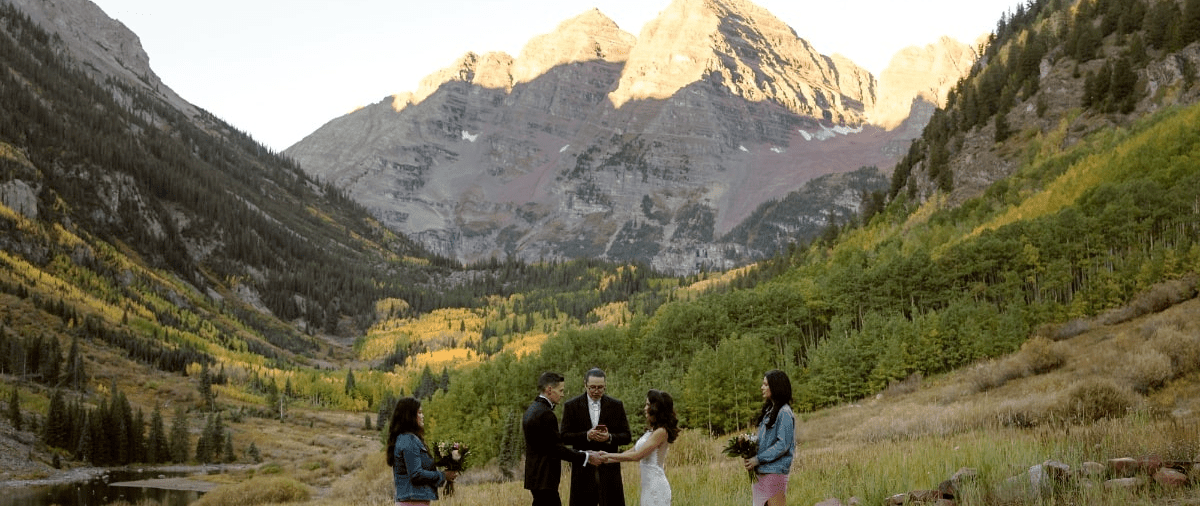 4 Tips for Eloping at Maroon Bells Amphitheatre
When you elope to Colorado, you're not just planning a wedding day; you're planning an adventure. For many couples, that means getting off the beaten path and into some of the most beautiful places in Colorado. One of the most popular locations to elope is Maroon Bells Amphitheater. This location is regarded as one of Colorado's most beautiful and picturesque places to visit, not just hosting your ceremony. Located in Aspen, Colorado, this gorgeous elopement gem provides breathtaking mountain views, incredible foliage, and stunning views of Maroon Lake. We are sharing our 5 top tips for how you can plan the Maroon Bells elopement of your dreams effortlessly. 
Know When To Reserve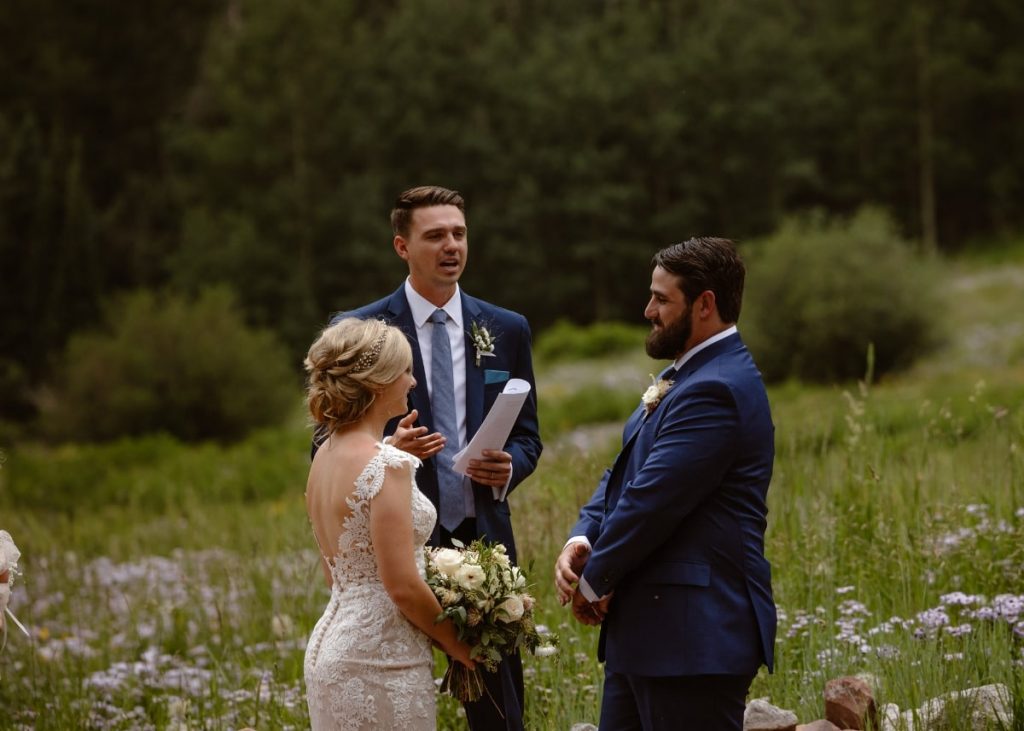 One of the most important things to get started with planning your Maroon Bells Amphitheater elopement is to book as early as possible. It is recommended to book at least several months in advance. You will want to research availability and reserve before pre arranging with an officiant or photographer to plan around their availability. The amphitheater is exclusively open for booking from June through October. September is often the most popular month for tourists to visit the site and hold weddings. 
As one of Colorado's most popular tourist and wedding ceremony locations, reserving here early is key to guaranteeing your desired date. For instance, the waterfall area of the park is often booked up to a year in advance. You can also look into what flowers will be blooming in the spring or the colors of the trees during your ideal elopement month to get an idea of the scenery that best fits your ceremony vision. 
Ensure You Get Permits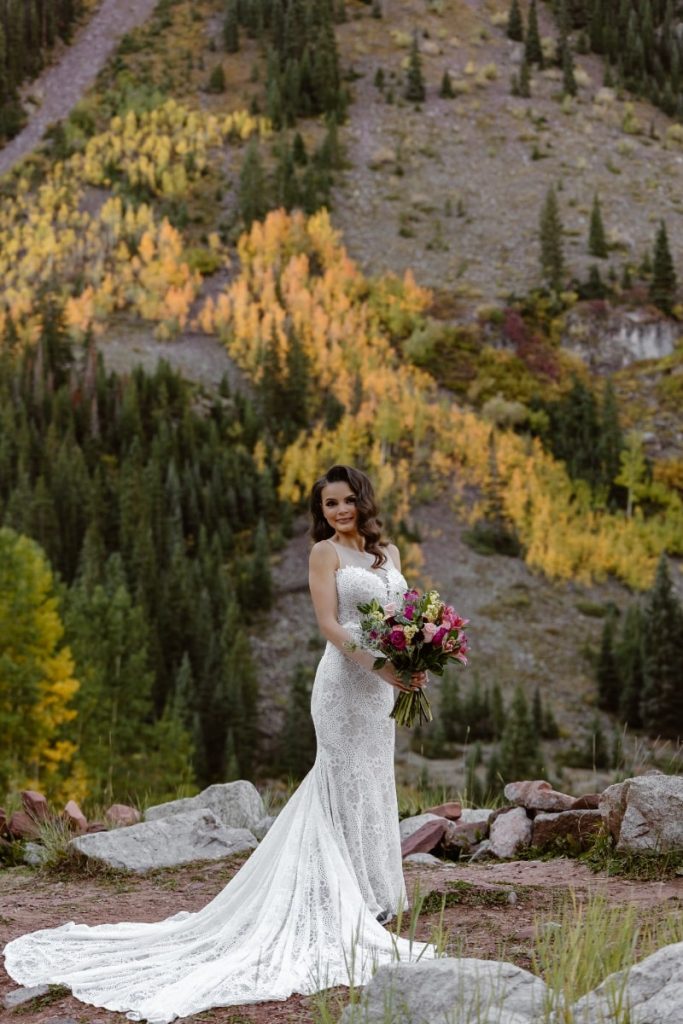 If you want to get married in the amphitheater, you need to ensure you get your permits in advance. It is required to have a permit if you're planning to get married at Maroon Bells Amphitheater. This includes small ceremonies that are under 25 people. Reserving your date is on a first-come, first-serve basis, so you will want to plan ahead and apply online. Luckily, if you plan ahead, you can secure your permit up to two years in advance.
The fee for hosting your wedding at this beautiful location is also very affordable and only $200. While it is budget-friendly to have your ceremony here, there is a restriction on parking. Although parking on-site is limited, shuttles are available to bring you and your guests to the amphitheater, and limited parking passes for couples who reserve the site for their elopement. The US Forest Service also limits the number of people who can use the amphitheater to 50. 
Want to include your pup in your ceremony? Learn more on how you can easily include your fur baby.
Picturesque Spots To Choose From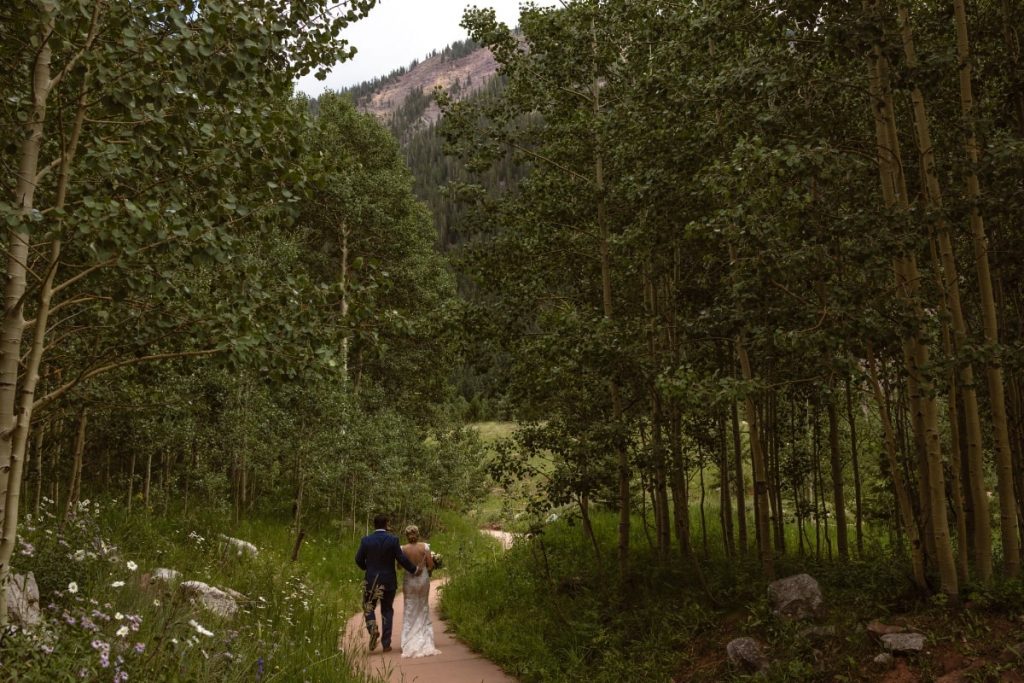 The Maroon Bell Amphitheater is the only official wedding location at Maroon Bells. However, because it is a popular destination for tourists and couples looking to wed there, that doesn't mean you can't find any other picturesque spot there to have your elopement ceremony. If you're up for an adventure and a decent hike, below are several other beautiful spots to elope with your beloved. These spots give you the stunning Aspen and Maroon lake backdrop of your dreams; some of them are no walk in the park to get to. And in respect of accessibility for both you, your love, and any guests celebrating your day, we ranked them in order of difficulty so you can prep and plan accordingly.
Curious how you can hike in your dress effortlessly? Find out how you can in our guide here.
Picking The Ideal Time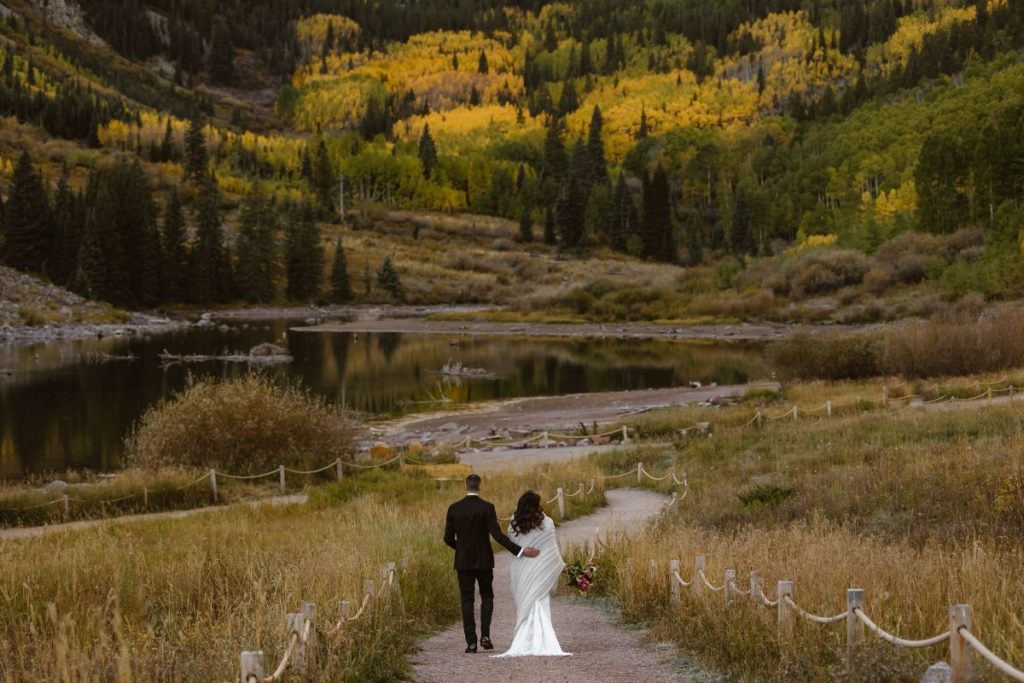 It's no secret Maroon Bells is one of the most popular spots for couples to wed and tourists to explore. Whether you have a small party for your elopement or just the two of you, many still want to have intimate privacy for their ceremony. It can get tricky to find the ideal timeframe and even time of the day to exchange your vows intimately.
Luckily, the team at Maroon Bells knows this and limits bookings for weddings to ensure couples don't have tourists trampling through their ceremony. You cannot make reservations for any events on Fridays or Saturdays from June to August, and weekends in September are also restricted. September is often the busiest month for the area for events, weddings, and tourism. Therefore if you want the opportunity to have more privacy for your ceremony, it is recommended to book Monday-Thursday.
The time of day for the ceremony is also equally important as the date. Different times throughout the day will have different lighting for photographs yet bring more crowds to the area. And no one wants to have a bunch of strangers in the background of their photos on their big day. Early to midmornings often present the best lighting, and with Colorado subject to afternoon storms in the summer, you can rest assured to avoid unpredictable weather. Regardless of the time of year or day, Maroon Bells Amphitheater is a picturesque gem of Colorado that will give you a gorgeous backdrop for your elopement.