How to Elope With Your Pet(s) and Include them in the Ceremony
We absolutely love it when couples choose to include their furry friends in their elopement! When it comes to planning a pet friendly elopement, there are certainly a few different things to consider to make sure there's no hiccups. From things to pack for your fur children to fun ideas for including them on your day, we're sharing everything you need to know for an epic elopement with your pets.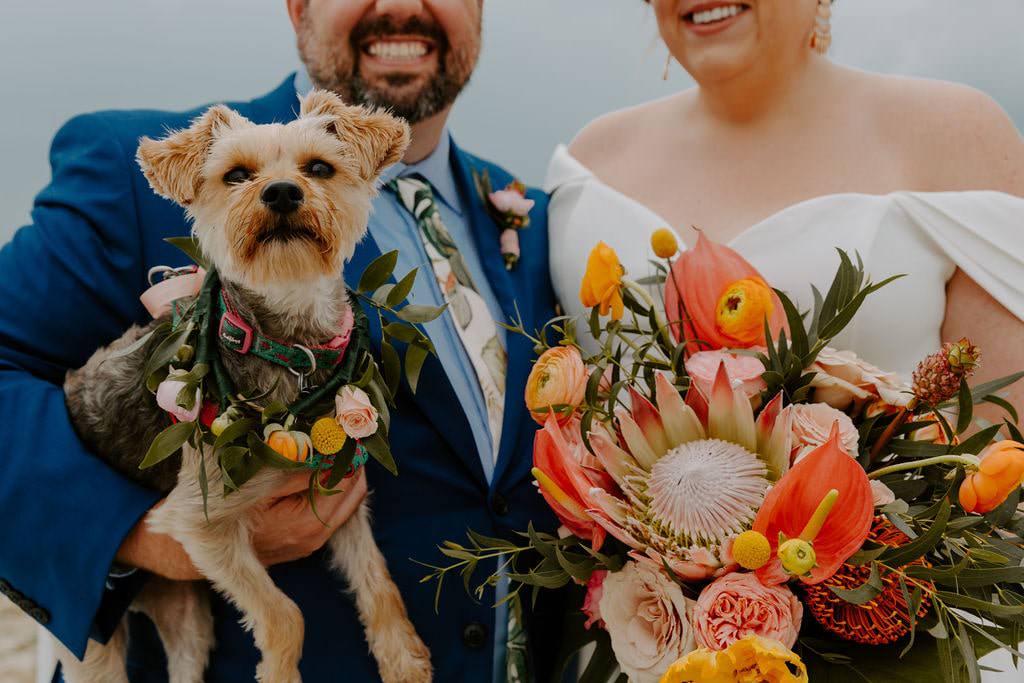 Photo by Indigo River Photography
3 Things to Consider When Planning an Elopement With Pets
Here are a few questions to ask yourself and discuss with your elopement planner ahead of time:
1. Is our ideal elopement destination pet friendly?
While there are quite a few elopement destinations that are pet friendly, it's important to note that not every park will allow pets. Sadly, there are a number of national parks that will not allow pets at all, or they will only be allowed on certain trail paths to preserve the park's natural beauty. But keep reading to see a list of some of our pet friendly elopement locations! We can help you decide which elopement location makes the most sense for you, your partner and your pets ahead of time.
2. Is your pet comfortable hiking or able to withstand the elements?
One of the most important things to consider when planning an elopement with pets is if they will be comfortable making the trek to your final elopement location. Has your pet ever been on a trail? What's the trail conditions like – rocky, water, steep incline? It's crucial to answer these questions honestly to make sure they will be comfortable traveling with you. What time of year are you planning to be outside? The season, your dog's age, experience level and even paw sensitivity should be considered before the big day! There's nothing worse than starting the hike with your pet and reaching a point where they can't continue with you. 
3. Will someone be watching your pet during the ceremony?
Having your pet at your elopement ceremony can be one of the coolest experiences ever! But after planning a few of these, we'd recommend having someone available to watch your pet during the ceremony so that the two of you can focus on each other. Especially if you're planning to elope in a park with restrictions where pets can roam, it will be much less stressful to have a helping hand that can watch them while you say, "I Do".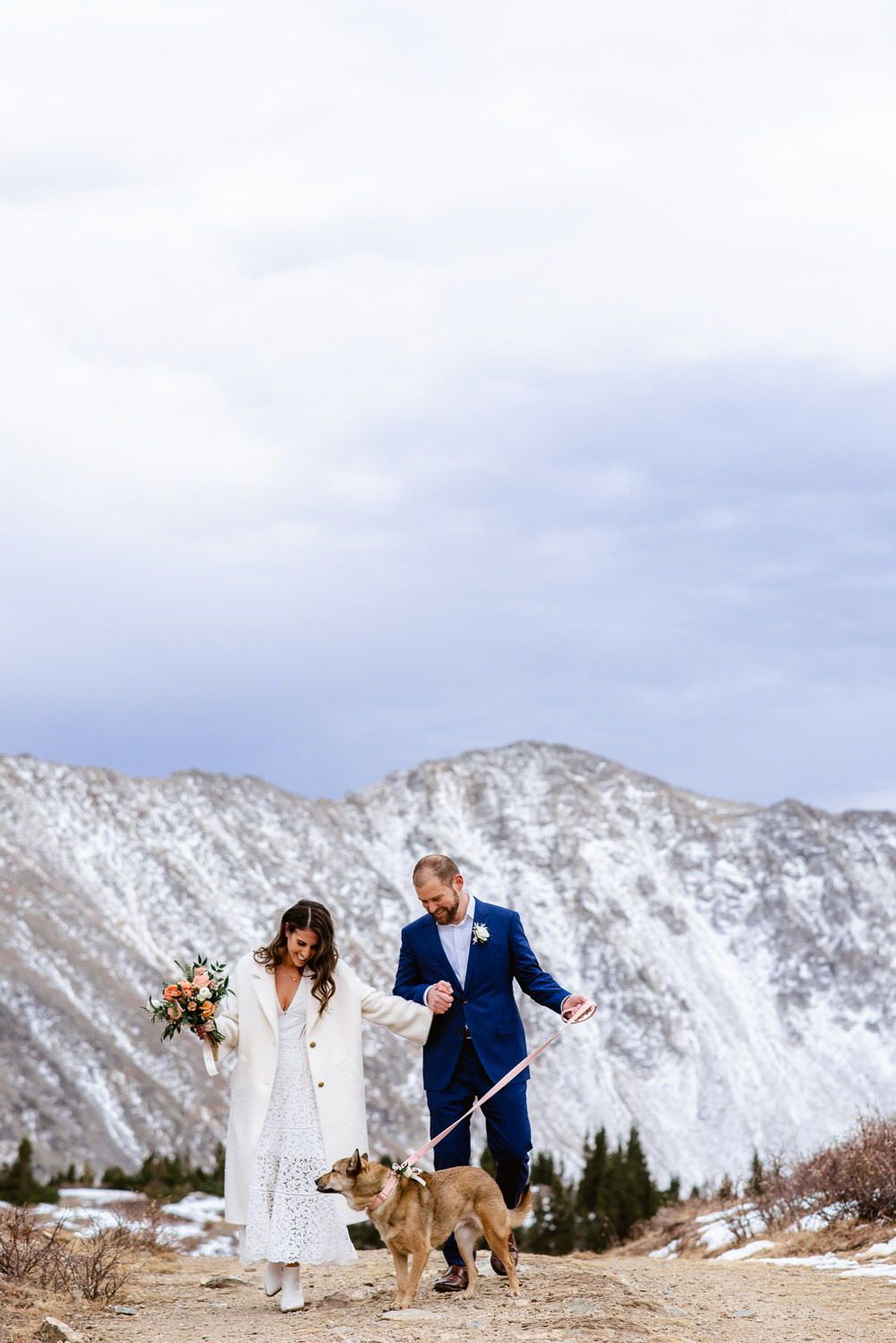 Photo by Josie V Photography
What's the Best Time of Year for Eloping With Your Pets?
Depending on your elopement location, there are certain times of the year that will absolutely be easier to travel and hike with pets. We recommend taking a look at the average temperatures in your preferred location to determine a mild time of year when your pets will be most comfortable and eliminate chances of them possibly overheating or tiring easily. At the same time, you'll want to avoid rainy seasons so trails will be drier and safer — plus, wet and muddy dogs aren't the easiest to handle when you're in wedding attire!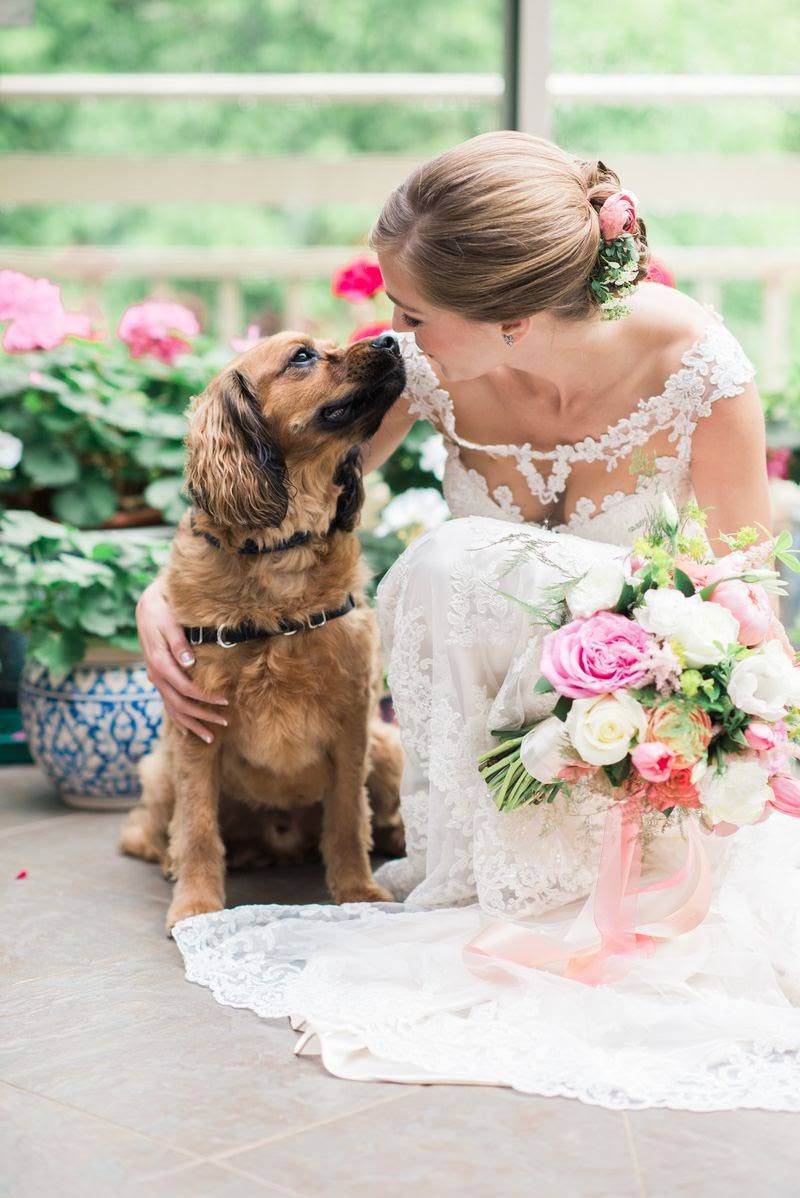 Photo via Green Wedding Shoes
6 Ways to Include Your Pet On Your Wedding Day
When your pets are part of your family, it makes perfect sense that you'd want to include them in your special day! Luckily, there are a bunch of ways that you can include your furry friends in your upcoming elopement.
1. Get Ready with Your Furry Companion
Getting ready on your wedding day is an exciting time! It should be full of non-stop laughs, smiles and moments to capture to remember forever. Including your pet in this process can be extra special — and will certainly provide adorable photo opportunities for you to cherish forever. 
2. Dress Them Up for the Occasion
Nothing is cuter than seeing your pets dressed up in their own version of wedding guest attire! Some easy ideas for making them look extra special on the big day are a bow tie, flower collar or crown, a custom leash, harness or bandana.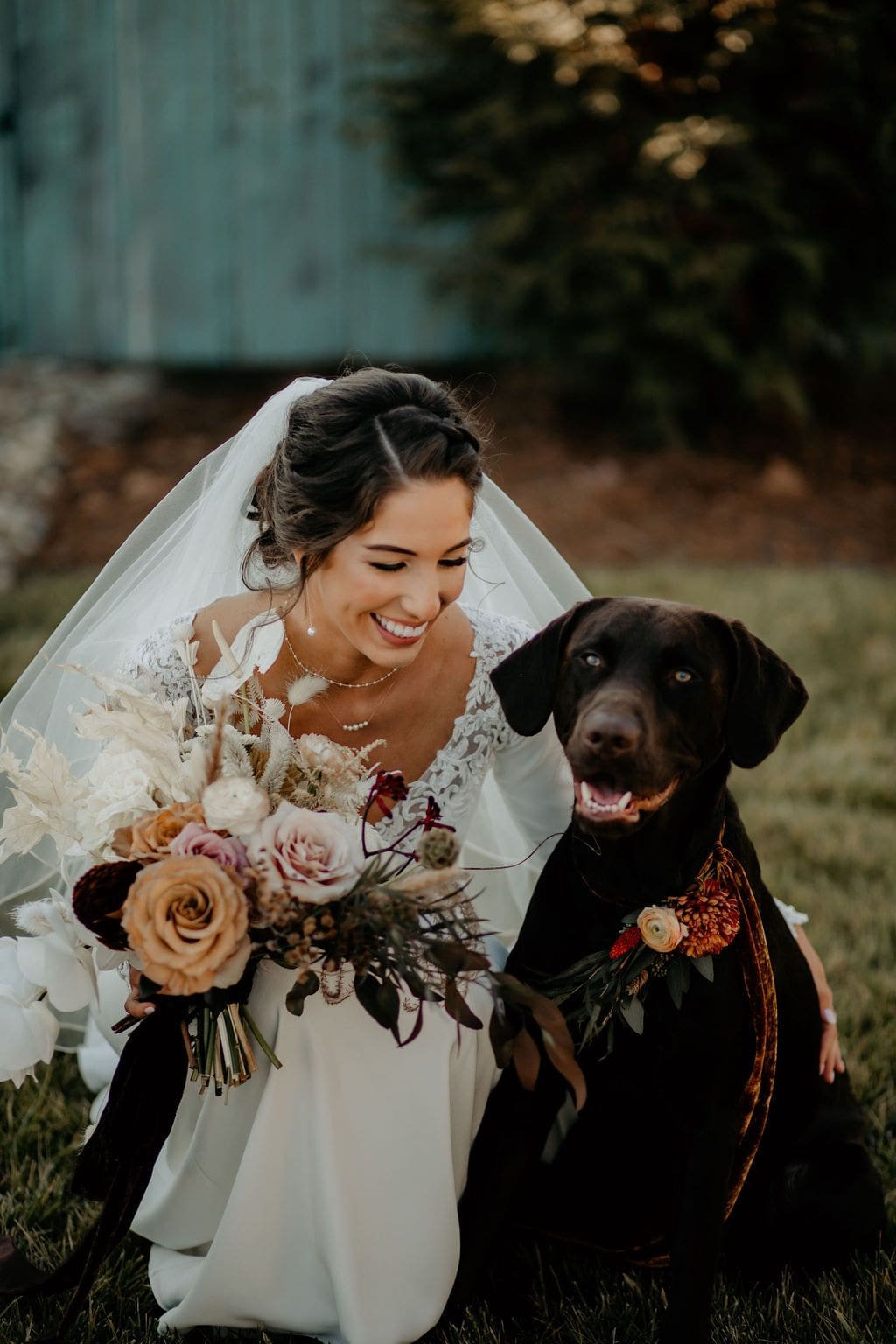 Photo by Fiona Grace Photography
3. Include Your Dog in the Bridal Party
Whether you're in need of a ring bearer, flower girl, best man or maid of honor for your big day, what better way to show off your furry best friend? Have your handy helper carry the rings down the aisle or stand by your side as you marry your human best friend.
4. Make Your Pet the Witness at Your Ceremony
Did you know that some states in the United States require no witness or only require one legal witness, therefore leaving room for your pet to sign your marriage license? Be sure to bring along an ink pad so that they can print their paw easily. 
5. Let Them Document the Day Too
Strap a GoPro or other small camera onto your pet and see what footage they can capture from the day. You're sure to get some laughable video clips, but how fun will it be to watch your day from their point of view later on?
6. Play Up the Details
There are so many small ways you can incorporate your pets into your elopement decor and design! From paper goods like signage and cocktail napkins to cake toppers and koozies, the opportunities are endless for custom creations you can include.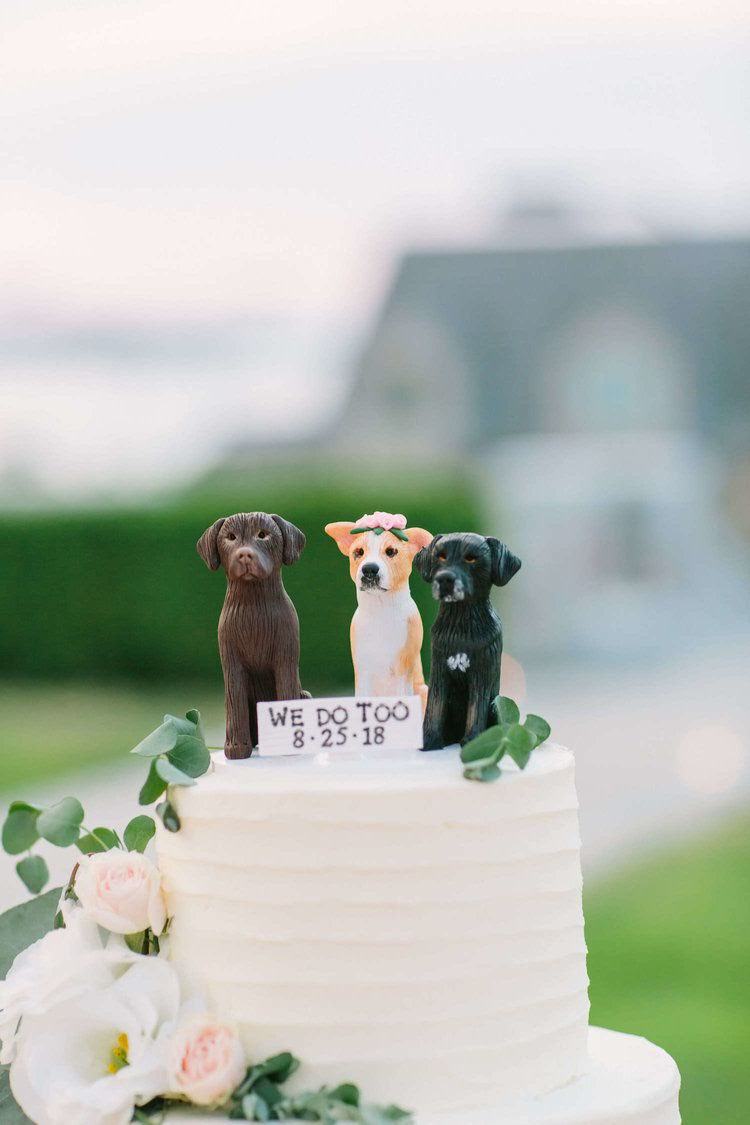 Photo via Brides
The Best Pet Friendly Elopement Locations
A lot of the locations our couples chose for their elopements happen to also be pet friendly, but below are a few of our favorites for bringing along your furry family members.
The Godfrey Hotel in Tampa, Florida

Coronado Beach in Coronado, California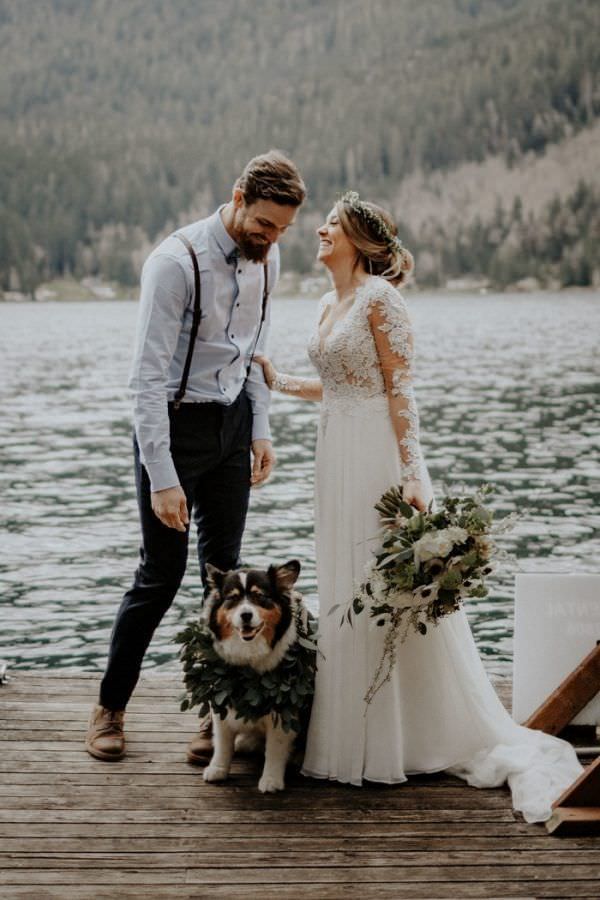 Photo by Ashlyn Savannah Creative
Pet Packing List for Your Elopement
If you're planning to elope with your pets, there are a few things you'll want to make sure you've packed along for the adventure. We always recommend bringing extra water and snacks for your pets in case they need more than usual during a hiking trip. It's also a good idea to bring a brush or towel to clean them up before their close-up! Check out our packing list below for everything else they may need:
Water bowl (and extra water for them!)

Treats and food depending on how long you plan to be out and about

Leash or harness

Poop bags

Towel and brush to clean them off if they get dirty

Medications (if your pet needs them daily!)

Pet first aid kit

Hiking booties or shoes for their paws if they are sensitive or in certain weather conditions 

Cooling vest if they get overheated easily

Elopement attire — any florals, bandanas, bowties or decorative collars they plan to wear for the ceremony and photos!
Leave No Trace! Tips for Your Pet Friendly Elopement
One of the most important parts of engaging in outdoor activities is to make sure you're leaving no trace! Make sure to educate yourselves on the local regulations and park restrictions ahead of time so you don't disturb others and protect the environment. Here are two friendly reminders of Leave No Trace principles that apply to our furry friends:
Be sure to pick up your pet's waste! Pet waste can be harmful to other animals or plant life in the area. We always want to clean up after our pets regardless of where we are!
Know the leash rules of the area and follow them! Some parks, especially national parks, have regulations when it comes to dogs. The most common is that they must be on a leash at all times to prevent disturbing other visitors, and negatively affecting the natural flora and fauna.