Ultimate Guide to Post-Elopement Parties and Receptions
While elopements can be intimate and incredible, some couples worry about not including their friends or family on their wedding day. As elopements continue to grow in popularity, we're also seeing a rise in post-elopement parties and receptions! Planning a post-elopement party offers the best of both worlds — the intimate ceremony you always imagined and then celebrating with all of your loved ones. Whether you're already planning to elope or considering all of the options, we're sharing everything you need to know about post-elopement celebrations below!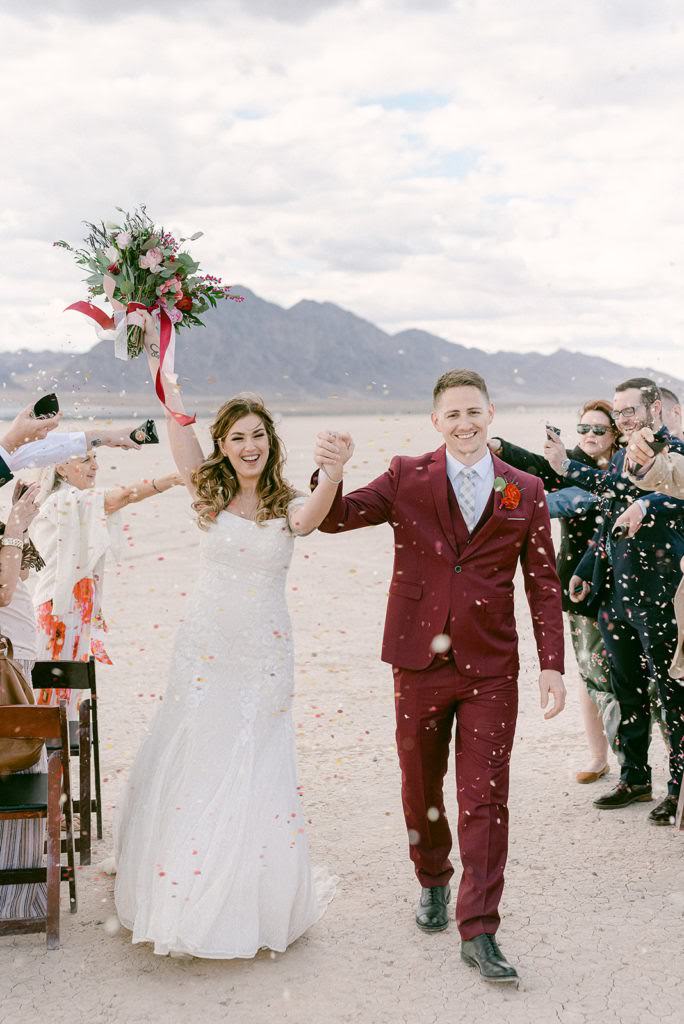 Photo by Kristen Joy Photography
What is a Post-Elopement Party and Should We Have One?
Elopements are so special. They truly offer you the chance to focus on what truly matters on your wedding day: you and your soul mate. A post-elopement party is a celebration that occurs after your ceremony or once you've returned from a destination elopement. There are really no set rules when it comes to defining a post-elopement party or reception as it should be unique to the happy couple! There are many reasons to plan a post-elopement party including couples that planned a private destination elopement, and if you want to avoid the burden and financial stress of a traditional reception. These parties are planned with the intention of bringing together all of your friends and family to celebrate your love, and it's a great opportunity to include those that weren't able to attend the actual wedding ceremony. This is your celebration! You aren't obligated to invite extended family or co-workers — surround yourself with those people that you want to be around.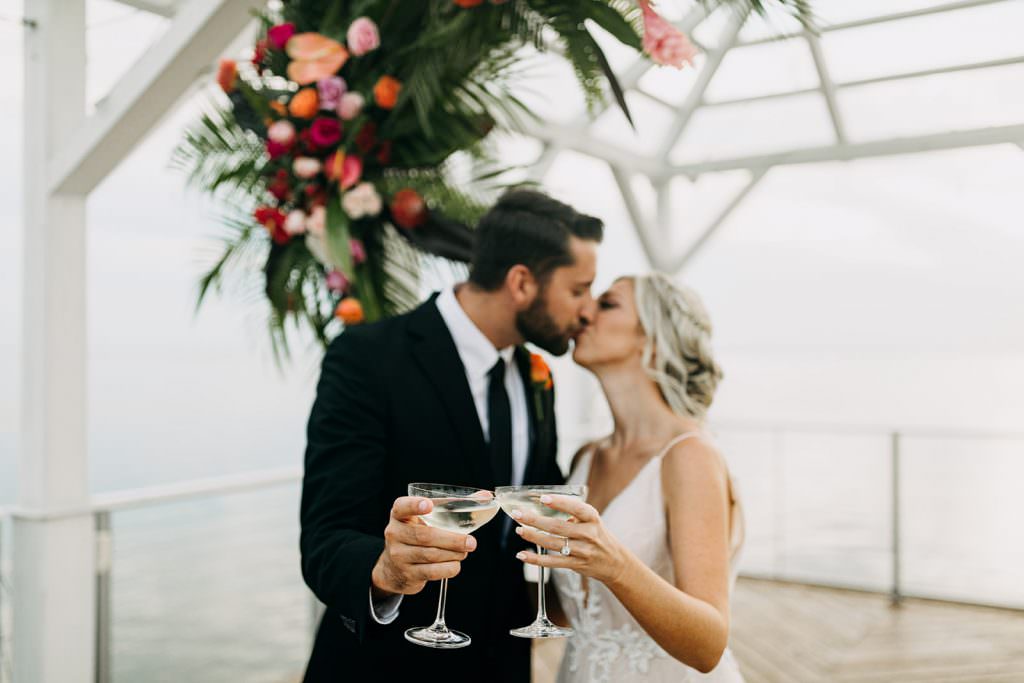 Photo by Amber McWhorter Photography
FAQs and What to Expect When Planning a Post-Elopement Party
When should our post-elopement party happen?
There's no set timeline when planning a post-elopement party! You could plan it following your elopement ceremony, the day after your elopement, or a year later on your anniversary. We're all for keeping the celebrations going! But, it's also perfectly okay if you don't want to plan for a post-elopement party. You should commemorate your wedding day however you both want to!
Do guests bring gifts to a post-elopement party?
Many couples feel a bit awkward about putting together a registry after their elopement. Typically you should not expect gifts at a post-elopement celebration, but some folks may want to treat you both to something special. We'd recommend using language on your party invite along the lines of, "Gifts aren't necessary. However, if you wish to contribute to your future, here's how." Then you can include a location or link to any cash funds or registries. 
How do we budget for a post-elopement celebration?
If you're planning a post-elopement celebration, make sure to include those plans and costs when you're doing your overall elopement budgeting. But there's a few things that you should keep in mind when planning. A post-elopement party doesn't have to break the bank! There are plenty of ways to have a celebration and reduce costs like an at-home potluck dinner or BBQ. Sometimes family members and friends also may wish to contribute to your post-elopement plans. Be sure to discuss ahead of time if they express interest or ask questions.
Can you have a bachelorette if you plan to elope?
Of course you can! But unlike a traditional wedding and bachelorette planning, you should expect to do most (if not all) of the planning yourself. Since your friends won't be invited to your wedding, consider keeping costs low or funding certain parts yourself.
What should I wear for our post-elopement party?
The short answer: whatever you want! When it comes to your post-elopement party, you can plan to wear whatever makes you comfortable. We often see couples wear their wedding attire again so that their friends and family can see just how amazing they looked on the actual wedding day.  
We had an intimate elopement, so how can we include our family in our post-elopement reception?
Don't stress! There are so many ways that you can incorporate your family in your post-elopement party or reception. One of our favorite ways? Let them plan the party! Some family members and friends may want to do something special for the happy couples, and this celebration would be a perfect opportunity. A few other ways that you can honor them is special speeches, have them sign as witnesses on your marriage license, and father-daughter and mother-son dances. Want to do something unique? Record a video on your wedding day together for them and play it at the party for guests to watch.
Photo by The Emerics
How to Plan a Post-Elopement Party or Reception
Planning a post-elopement party or reception doesn't have to be complicated. We recommend you keep things simple when communicating to your family and friends, and when sending invitations. Here's a few tips that will help make planning easy for everyone:
Pick the Date — This is the most important part of the planning process as it can dictate the way you communicate your event. If you plan to have a post-elopement party immediately after your elopement, then you'll want to send out invitations and notice in advance of your elopement so that guests can plan accordingly.
Choose a Location — Where do you want to celebrate? You can plan for any location around the world. Decide whether you want to take your guests somewhere intimate, sentimental, adventurous or close to home. Be sure to keep in mind the seasons, weather, travel restrictions and lodging availability if needed.
Rent or Secure the Venue — Once you have a plan for the location, secure it! Planning a dinner at your favorite restaurant? Make a reservation in advance. Thinking of renting a typical event space? Be sure your dates are available ahead of time. Keeping it simple at home? Make any plans for cleaning, cooking and seating before the day of your event.
Invite the Guests — You can keep this simple and text your friends and family, or send out custom invitations detailing your celebration. Whatever way you want to communicate it, be sure to share the news that you've eloped and are ready to party with them all!
Hire Any Entertainment and Start Planning the Details — Thinking of hiring a band, DJ or other entertainment for your party? Book them for your date and get started on all of the small details! Things to keep in mind include any needed food and beverages, rentals and seating, floral and decor if you want to incorporate it.
5 Post-Elopement Party and Reception Location Ideas
When it comes to picking the perfect spot to plan your post-elopement reception, the limit does not exist. You can plan for a smaller gathering with just a few folks or a full blown reception like a traditional wedding. Here's a few of our favorite ideas to consider: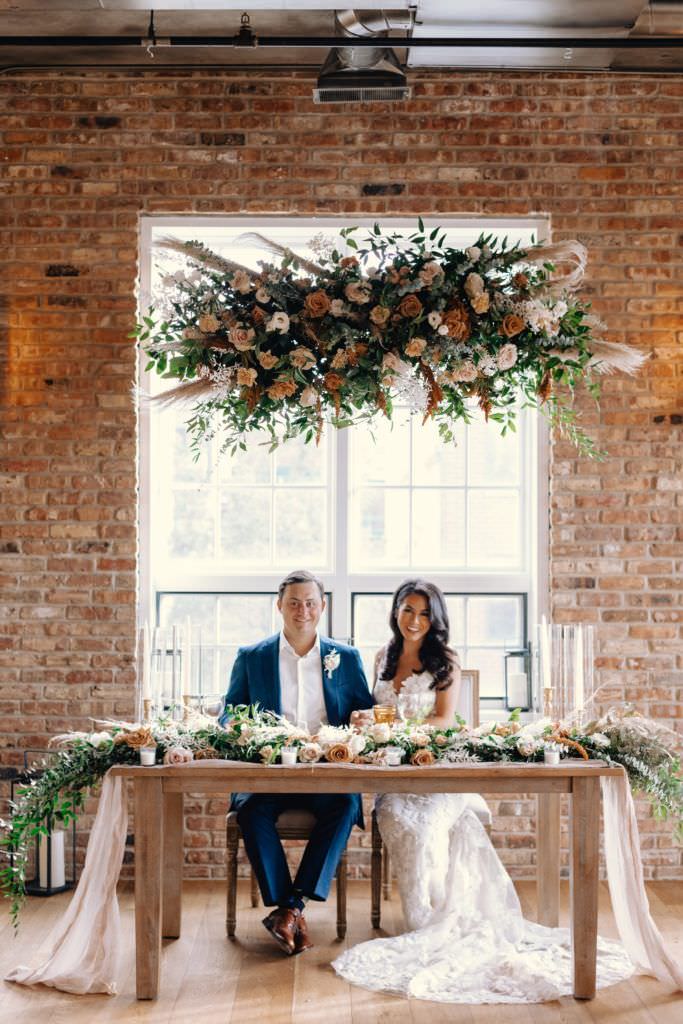 Photo by Vanessa Aguirre
1. Rent a Wedding-Style Reception Venue
If you want to have the wedding feel without the added stress, planning a post-elopement reception (or your entire elopement in general!) at a formal venue can give you the vibe you're looking for. The level of formality for your elopement doesn't have to dictate the event, nor do you have to make your elopement ceremony formal to match. You can plan both of these celebrations as separate events, which means you can have your casual or adventure elopement and a black-tie party too!
2. Reserve a Private Room at Your Favorite Restaurant
It doesn't get better than one of your favorite restaurants! Treat your guests to a delicious culinary experience where you can spend the night talking all about the details of your elopement at the table with your loved ones. For booking private rooms or large groups, be sure to communicate with your preferred restaurant ahead of time for seating arrangements and possibly incorporating a fixed or limited menu.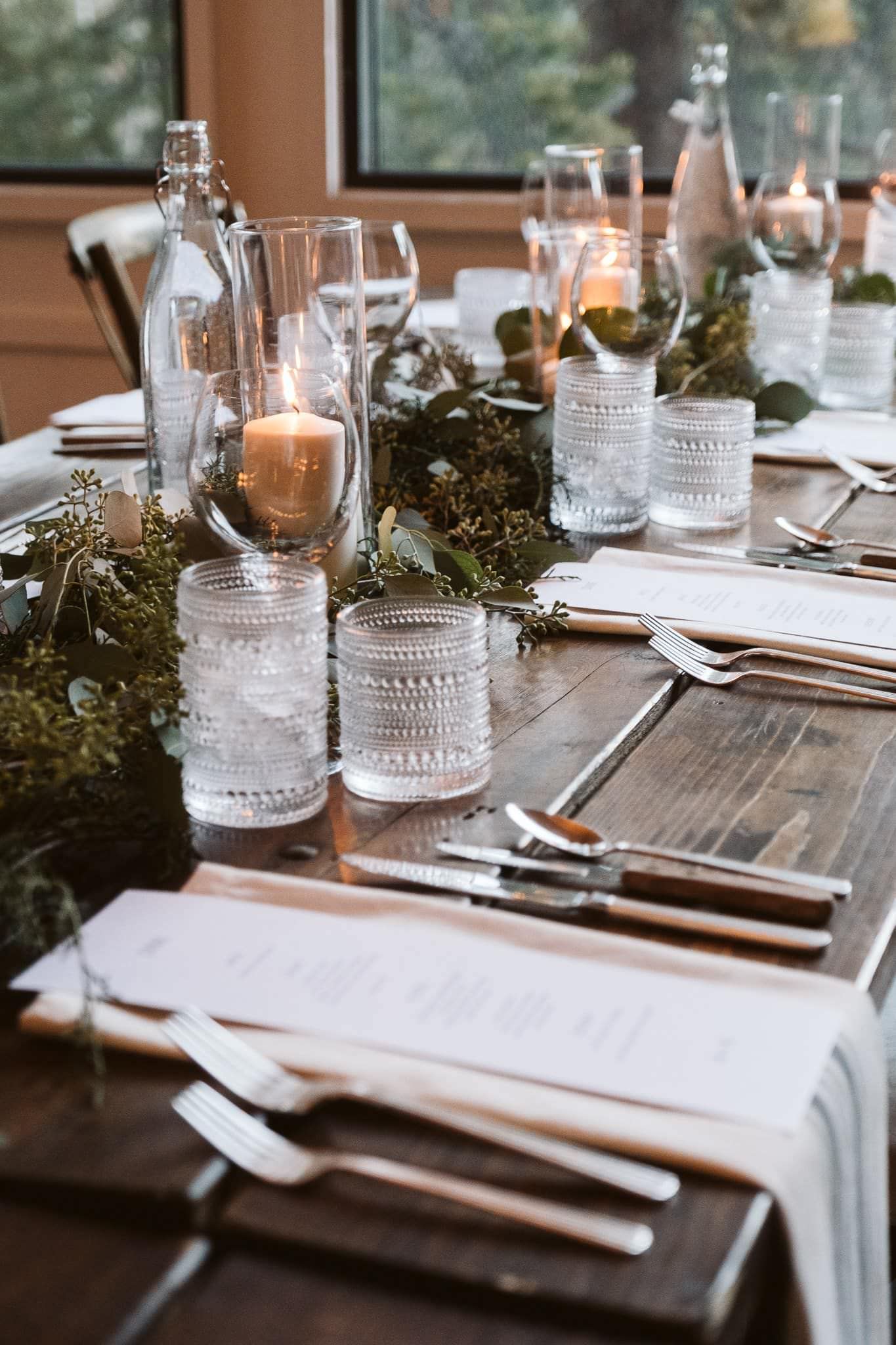 Photo by Larsen Photo Co.
3. An Intimate At-Home Celebration
Cozy up at home with your closest friends and family as you recap your magical elopement day. You can plan a yummy dinner with just a few folks, or go big and setup an outdoor setting to watch a slideshow of your wedding photos, videos and more. Here's an idea of a stunning outdoor viewing party setup for guests to enjoy.
4. Book a Unique AirBnB
If you're looking for a place that can host a smaller group that's not your own home or a restaurant, renting an AirBnB may be the ideal solution. Not to mention, it opens up the possibility of exploring a new place and turning the gathering into a mini vacation!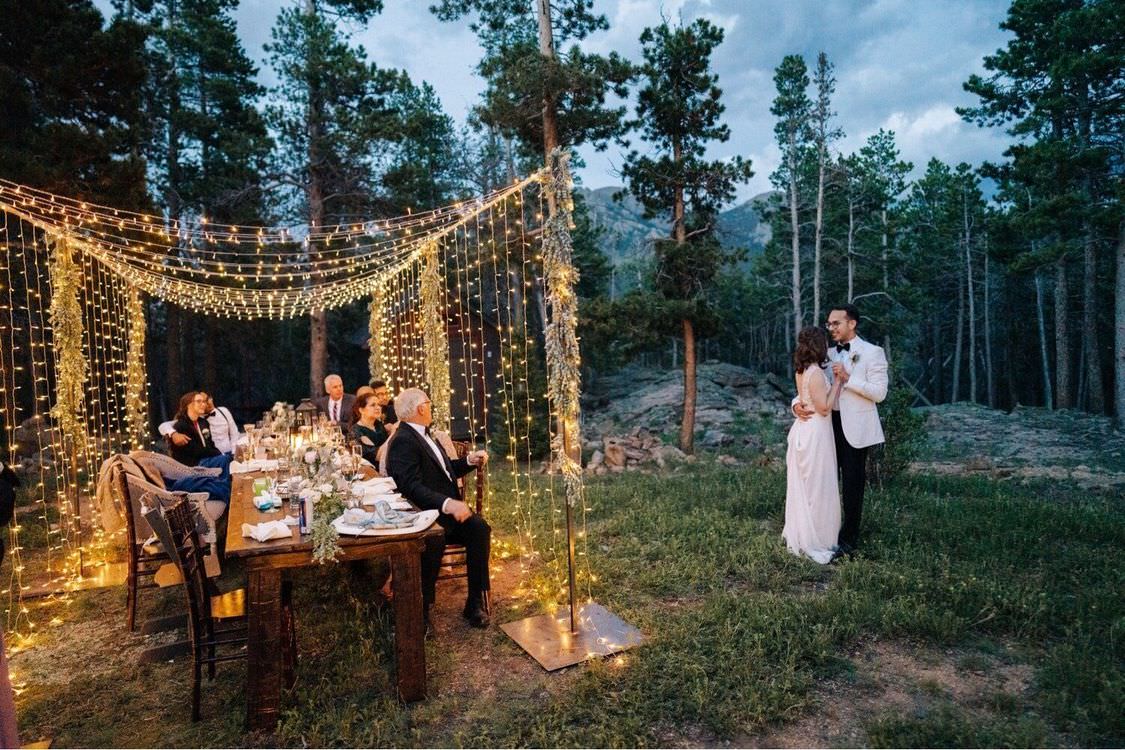 Photo by The Perfect Touch Event Planning
5. Plan a Destination Party
Want to go on an adventure with friends and family? Plan your post-elopement party for any destination you're ready to explore around the world. Keep in mind any travel limitations or restrictions for your guests when planning the number of people that will be in attendance.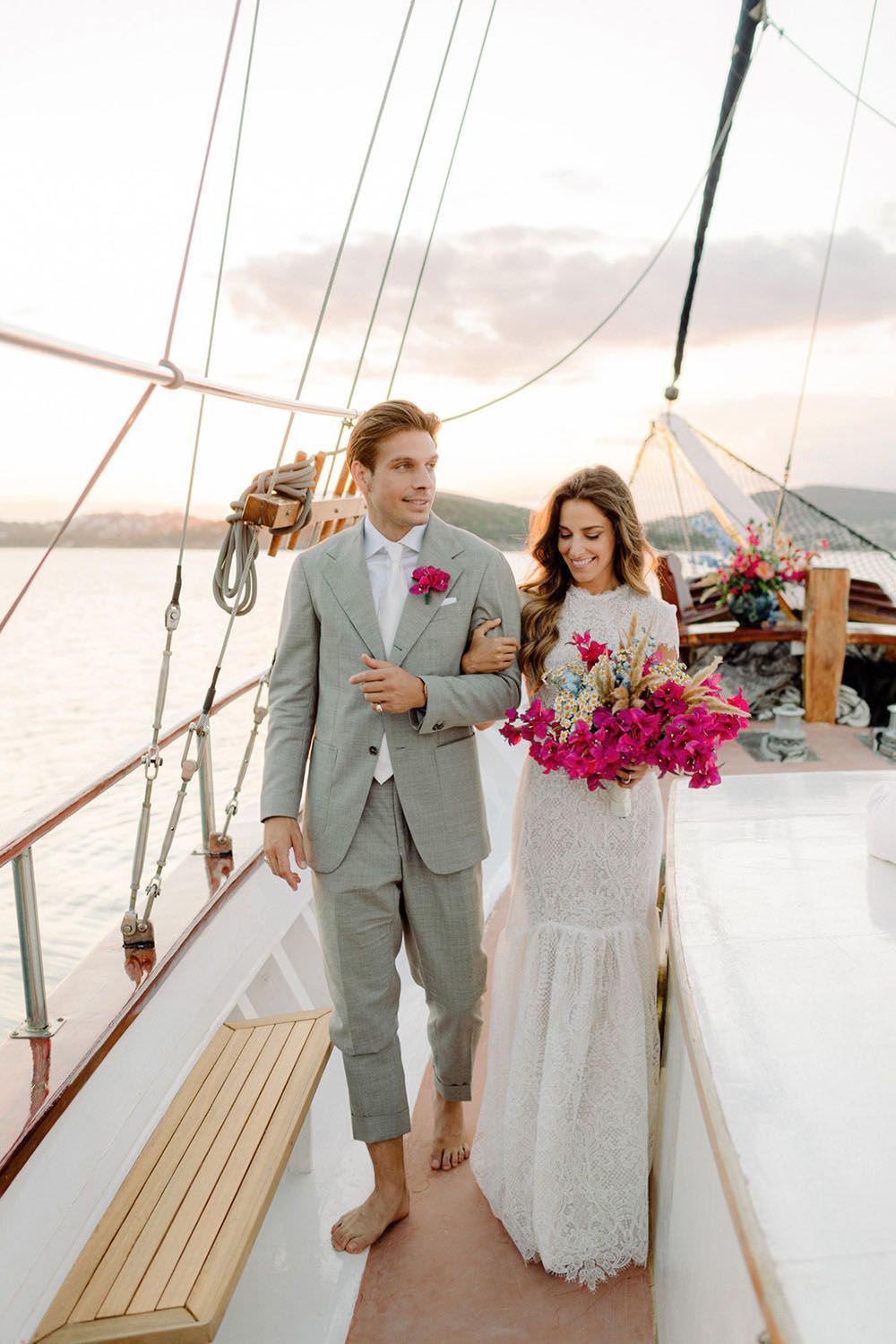 Photo by Ruffled Blog
5 Post-Elopement Party and Reception Activities
Wondering what to do at your post-elopement party to make things fun for everyone? Take into consideration the time your guests will be available to celebrate with you — will they be staying at an AirBnB for a weekend, or attending a backyard party for a few hours? Make sure that you allow enough time to spend a bit with each of your guests that are traveling to celebrate your love!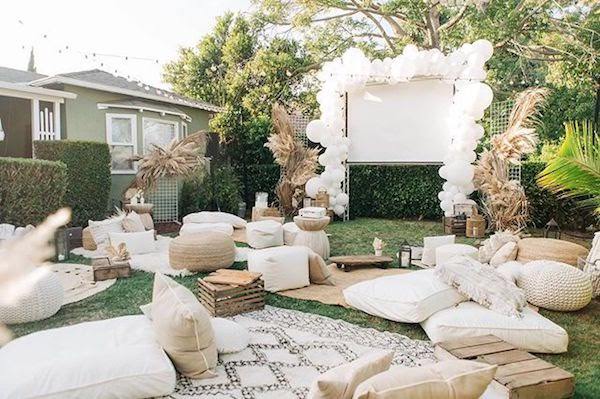 Photo via Brides
1. Arrange Speeches or a Special Toast
Everybody loves a funny or sentimental speech! You can ask your family and friends ahead of time to prepare something to say, or just pass the mic and let everyone speak from the heart! There's nothing more special than hearing just how much your loved ones care for the two of you and wish you all the happiness in the world.
2. Rent a Food Truck
Instead of spending hours preparing food in the kitchen or looking for formal catering options, rent a food truck! Not only will it make for the coolest display at your location, but it gives each of your guests the option to customize their meal. Who doesn't love checking out some of the best local food trucks?!
3. Show a Slideshow of Your Wedding Photos or Video
For those family members and friends that weren't included in your elopement or unable to travel, this is the perfect opportunity to share your big day with them. If you hired a photographer or videographer, find a way to share a slideshow or showing of your film for everyone to see. It's also a great time to share any stories or videos that you both personally captured on your elopement day.
4. Hire Entertainment 
When in doubt, bring in the band or a DJ! If most of your guests love to dance, then why not give them the opportunity to truly party with you by hiring live entertainment. Most bands and DJs should also have options available to help you transform your backyard or location into a true party destination for everyone to enjoy.
5. Reenact Your Ceremony or First Dance
Want to relive the special moments with everyone? You can throw on your wedding day attire and reenact your ceremony or vows for your family and friends to see in-person. Or turn on your special song and share your first dance together.
In The End…
Remember that there's no wrong way to have a post-elopement party or celebration — this event should be everything you want it to be and more.