LGBTQ & Same-Sex Elopement Considerations
Here at Epic Elopement, one of our core values is inclusivity. We partner with small, local, woman-owned, BIPOC and LGBTQ+ businesses. We recruit some of the best vendors to ensure that every couple we work with is treated with the kindness and equality they deserve. 
We have seen some of the most magical and romantic elopements from our LGBTQ+ couples. One of the best parts about planning a wedding or elopement with us is that there's freedom to create new traditions that are all your own! We work with all couples no matter who they are or who they love, and we're always learning how we can make our business practices more inclusive. Here's a few helpful tips to make your elopement the best day of your lives!
Photo by Amber McWhorter Photography
LGBTQ+-Friendly Wedding Destinations
Couples nowadays are cutting their guests lists and opting for intimate locations for their elopements. As different countries and regions are reopening after the coronavirus pandemic, destination elopements are trending for LGBTQ+ couples! According to this article by Travel Pulse, couples are also seeking spaces that are multifunctional to transform a sophisticated dinner into an epic after party. When it comes to selecting the ideal wedding spot for you, we're here to help! Here's a few of the top places to consider for a LGBTQ+ elopement.
Some of the Most Popular LGBTQ+ Elopement Destinations
Las Vegas, Nevada

Palm Springs, California

Riviera Maya, Mexico

Kauai, Hawaii

Barcelona, Spain

Positano, Italy

Mykonos, Greece

New York, New York

Chicago, Illinois

Melbourne, Australia

Cape Cod, Massachusetts 

San Francisco, California

San Juan, Puerto Rico

Telluride, Colorado

Seljalandsfoss, Iceland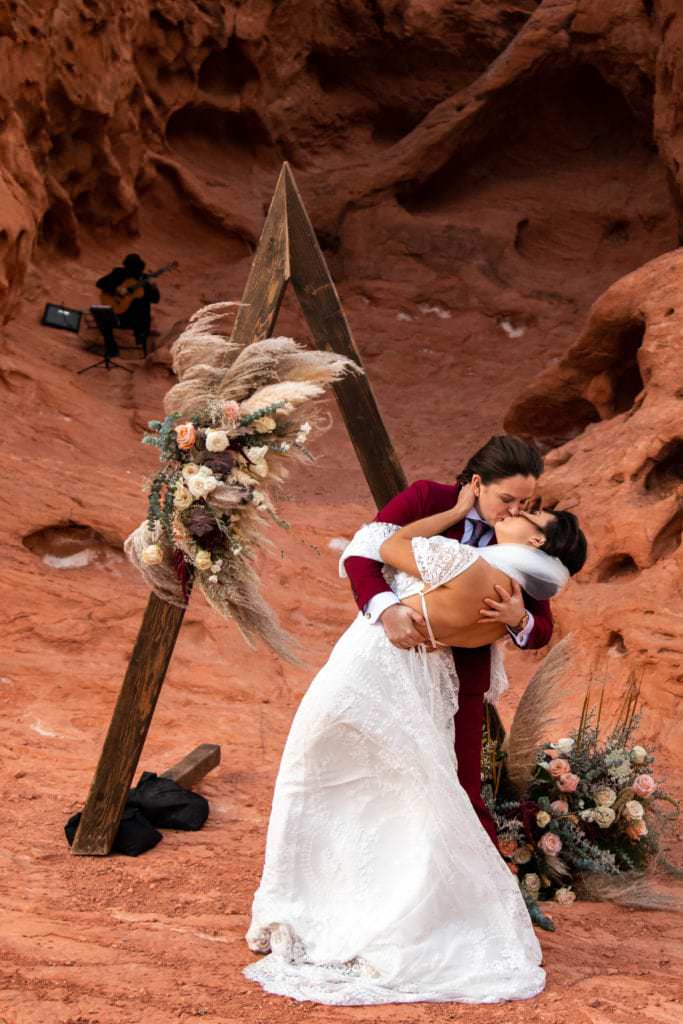 Photo by Ashlyn Savannah Creative
Questions to Ask Your Vendors When Planning
We're always sad to hear stories from same-sex couples and other couples in the LGBTQ+ community about being refused services by wedding vendors. At Epic Elopement we only work with vendors who will cater to ALL couples planning their elopement. Just like traditional weddings, there are a lot of details that go into planning an elopement and asking questions is key when it comes to finding your dream vendor team. Here are a few questions to be sure to ask when hiring vendors for your LGBTQ+ elopement to make sure you're on the same page.
Is the floral package flexible?
Most standard floral packages will account for one bouquet and one boutonniere, so be sure to speak with your florist ahead of time about customization options for what the two of you want to have on your wedding day! Make sure that everything is priced accordingly before you sign a contract. 
Does your hair or makeup artist know your preferred style?
Not into pink shades or the metallic eyes that most lean towards when it comes to wedding makeup? Be sure to chat with your makeup artist and hair stylist ahead of time about your personal style and provide any examples as inspiration. If they have a portfolio that they can show you, that's even better! Don't leave it up to your hair or makeup artist to assume the kind of look that you're going for.
Will your photographer be able to capture everything within your elopement day timeline?
Most photographers will split time between getting ready suites, or enlist the help of a second shooter to capture both. Make sure that you clearly communicate your ideal shot list and share your elopement day timeline so that they can plan accordingly. Some second shooters may not be well versed in capturing certain portraits, as most are brought on to capture the groom in opposite-sex weddings while the main photographer covers everything bridal. So if you're two brides, make sure that the additional photographer knows how to capture all of the bridal details you'll want photographed.
Can your stationery be customized?
When it comes to creating your stationery, make sure that it's an accurate representation of your elopement style and personalities. A lot of the time, invitation templates can use outdated phrasing. So double check with the stationer that heteronormative verbiage can be edited.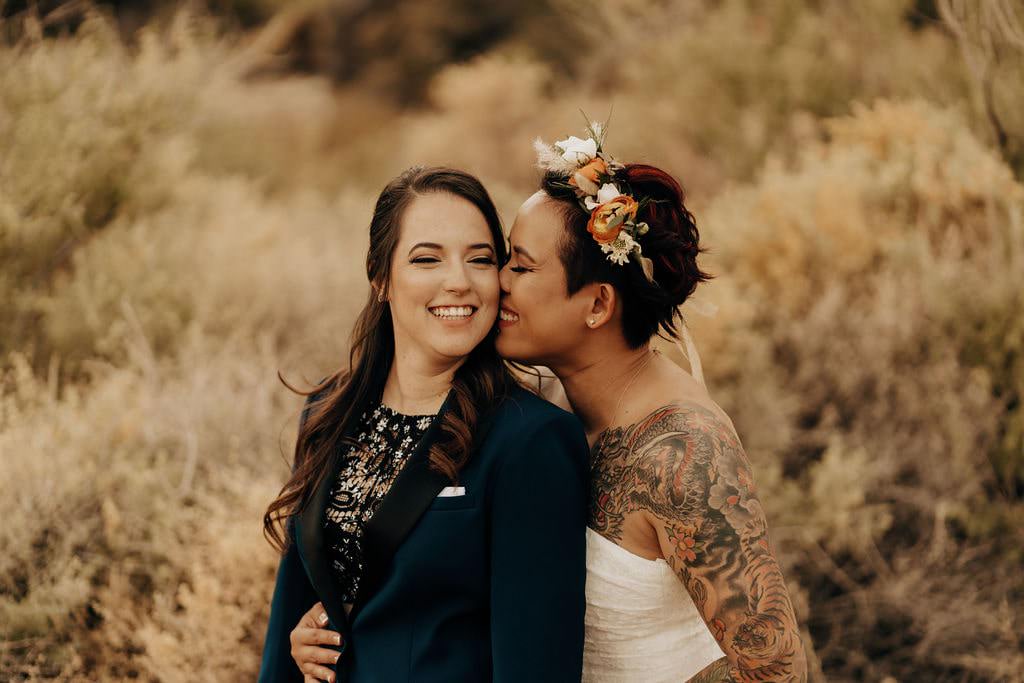 Photo by Onyx and Arrow Photography
Are they comfortable being involved in a same-sex/LGBTQ ceremony?
It's unfortunate you need to ask something like this, however, as there have been some publicly well-documented cases of some vendors refusing services once they found out the details of the wedding, it's always best to just confirm things in advance.
How to Set Expectations with Guests
The possibilities are endless when it comes to planning your elopement day together. With that, a lot of our couples tend to steer away from some traditions and craft things just the way they want them to be. Some family members and guests (should you choose to have them) may not understand some of the decisions that you make when it comes to planning your ceremony. We just want to remind you not to get too overwhelmed with the expectations of others! It can be tough to do this sometimes, but the only thing that should be on your mind is getting married and celebrating your love for each other.
Photo by Adam Trujillo
Same-Sex Ceremony Ideas and How to Modernize Wedding Traditions 
While we love a lot of the wedding traditions out there, some of these ideas may not align with our wonderful LGBTQ+ couples. One of the reasons we truly love elopements is because it gives you the power to include all of the wedding traditions you love and omit the ones that you don't! We believe that you should both do whatever makes you feel most comfortable. Here are a few ways that you can modernize some wedding traditions for your same-sex wedding ceremony.
Wedding Attire: You should look and feel incredible during your elopement! Wondering what to wear as a LGBTQ+ couple? Whatever you want! You and your partner don't have to be matching, you don't have to wear a dress or even wear white for that matter. We encourage all of our couples to express their personal style in whichever way they choose.
First Look: More and more couples are ditching the notion of waiting to see each other down the aisle, especially as wedding day timelines can be quick. Planning a first look is a great opportunity for a private moment together before the ceremony to get those nerves out of the way. If you're not sure that you want to do a first look, you can also get ready together! Helping your partner get ready for the first day of your forever will always be a wonderful memory.
Walking Down the Aisle: The tradition of grooms waiting at the end of the aisle for the bride and her father is pretty old-school nowadays. Change it up! You can walk down the aisle with a member of your family, your best friend, your pet, your children or you can strut your stuff down the aisle alone. Not sure what feels right? We recommend trying out a few options before the day to nail down what you prefer.
Ceremony Readings: Typical ceremony readings may not apply to your relationship — not just because you're in a queer relationship, but just because so many of them are outdated. This is your chance to completely personalize your ceremony with your officiant. You can also ditch the readings in general and let your vows be the main focus of your ceremony. 
If you and your partner want to have a first dance together, cut the cake, toss the garter, bouquet or boutonniere, then go for it! If not, don't sweat it and above all, just enjoy every moment of your wedding day. 
LGBTQ+ Elopement Day Inspiration
Now that we've covered the important topics, it's time to start planning! We know that it can seem overwhelming in the initial stages of planning — do you really want florals, officiant or self-solemnize, and what about a reception or dinner? To help get your creative juices flowing, here's a bit of inspiration for your LGBTQ+ elopement.